On February 2, 2018, US$12 billion wind turbine giant, Vestas, acquired New York startup, Utopus Insights, for $100M in cash. Utopus provides several products including predictive analytic software tools that help utilities manage intermittent energy sources like wind.
This is a behind the scenes story of the Utopus CEO…

Chandu Visweswariah is one of the reasons I fell in love with the clean energy space.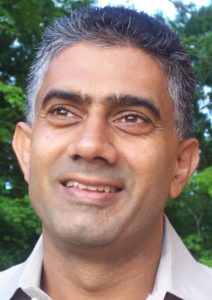 I first met Chandu two years ago when I was VP Corporate Strategy at IBM.  At the time, he oversaw all of IBM's research in the power industry. Even more impressively, Chandu was also an IBM Fellow – one of the hundred most distinguished technical professionals across IBM's 450,000 employees.
Our initial meeting was set up for me to learn about his team's products and to see if I could share some startup advice for his audacious goal of spinning his group out of IBM. 
We immediately hit it off. Over the next few months of dinners and follow up meetings, we became friends. His passion for the clean energy industry was intense. And, to my surprise, it was infectious. As I shared advice on capital structures and growth strategies, he was unintentionally convincing me that clean energy was going to change the world.
Our conversations were one of the big catalysts for shifting the direction of my career. I am deeply grateful. Chandu, for his part, went on to spin-out his company, raise funding, land new customers, and with surprising speed, sell it to one of the most respected clean energy giants in the world, Vestas.
GET MONTHLY NEWS & ANALYSIS
Unsubscribe anytime. We will never sell your email or spam you.
It was a privilege to see him navigate this amazing journey. I've been close to nearly a hundred startup exits but I've met very few entrepreneurs like Chandu. I believe he has three unique traits that played a role in his remarkable story these last 18 months.
1. Intense conviction
From the moment I met him up through his final negotiations with Vestas, Chandu's belief in his team and their technology was unwavering. It's so strong that some people are put off. Personally, I love it! At first, I chalked it up to pure passion (which he has in abundance). But over time, I realized his conviction was born of expertise and deep knowledge of the industry's needs. Every fiber of his being knew he had something that the industry desperately needed. Vestas' $100M said they agree with him.
2. Deep, deep customer knowledge
Whenever possible, IBM's research division likes to create joint development agreements. JDAs are where IBM scientists and engineers work side by side with customers to co-create new products. Chandu and team didn't just rely on past experience and focus groups, they literally sat in rooms, day after day, with customers to jointly create products.
3. Seeks advice and listens intently
Across the entire Utopus journey, from idea to exit, Chandu sought advice from others. I can't count all the emails and calls over the last 2 years. But, instead of burning me out, our conversations were always a top priority for me. In every dialog, he would send over thoughtful summaries or key documents ahead of time. He would write succinct questions directly aimed at my particular areas of expertise. Our conversations were highly productive and never dragged on.
Most entrepreneurs seek advice like a fishing expedition. Chandu treats it like a treasure map – he knows where he wants to go and values it deeply. I never doubted that my advice mattered.
I knew it would be seriously considered, whether he ultimately agreed or not. And, inevitably, I learned more than I shared.
Amazing product
It shouldn't go without saying that perhaps the largest part of Utopus Insights' amazing success story is the company's products. These products were the result an amazing team of scientists and engineers working over many years within the heart of IBM's research division. Without products like this Chandu's leadership would have burned out. And, of course, without Chandu's leadership, these products might still be sitting, largely unrecognized deep within IBM.
In Chandu's own words…
As the deal close approached, I asked Chandu to share his thoughts with others that aspire to amazing journeys like his.
Bill: What advice would you give other would-be clean energy tech entrepreneurs?
Chandu: Clean energy tech is an exciting space with multiple ongoing disruptive trends!  Consider the 3 Ds: Digitization, Decarbonization and Decentralization, which are changing the face of the $5 trillion worldwide energy domain in front of our eyes.  Decentralization alone encompasses multiple sub-trends like battery storage, electric vehicles, heat pumps and micro-grids.  The winners and losers in this new world are yet to be determined, so who could blame you for dreaming of winning big while helping the planet?
At the same time, let me sound a few notes of caution.  In various parts of the world there is a large regulated sector, comprising transmission and distribution utilities or government-owned entities.  This sector by and large is risk averse; constrained by legacy regulations and outdated, arcane accounting rules; hesitant to adopt new technology and generally slower-moving.  To the extent possible, make sure your business serves that segment of the energy domain that is growing and more freewheeling (or unburdened by onerous regulation).  Even so, compared to other "explosive" areas of tech, operational innovation in the energy domain can lag – take the time you expect to need to break even and double it, and the investment you need to sustain your business and triple it.  If you can find patient and strategic investment capital, you're one step ahead of the game.
If you're getting into the energy space solely to "change the world" or "pursue a noble cause," be forewarned.  Righteousness in an exciting field doesn't allow you to ignore the basics.  Idealism doesn't help you make payroll.  There is no substitute for a compelling strategy, keen knowledge of the market, products that sell themselves, clear differentiation, smart people, outstanding technology, great product roadmap, skilled management, persistence and perseverance.  And all the standard rules of start-ups apply: be nimble, flexible and agile.  Fail fast.  Learn from the market faster.  Innovate your way to leadership.  This is where you can run rings around larger companies.
Four often-neglected aspects have been particularly beneficial in my case.  First, pay close attention to people management – many an outstanding startup is derailed by people issues.  Second, build a mentor network with whom who you can consult; unforeseen problems will occur (I promise!) and nothing beats entrepreneurial experience.   Third, pay attention to every aspect of your brand development: for employees, for investors, for customers and for exit options.  Let honesty and consistency be your hallmarks. They set a higher but ultimately more rewarding standard.  Fourth, make sure you have good attorneys and accountants – this kind of competence is worth the extra money.  Fifth, no matter how small you are today, bear in mind the ability to scale every aspect of the business.
And finally, realize that all trends are about economics – exponential adoption occurs when a new technology is provably cheaper and better, and no sooner!  Pay attention to real economic trends and cost curves, and keenly observe what's evolving and growing in the energy domain, what is "same old," and what is shrinking.  Ensure a crisply stated value proposition.  If you can't provide clear proof points of savings or improved efficiencies or better utilization or higher reliability, you will not be able to sell your product.  Entrepreneurship is not for the faint of heart or weak of stomach; even less so in a stormy sea that is energy today.  Good luck, keep your sense of humor and make sure you enjoy the journey!