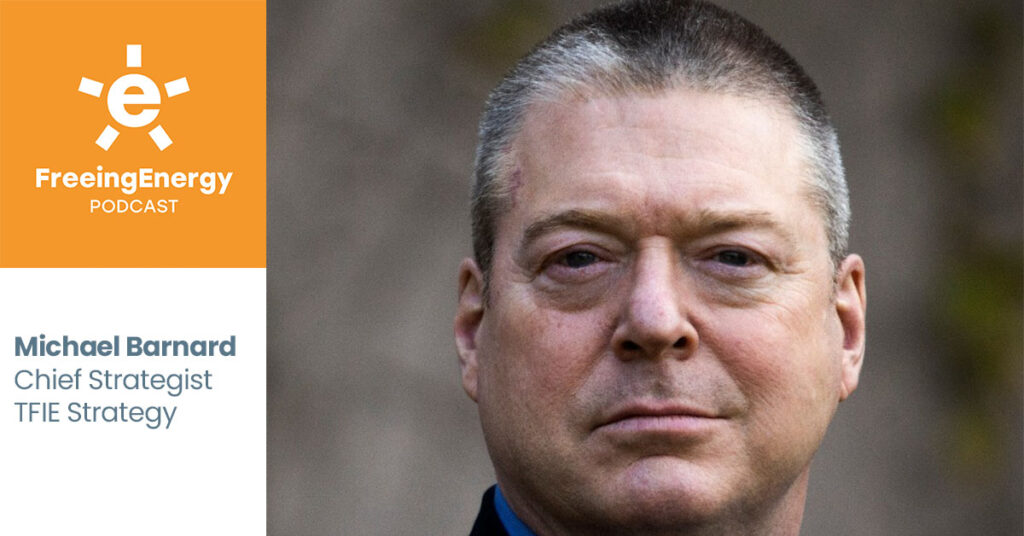 Join in as host Bill Nussey catches up with the global energy thought leader, strategist, business advisor, and founder of The Future Is Electric, Michael Barnard. Barnard shares his positive, pragmatic, and colorful views on a range of clean energy technologies and which ones he would place his bets on in the global race to a clean and affordable energy future.
Here are some of the highlights from their discussion…
"… so being optimistic, I choose not to despair over climate change. Being a technical guy, and being a business oriented guy and being a numbers oriented guy, I like to [apply a business and financial lens to] get to the bottom of what solutions actually make sense for climate change."
---
"….because wind and solar are so massively scaled and are such massive global supply chain industries, huge numbers of very bright people have been applying efficiencies and looking at maximizing profits on every step of those journeys from manufacturing all the way through to maintenance and decommissioning. That's a lot of people [working together to bring down costs]…"
---
"… I'm a nerd who likes complex problems and values making a positive impact. There's not much more valuable right now, in my opinion, than climate solutions and boy oh boy is it a complex space."
---
You can also listen to this podcast and others in our series on these platforms:


Useful Information
Full Transcript
Bill Nussey:
Well hello, hello, hello to everybody in the Freeing Energy world. I am really excited to have Michael Barnard, who's a long-time colleague, become a friend, and who is maybe one of the smartest people I have ever met in terms of thinking through the real, data driven, political driven, policy driven, and just human driven changes that are happening in the world of energy. So Michael, we're going to talk about your story in a minute. But I want to start right off and welcome you to the podcast today.
Michael Barnard:
Hey, Bill. Thanks a lot. Really glad to be here. I'm glad to be on Freeing Energy the podcast, as opposed to reading Freeing Energy the book or providing few insights on it last year. And I hope that this is of value for your listeners. I'm a bit off topic, as we discussed before. I'm in a different part of the world than you guys. So it'll be an interesting conversation.
Bill Nussey:
Yes. I think it's worth mentioning that when I was near finishing the book and I knew that I'm not an expert on the grid or any of this stuff … I had learned a lot and certainly consider myself pretty knowledgeable. But I wanted not just to have some experts look at it, but I wanted to have an expert look at it that didn't see local energy with quite a rosy view as I do. And so I have read, for years, the stuff that you have written. Some of the smartest, sharpest stuff on the internet in terms of the content, articles, data.
Bill Nussey:
And so I reached out to you and we connected. And then when the book was ready, you were kind enough to take a read at it. And boy did you. You said, "I'll take a look." And then you sent me an email with a document, I think dozens of pages of really thoughtful stuff.
Michael Barnard:
27 pages. I looked at it recently. I was like, "Okay."
Bill Nussey:
Wow.
Michael Barnard:
I might've over delivered.
Bill Nussey:
So grateful and it was so powerful. So very much appreciated. But as our listeners will find, you and I don't entirely agree on this. But I hope today that we're going to cover all sides of the topic. And more importantly, I think we're going to really get a chance to share with our listeners some of your crazy interesting, super thoughtful perspectives on electricity broadly.
Bill Nussey:
Before we get into that … We were preparing for this podcast. Sam, our producer, cohost, and I. And we love to talk a little bit about people's backgrounds. And Michael, we had more things about your background that were colorful, interesting, surprising, than I think anyone we've ever talked to. This is good, by the way. This is a good thing. This isn't necessarily something to be … So we just picked two and would love to hear your stories. What was going on? How did it go? So the first one, apparently you took a bike trip from Toronto to Halifax for the World Wildlife Foundation in 1990s. 2,500 miles in five and a half weeks, on a recumbent bike with solar panels, cellular modem, and a micro laptop. In the 1990s. What's up with this story? What were you doing? What was the goal? What did you learn?
Michael Barnard:
Well a few things. First off, I was not the first person to travel on a bicycle with solar panels and a computer and stuff like that. I think his name was Steve Roberts or something like that. He ended up riding these recumbents and building them. Because he was a nerd he was doing list board integrations and stuff. And he was getting sponsorship from tech companies to integrate stuff. So he had an accordion keyboard on his recumbent bike. And the last one, the behemoth, I think it weighed 900 pounds and he had 170 gears. And he had a refrigeration unit to pump cold water around his head so he wouldn't overheat. And I think he rode it a grand total of 30 miles because it was just stupidly over elaborated. And then he pivoted to water.
Michael Barnard:
But I read his book in the early 90s and I said, "Hey, that doesn't make any sense, how far he's gone. But it makes sense what he's done." Up to a point. And I've been an environmentalist for a long time and so I started thinking about a bike trip on a recumbent with some technical support. And being a nerd, I ended up with a recumbent and some foldout solar panels and a little Motorola flip phone with a cellular modem. And a 2.5 pound Compaq 3D6 laptop.
Bill Nussey:
Wow. You're showing your age.
Michael Barnard:
I know. This is old stuff. But I did have my first website in 1994 that I hand coded the HTML for. I am a nerd. I started out as a programmer. So yeah, I rode 4,000 kilometers. It's in real distances.
Bill Nussey:
Michael's Canadian, if that's not already coming through apparently to everyone listening in.
Michael Barnard:
Yeah. And I started out and I rode through wonderful parts of Canada, out through Quebec. I brushed off my French for four days in there. I ended up being taken in by a professor of philosophy in [foreign language 00:05:53]. And we ended up … in my broken French I kept saying, [foreign language 00:05:57], "How do you say?" And we ended up talking about Shakespearean versus Petrarchan sonnets, about work problems in Quebec, about separatism in the Paquist and why they thought it was important. And his son ended up playing the piano. It was just a really beautiful thing.
Michael Barnard:
And then I got back. After six weeks I got really tired of being on the road by myself. So I took about a week to get back, across Highway 2 through Maine, Vermont, and New England. And I did the Green Mountains in the day, White Mountains in the day. I got up to Lake Placid after waking up in Lake Champlain. And there's like 7,000 feet of vertical, 4,000 fee, whatever the vertical is. It's 40 miles uphill. And this is the end of the thing so it's early. And I rode another 80 miles along the spine of the mountains to get to my friend's cottage in New England, on another lake.
Michael Barnard:
Then I got home and my wife takes one look at me and she says, "Ribs. You've got ribs." The last day was cool. 260 kilometers, which is 170 miles, something like that. And I did four media interviews for World Wildlife Fund's endangered habitat spaces on the way, from my cell phone and stuff like that. It was a really good event. I met a lot of great people, saw a lot of Canada, got really tired, got really skinny.
Bill Nussey:
It's an amazing story. And I'd imagine a lot of people would think about it, but you decided to do it. What made you take that giant leap and decide to bike across the country?
Michael Barnard:
It was an attitudinal adjustment. Early in May, the May long weekend in Ontario, I had decided I was going to take a shakedown run with my recumbent. Just a long weekend. And I was going to meet my wife at a couple of bed and breakfasts in southern Ontario. And we were going to have kind of a weird weekend where she took a bus to a place and I would bike to the place. Except that I got off the … I was heading north from Oshawa and a car passed me too closely. And I swerved a little bit and my clip in pedal un-clipped, and my leg went off to the right. So my bike and tire, following the laws of gravity and all those types of things, curved off to the right, straight into the ditch. And the front wheel embedded itself in the mud at the base of the ditch. And because it's a recumbent, it catapulted me up the embankment.
Bill Nussey:
I'm seeing this in my mind. This is terrifying.
Michael Barnard:
Oh yeah. I landed completely upside down on my head and rolled out of it and stood up. And meanwhile, the people who were behind this said, "He must be dead," and they stopped and I was fine. My bike, on the other hand, was wrecked. So they got me to a … People helped me out. I got home. I gave myself heat prostration with too much gin and a hot tub as I was trying to make sure I didn't stiffen up.
Michael Barnard:
And so this was my shakedown run. I have to replace the forks and all these other things. A month later I'm supposed to leave. And I say, "I'm not ready. I'm not ready to go on a six week, 4,000 kilometer trip." And I said, "It doesn't matter. I'm going to start. I'll figure it out." And I did. And I brought that attitude back with me to a lot of different things. There's a whole bunch of things that I do now that come back fundamentally to that attitude, that I don't know how to do it right now, I'm not sure I'm going to get to the end of the job, but I'm going to start and I'm going to trust that I can get to the end of the job. And I've built a career and a whole bunch of stuff around that, along with optimism. Because I made a conscious choice to be optimistic when I was around 32, because the alternative was nihilistic drug dependency and a terrible life of unhappiness. I felt I should probably try for the happy life instead. I've succeeded pretty well.
Bill Nussey:
The hardest part is just to start. And the nice thing with trips like that or say when someone decides to throw away their career in marketing tech and go write a book, if you get into it and it's not the right thing, you can pull out. And it's a whole nother problem to do that, but it certainly … there's not a lot of things you can't change if it doesn't turn out to be what you hoped it for. So I think that's inspiring.
Bill Nussey:
Among the long list of things that you've done that I think are really colorful, apparently you were or are a big Texas Hold'Em poker player. And you participated in tournaments all over the world. And one of the stories that we'd love to hear you expound on a little bit takes place April Fool's Day in Vegas. And you were married in Vegas April Fool's Day 2001, and then you played a ring game at the Bellagio while Oceans 11 was filming, with Julia Roberts behind you. Holy cow, seriously?
Michael Barnard:
Yeah. You covered all the highlights. Yeah I played a lot of Texas Hold'Em. And one of the two best negotiations in my life I credit to Texas Hold'Em. There's a lot of stuff that you just get used to, throwing a lot of money around and using numbers and saying, "Yeah, this is what this is worth. This is my opening bid." And then people have a chance to respond to the opening bid. So yeah, I made a lot of money out of salaries, based on my negotiation skills I gained from Texas Hold'Em.
Michael Barnard:
Now, that doesn't mean I made a lot of money at Texas Hold'Em.
Bill Nussey:
That was my next question. Okay.
Michael Barnard:
I was, according to the metric that I had available to me, a 93rd percentile Texas Hold'Em player.
Bill Nussey:
Okay.
Michael Barnard:
That sounds really good. And what that means is-
Bill Nussey:
It does.
Michael Barnard:
I know. Except that all that means is I didn't lose any money. I kept track and after thousands of hours of playing Texas Hold'Em in casinos in Vancouver, in L.A. when I was down there. I was doing a gig with KNX and automating GSM chips at Automated Testing for compliance, against regulations and standards.
Bill Nussey:
Who hasn't done that? Who hasn't done that?
Michael Barnard:
Yeah, who hasn't done that? And I was driving over at night after work to the Bicycle Club, which has an amazing poker room. And then I was doing that. And that was actually at the same time. That was in 2001. At one time Hertz or whoever it was comped me to a red convertible, a red Mitsubishi Spyder. And I was driving around L.A. with the top down. Which it's how can you not go to L.A. and not get a convertible? But I'd booked my wife to fly into Vegas for a long weekend over April Fool's Day. And so then I drove over the desert in the red convertible with the top down, blaring music at 100 miles per hour, 160 kilometers per hour in real speeds.
Bill Nussey:
Thank you for that.
Michael Barnard:
And then every morning for three days, my wife would look at me and say, "Should I get dressed up?" I said, "No, not today." And then we'd go and I'd play Hold'Em. She'd go wander around Vegas. We'd reconnect. We'd have great food. We did this for two or three days. And finally, on the last day, April Fool's Day 2001 she says, "Should I get dressed up?" I said, "Yes." She has no clue where we're going.
Bill Nussey:
No way.
Michael Barnard:
She has no clue if anybody's going to be there. Nothing. And there's a story behind that which I won't tell. So then we drive out and she's looking around. We're both nicely dressed up in a red convertible with the top down, in Vegas. And I pull into a drive through wedding chapel I'd sussed out. And a guy who looks like an aged version of Jack Nicholson from Chinatown, with the slice through his nose, from the First California Church of Malibar. I think it was a Catholic church of Malibar. And his witness, what was her name, Marlowe, who was a bottled blonde who came with the witness package. Officiated our wedding. And then Marlowe said, "Y'all want a wedding photos?" I said, "Well, what are wedding photos here?" "A Polaroid." "How much?" 10 bucks. So we got the $10 wedding Polaroid.
Michael Barnard:
And then I came home and I bought this thick, white wedding picture album and I put the Polaroid in it. And then when guests came over I'd say, "Let's show you our wedding pictures." And they'd start going, "Oh no. Not the boring wedding pictures." And then I'd flip it open and say, "There it is." Carolyn and I had been together years before that, and we're still together now. Still love each other tremendously.
Bill Nussey:
Wow. That's a very, very … That defines colorful story. Thank you. Thank you. And I toast you for that, being so creative. Well let's switch gears dramatically and talk a little bit about the world of electricity, and just kick it off with a quick introduction to the professional side of your world as it relates to energy, The Future is Electric. What is The Future Is Electric, TFIE? And what are you working on these days? And then we'll transition into some specifics about the work you've researched on energy.
Michael Barnard:
Sure. So being optimistic, I choose not to despair over climate change. Being a technical guy and being a business oriented guy and being a numbers oriented guy, I like to get to the bottom of what solutions actually make sense for climate change, assuming that we'll actually be able to implement them, we'll have the political will. And I also look at politics as well.
Michael Barnard:
So TFIE's strategy, its focus is on helping clients, investors, businesses to make decisions this decade which will have value in the short-term, but that will also be valuable next decade and the decade after that and the decade after that. True solutions and true innovation which will continue to be valuable in the coming years. Too much of the stuff is hype driven, hydrogen being a big case in point right now.
Bill Nussey:
We'll definitely hit that one.
Michael Barnard:
Yep. It reached kind of a new level last year. I started doing 40-60 year projections of key climate problem areas or climate solution areas, such as vehicle to grid technologies, demand versus demand management versus actual vehicles back to grid. Marine shipping tonnage. With 40% of marine shipping being devoted to fossil fuels, that's obviously going to diminish. With another 15% being iron ore. With a reduction of cheap fossil fuels and cheap shipping, that's going to change as well. So that's going to diminish.
Michael Barnard:
So projections that help us understand how much we actually need. I've done that for aviation, which got a lot of attention. It's very useful to project aviation refueling through 2100 as a scenario. And these are imperfect projections. They're through a glass, darkly. But I have substantial breadth across multiple technical and solution domains, and so I'm able to bring in insights that other people don't necessarily have.
Michael Barnard:
So for example, around agriculture and decarbonizing specifically biofuels, I've spent time talking to Karsten Temme of Pivot Bio and know that there's Agrigenetics working on changing the genetics of soil microbes to fix nitrogen at the soil, which means we don't have to put on nearly as much fertilizer. Right now Pivot Bio has about a million acres of corn under their solution. And they've already reduced fertilizer use by 25%. Their goal is 100% for the three major grains by 2030. And they can't keep up with demand. Literally their problem is they cannot manufacture enough stuff to fulfill customer's demand for this, which is why they got a $430 million funding round recently.
Michael Barnard:
So I talk to people like that across the domains. And right now I'm into the harder stuff to decarbonize, aviation and shipping in the transportation space are a big focus area right now. Which since I'm also an Air Force brat, just kind of leads me back to my roots.
Bill Nussey:
Well Sam, our producer, co-host and I were debating how do you get a guy with this much breadth to dive in on the areas and contextualize it for those of us that are a little narrower into solar and batteries. So we came up with this idea, because you're a Texas Hold'Em pro, that we could ask you to take bets. So I listed all the kinds of energy, big and small. And you had a chance to look at this ahead of time. And I said If you had $1 billion, and I'm going to list the stiff. Where would you allocate the money, in terms of bets, such that you would get the highest return?
Bill Nussey:
And the list is on shore and off shore wind, separately, grid scale storage in terms of chemical systems batteries, traditional grid scale storage like pumped hydro and other systems like that, grid scale hydrogen. We're going to dive on that one. Utility solar, community solar, which is obviously smaller scale. And then behind the meter solar, residential and CNI. And then behind the meter storage, which obviously those two are near and dear to our hearts here at the Freeing Energy project. Big nuclear. Small nuclear, small module reactors, SMRs as they're popularly called. Fusion and geothermal. You don't have to answer all of these. But I know you had a chance to look at them, and let's just step through. Tell me what the best bets are or the worst bets you can take, in any order. Tell me how much you'd bet of your $1 billion and why.
Bill Nussey:
And I'm going to see if I can push you a little bit, to learn a few things as we go through this.
Michael Barnard:
Sure. So being a numbers nerd who loves denominators and stuff like that, I immediately put them in a spreadsheet and started doing sum calculation. And I made pivot tables. And I flipped them back to Bill and Bill's like, "What is going on here?"
Bill Nussey:
No, this was 20 minutes after I sent you the list. That was the part that was amazing. He sends me the spreadsheet 20 minutes after I email him this list I made up.
Michael Barnard:
One of the things that I do is I do first iterations as quickly as possible, because that is the fastest way to figure out where I'm wrong and improve. Fail faster is a mantra that … Bill, you're a tech entrepreneur-
Bill Nussey:
Big fan of that.
Michael Barnard:
Yeah. And so for me, I immediately said, "Well, what are the categories?" There's two kind of categories that Bill was asking about. Because this isn't about transportation or agriculture or anything like that. It's about generation and storage. And my rough bet was 90/10. In other words, $900 million for generation and $100 million for storage. So that's the first categorization breakdown. We need a lot of storage. We need a lot less than most people assume.
Michael Barnard:
Now I've also done a grid storage projection for total storage demand through 2060. And I based that upon Mark Zed Jacobson's storage requirements in his scenario of 100% renewables by 2050. I've spent time with Mark and people that work with Mark. I buy Mark's analysis. So a fundamental assertion is every time I've replicated the numbers or did a different methodology of arriving at a similar number. Mark and I mostly agree, except for the part we disagree on, which is small scale solar. But it's a matter … Not that it's not valuable, not that it's not going to be big. But it's a question of percentage. The key takeaway here is Bill and I are disagreeing not about the solution but about how much of which solution in a relatively small range. So I think we're going to be pretty good there.
Michael Barnard:
Okay, so let's tear apart this a bit.
Bill Nussey:
Well let me just press on the 10/90, again, because I think one of the first things that leaps to my mind … So I'm thinking storage is behind and it's a big deal. So 10% doesn't seem like much. But I think one of the things … And I want to hear you talk a bit about it, people don't realize that it's actually cheaper … And I talk about this in my book. It's actually cheaper to build extra solar than it is to add the batteries. And one of my guests in the early part of the podcast series is Mark Perez, whose done a lot of work on this and is nationally published on the notion of overbuilding solar and how it dramatically changes the economics of a full renewable system.
Michael Barnard:
Yep.
Bill Nussey:
So I suspect that's part of your thinking. So 10/90 seems like a larger ratio than people would think. Why is it so much more generation than storage?
Michael Barnard:
Overbuilding is one of them.
Bill Nussey:
Okay.
Michael Barnard:
We have overbuilt every single form of generation and run it under its maximum capacity, except for nuclear. Nuclear is the only technology that's so expensive the only way it can be profitable is if it runs at maximum capacity all the time and has guaranteed offtake. That's what's happening with the U.S. nuclear PWR fleet right now is in open markets it doesn't have guaranteed offtake. And because of regulatory requirements it … Jenkins pointed out it can't bid on day ahead reserve markets either. So it's bound to be base load, but it's guaranteed offtake. It's a guaranteed revenue play, but it's not necessarily the most profitable.
Michael Barnard:
And so thing one is overbuilding, which we're going to do because guess what wind and solar are cheaper than anything else. If we can do PPAs for a decade or 20 years for $20-$30 per megawatt hour when just solely operational and maintenance cost for the nuclear plants are $32-$34 per megawatt.
Bill Nussey:
Wow.
Michael Barnard:
Yeah. And coal and gas are more expensive still. It makes sense just to overbuild the cheapest stuff we've got, which is exactly what we've done. The coal fleet in the United States has gone from 70% capacity factor annually for the fleet to 60%. Now it's under 50%.
Bill Nussey:
That means the coal plants are only being run half the time.
Michael Barnard:
Not exactly. A capacity factor is a measure of the percentage of potential maximum annual generation that could be generated if it was running at full capacity every hour of the year. So you take the amount of megawatt hours or terawatt hours that are generated, or gigawatt hours, and you divide that, by the same capacity in terms of megawatt hours of generation, by 24 hours in a day, by 365 days in a year. And so it's the ratio.
Michael Barnard:
Wind energy, as an example, wind turbines and wind farms run about 85% of the year. But they have capacity factors around 35%. So they're actually delivering electricity to the grid 85 out of 100 hours. But they're not running at full speed. Solar panels do the same thing.
Bill Nussey:
Great explanation.
Michael Barnard:
Solar panels generate electricity up to 14 hours a day in some points. But they're only running at maximum potential in the four or five hours over midday. So one of the things that overbuilding wind and solar does is it gives more of the generation in those outside edges of the bell curve where it can add up to sufficient generation.
Bill Nussey:
Great explanation. Thank you.
Michael Barnard:
Yep. Trust me, I've had to explain that 50 million times. I get good at things after I repeat myself a lot of times. I also bore my wife.
Bill Nussey:
You too, huh?
Michael Barnard:
So the next thing though is what Paul Martin calls broadening the grid. I just call it building lots of transmission. Renewables are intermittent in a non-pejorative way. It's used as a pejorative but it's not a pejorative. It just says the wind doesn't blow all the time, the sun doesn't shine all the time. But if you put a big HVDC pipe 1,000 kilometers, or 600 miles in unreal terms, from the Texas panhandle through the east coast, then all of a sudden what you have is the ability to have where the wind is strong be less material to where the people and demand are. Same with solar. You can move solar from Louisiana up to New England. You can bring hydro from northern Quebec, up Hudson's Bay, down to New York. You can bring wind from the great plains over to L.A. And you can just move the electricity from where it happens to be a surplus, to where there happens to be a deficit.
Michael Barnard:
And one of the big technologies that I lean into is high voltage direct current transmission. This is what Tesla was all about. Edison wanted alternating current. Or was it the other way around? It doesn't really matter. But high voltage direct current transmission has 3.5% losses per 1,000 kilometers, per 600 miles. Which means you can run HVDC lines 1,200 miles, from the geographical center of the United States to New York, and lose 7% of the generated electricity from wind, and that's it. So that's a 93% efficiency and that starts to make a big difference in terms of how we think about these things.
Michael Barnard:
And that's why one of the things in Biden's infrastructure bill was a national HVDC grid. It was actually in Bernie's original platform as well. Biden's original platform was actually an HVDC backbone down through Central America to South America, to counter China's belt and road initiative with an infrastructure program, which would also introduce significant economic benefits to Central America, reducing the impacts of climate change that are leading to the southern border crisis. It was actually a really brilliant platform, it just didn't sell well, apparently, in terms of selling it to the voters. So it ended up being United States only HVCD grid, which is still really good. The fallback position from Biden's original HVDC proposal is still much better than the United States was talking about before, so yay.
Michael Barnard:
So overbuild, transmit. And then you have to deal with, you know what we've got the [foreign language 00:29:33] in Germany. It's the long, dark, dreary couple of weeks where the sun doesn't shine and the wind doesn't blow. And it's over an extended period of time. So you have to do something with that. You have to move electricity from when it's sunny in the daytime to when it's not sunny in the evening. And you have to then build a whole bunch of statistical models to assess how much long duration storage do we have.
Michael Barnard:
Lithium ion batteries are really good for four hours. Great for moving sunshine from the early morning to accidental mid-day peaks, and from the afternoon to the evening peak. Very good for that. Terrible for next day storage. Because they're tightly coupled, from an engineering perspective, the megawatts and megawatt hours of lithium ion storage, because of the form factor, you can't make them longer because it just is too expensive to get storage. So you need a longer duration storage, that's redox flow batteries and pumped hydro storage, in my perspective. But that's why big ratio of generation, small amount of storage.
Bill Nussey:
Got it. Got it. That's a heck of an education, and well said. So let's dive into the details, which you were about to do.
Michael Barnard:
Sure.
Bill Nussey:
So tell us how you think about generation specifically? How do you see it breaking down?
Michael Barnard:
My perspective has changed. Five, six, seven years ago I thought it was going to be 50/50 wind and solar, plus or minus a couple of percent, by 2050, 2060. And they would be providing about 70% of global generation, maybe more, maybe a bit less. Now I think it's going to be more, probably 80-90% of all electricity will come through wind and solar by the end of the century. And I think solar's going to have the edge. And we agree on that, I think.
Bill Nussey:
We do. Yeah. It's going to be cheaper. That matters.
Michael Barnard:
It matters. It's not cheaper yet. But it's getting there. And it's got some really good stuff there. You and I, I think, talked about you prefer the BCG characterization of the efficiency curve. I prefer the long preceding BCGs, Wright's Law. What, a management consultant who renames a known principle for his own benefit.
Bill Nussey:
That's what they do, right. It's like the whole art of management consulting is they loan you the watch so you can tell them the time.
Michael Barnard:
Yeah. Brief aside, I read the recent published collection of the best articles out of BCG's stuff and I just expected to see more fundamental insights of great value. I didn't see a lot of stuff where they'd clearly been well ahead of the market on that. But-
Bill Nussey:
Hey, if the graphs are pretty, it's a great business.
Michael Barnard:
It's a great business. And I made a fair amount of my living off of management consulting type things, so who am I to complain.
Bill Nussey:
Yes.
Michael Barnard:
Now, the efficiency curve, or Wright's Law, says that if you double production the cost per unit goes down by 20-29%, 28%. Wright's Law is a bit more precise. BCG is a bit more of a range. And that's cool. Which means that the more things you manufacture, the cheaper they get. Now you and I talked about this on a clean tech talk not too long ago, so I'll just reiterate this. It's the same thing. You've probably said this on this podcast. We've got about 500,000 wind turbines masts, which means we've got about 1.5 million wind turbine blades, versus 500 nuclear plants globally. And the wind turbine blades and nacelles and all those things are much more self similar than the 17 different nuclear technologies.
Michael Barnard:
So the thing about this doubling is you actually have to build the same thing many times.
Bill Nussey:
Well said. Yes. Exactly.
Michael Barnard:
It's not the course numbers. You have to kind of say are these things self similar enough that we actually get the same learnings. And nuclear didn't. Coal is also … For thermal efficiency purposes you need to make coal closer to a gigawatt of capacity before it starts to really kick in, in terms of cheap efficiencies. Which means there's a lot fewer of those than there are wind turbines.
Michael Barnard:
But solar panels, I use a different number than Bill does. I calculated three billion solar panels. But Bill, you like to go with solar cells.
Bill Nussey:
Yeah. It's 120 billion solar cells. I visited so many factories over the last few years and I have a company that does solar cell innovation. And I will tell you that making solar cells is really, really hard. Making panels is hard, but it's a more traditional manufacturing and manufacturing automation. But cells is chemistry and physics and baths of hydrochloric … whatever. It's just harder to make them. So really tremendous learnings can improve solar cells in a very material way, whereas, the main lever you can move to improve the cost of panels is more about just the level of automation. You only have one or two levels to turn to make panels cheaper. But the cells, lots of innovation there, lots of learning.
Michael Barnard:
Well I would disagree with you to a certain extent. There's a nuance on the statement.
Bill Nussey:
All right.
Michael Barnard:
The global supply chain of deployment, distribution, manufacturing has a significant part to play in the reduction of the unit cost of these things as well. Right now solar panels come in containers. If we didn't have containerization of dry goods shipping it would be more expensive. If we didn't have … For wind turbines, there's specialization of port facilities, specialization of boats, specialization of trains, specialization of trucks that deliver wind turbine masts to sites, and specialization of equipment which puts up wind farms and solar farms. Then you have specialized teams who know how to do this and repeat the same activities over and over and over again.
Michael Barnard:
So the entire supply chain end to end sees efficiencies, not just the manufacturing efficiency, but everything along that way becomes more efficient. We end up with specific middlemen firms which deal with this particular portion of the supply chain to take costs out, increase efficiencies, and reduce the end to end systemic cost. You see people collapsing two parts of the supply or manufacturing chain, or the construction chain. And you see that deployment understanding feeding back to the manufacturer and feeding back into just in time delivery, and a reduction of inventory costs and inventory management costs.
Michael Barnard:
And so because wind and solar are so massively scaled and are such massive global supply chain industries, huge numbers of very bright people have been applying efficiencies and looking to maximize profit on every step of those journeys, from manufacturing all the way to maintenance and decommissioning, for decades. And 120 billion cells, three billion solar panels, that's a lot of people touching these things and trying to … Fred just wants to go home early on Friday, so he figures out how he can do more and get off at 4:30 and go have a beer.
Bill Nussey:
You said something that I have never thought of before and wished, in hindsight, I had put in the book. But one of the advantages of silicon solar is that it leapfrogged or built on the foundation of silicon microchips. In other words, a lot of the things they learned in making chips, for phones and computers and televisions, apply directly to making solar. So they had a huge head start. But you mention another one that I hadn't realized, which is that unlike wind turbines and stocks and blades, which require special handling … Look up on the internet, pictures of wind turbine blades being moved to their location with these crazy long trucks and things like that. Solar cells and panels can fit into the existing supply chain containerization without any changes.
Bill Nussey:
So, again, solar had the advantage of building on top of an existing system and being able to bring incremental improvements to it, rather than having to have a, in the case of distribution, somewhat of a new system created for it. It's already farther down the learning curve. Whether you're shipping flat screen televisions or solar panels, people have been thinking about that particular kind of shipping for many decades and have gotten already good at it. Where they're starting to think from scratch on how to move wind turbines out into the ocean offshore and put them up there, which is really cool by the way. But it's new.
Bill Nussey:
Not to digress or do an opinion piece, but I do think that's one of the shortcomings of a lot of thinking that goes into things like nuclear and offshore wind is because you have to design all these new systems and there's so much new science that it's attractive to … because it feels very innovative and very inventive, people get excited about it, even if they sometimes look in the mirror and say, "You know what, the end result isn't going to be necessarily better than stuff we already have." But there's so much innovation to be done. It's so cool. Papers to be written, inventions to be made. You get, I think, a little derailed for that. But that's just my opinion.
Bill Nussey:
This is about you, sir, so let's continue back to the wind and solar. So solar's got a slight advantage. What about some of the secondary generation technologies?
Michael Barnard:
And let me quantify that.
Bill Nussey:
Okay.
Michael Barnard:
A full half of the billion goes to solar.
Bill Nussey:
All right.
Michael Barnard:
$400 million goes to wind.
Bill Nussey:
Okay.
Michael Barnard:
And this is just because we're not talking about transportation or biofuels or any of that stuff. We're just talking about electrical generation and storage. So that's the-
Bill Nussey:
What about the rest? What about the rest of the generation? Do you see roles for geothermal?
Michael Barnard:
So geothermal is cool. I like geothermal. Right now there's a lot of talk about very deep geothermal. It's like drill down 2,000 feet, that's in the fake numbers. Which is about 700 meters in the real numbers.
Bill Nussey:
You can see why Michael wins arguments and wins debates, because he makes his point, just no stopping him.
Michael Barnard:
But deep geothermal is interesting and it's got some value propositions. It's not all that. It's very capital intensive for the electricity you get back. It's got some value propositions. Geothermal itself has a bunch of easily accessible sites. But it competes in those sites with mindsets. It's a really weird thing. So Japan has got enormous geothermal assets, except the onsens, the hot springs that are in Japanese culture are so culturally beloved that you can't put geothermal generation on the hot springs of Japan.
Bill Nussey:
Wow. Who'd of thought.
Michael Barnard:
I know. And in B.C., where I live, we've got the Rockies. We've got massive plate tectonics. We've got geothermal resources coming out the wazoo, and no geothermal because guess what, BC Hydro … The first question about electricity is, okay so where are we going to put the dam? No, no. Let's talk about generation needs. Okay, "So where is the dam going to go?"
Bill Nussey:
Right.
Michael Barnard:
There are more ways to generate. "Okay. Fine. Yes there are. But where are we putting the dam?" This is BC Hydro's answer to everything, which is why we have a dam which could be replaced by I think 1.2 gigawatt of wind, for example, being built that's going to have a reservoir that's 93 square kilometers and isn't going to be carbon neutral for 37 years. The Site C Dam in northern BC.
Bill Nussey:
And for those people that don't spend a lot of time in Canada, BC is British Columbia.
Michael Barnard:
Right. Sorry.
Bill Nussey:
No, it's all good.
Michael Barnard:
Massive geothermal, completely untapped.
Bill Nussey:
All right.
Michael Barnard:
And so this is an interesting thing. You kind of say, "Well why not?" The secondary thing is that geothermal has a lifespan. It's really good. So I don't put it as high. I put it $10 million out of the billion goes towards geothermal, which is pretty good. And it's, I'm just going to say, a lot better than nuclear does.
Speaker 1:
It's interesting to hear Bill and Michael talk about why some technologies make more sense than others. And even if they don't agree on everything, both bring some fresh new thinking to the outdated assumptions that have driven electricity policy for decades. For over a century now, big scale has been the name of the game in the energy business, particularly when it comes to the generation of electricity.
Speaker 1:
And in his new book, Freeing Energy, our host and the author, Bill Nussey, suggests that the rationale for a grid built exclusively on economics of scale is outdated. Nussey argues that the future grid will be built with a mix of technologies, owners, and business models, at every scale, from large to small. And he shares 18 unique benefits of the local energy approach, and why small is the new big. Here's just one of those benefits, and it's number nine on the list. Local energy create choice. Choice for individuals and communities. The electric monopolies force all buying and selling through a single organization. In most cases, this results in a marketplace of one. Customers have no choice but to accept whatever rates and service levels their monopolies choose to offer.
Speaker 1:
Conversely, local energy is like buying a car or a home renovation. People can shop for options and prices and choose the one that best suits their interest. To learn more about this benefit and the 17 other benefits, check out the book Freeing Energy: How Innovators are Using Local-scale Solar and Batteries to Disrupt the Global Energy Industry From the Outside In. You'll find a link to the book in the show notes for this episode. Now back to Michael and Bill for even more.
Bill Nussey:
Let's talk about nuclear. I put it into two buckets. There's traditional nuclear, which takes … Apparently there's 17 kinds. I didn't know that. But generally speaking it's using uranium and heating it up to create steam and turn turbines. Big systems. Gigawatt scale plants. And then there's a whole bunch of excitement around small-scale plants and new types of nuclear, like Bill Gates' TerraPower. You've got small-scale nuclear like NuScale, which I talk about in the book several times. And then the big-scale. Where do you think nuclear fits in this big bed of yours?
Michael Barnard:
Okay. So let's talk about big-scale fission to start with.
Bill Nussey:
Okay.
Michael Barnard:
You got 99 working reactors or 101 working reactors in the United States right now, virtually all based upon the same technology that was used in nuclear aircraft carriers and nuclear submarines. That's why the United States was very effective in putting in a reasonably priced nuclear program, is because they used existing technology. It was aligned with a strategic military objective. And they replicated that in a relatively short period of time.
Michael Barnard:
And they learned very early on that in order for nuclear generation to be cost effective, it had to be big. It doesn't matter. If you're putting a nuclear missile loaded submarine under the polar ice, the cost efficiency isn't your first concern.
Bill Nussey:
Or your second, third, fourth, or fifth. Right.
Michael Barnard:
Right. And so military use of nuclear in those technologies had very different business purposes, had different strategic goals. But for generating electricity for commercial uses, you want the stuff to be cheap. And so what they did is they went through in the 1950s and the early 60s, they built a bunch of stuff that was the same scale as the stuff in nuclear submarines and aircraft carriers, and it was really, really expensive. You might see some foreshadowing here.
Michael Barnard:
And then they made it big. They made it gigawatt scale because as you expand out a pipe, its diameter, it gets much bigger in terms of ability to have stuff flow through it. For thermal efficiency purposes, you want big pipes and you want big boilers. That's why coal plants tend to be in the gigawatt scale and nuclear plants tend to be in the gigawatt scale. There's a bunch of thermal efficiency things in there. So if you're doing that kind of generation, make it big.
Michael Barnard:
And so this would apparently be something that they've lost track of. But as I said, you want to use the same technology. You need it aligned with national strategic stuff so it can blow over social license and regulatory variances between states. It has to be a socialist program of deployment. Because guess what, the government has to do all this, not private industry.
Bill Nussey:
People are surprised to learn that you can't get commercial insurance for nuclear power plants. The only reason there is any commercial insurance is because the government backstops a massive portion of, well if the nuclear power plant has an issue, the government will just use taxpayer money to solve it, because no insurance company will actually cover the big risks.
Michael Barnard:
Let's quantify that. The entire nuclear industry in the United States is capped for liability at $13 billion in the case of an incident. That's all 100 reactors. $13 billion for all of them. Not $13 billion for each of them. And so-
Bill Nussey:
And just for comparison, tell us how much the estimated costs for Fukushima cleanup are looking like.
Michael Barnard:
I did the math on this. I don't know if you saw this. I think I must've sent this to you.
Bill Nussey:
No I didn't. It's in the book though.
Michael Barnard:
Okay.
Bill Nussey:
I don't know if I used your numbers. I'd like to hear your numbers. It's a big number. Bigger than $13 billion as I've heard.
Michael Barnard:
My estimate is that the final cost to the economy of Japan, all-in, just for the nuclear portion of the Fukushima disaster will be a trillion U.S. dollars.
Bill Nussey:
That's more than $13 billion.
Michael Barnard:
That's a bit more than $13 billion. As Mark Zed Jacobson said, that's $2 billion for every single reactor on earth.
Bill Nussey:
Wow. Wow.
Michael Barnard:
And this is, as you point out, a taxpayer burden, a taxpayer held liability. So, for-
Bill Nussey:
One quick thing just for our listeners. You've said several things that people who don't live where you do in the world want to be clear. You say Mark Zed Jacobson. So for people who live where Michael Barnard does, Zed is another word for what we in the United States call Z.
Michael Barnard:
I've lost track. Honestly, I spend so much time talking to people in the states I can't remember which is the one I'm supposed to say.
Bill Nussey:
It's Z, just for the record.
Michael Barnard:
Mark Z. Jacobson. Okay. So the existing U.S. fleet and most of the nuclear reactor fleets around the world should be kept going until their natural end of life, until they require refurbishment which is uneconomic. That probably means the U.S. will be mostly out of nuclear plants in 20-25 years. Elizabeth Warren's campaign had 2035 as the phaseout. There are only two reactors that were going to be past 2035 anyway. Three, I think.
Bill Nussey:
Go Georgia.
Michael Barnard:
Go Georgia. Here, if it ever goes.
Bill Nussey:
Right. Right.
Michael Barnard:
So I'm in favor … Jenkins suggested that the regulatory burden, which prevents the PWRs from doing the limited amount of load following they can, so they can bid on day ahead reserve markets and reduce the use of coal and gas for reserve markets and reduce the feathering of wind and solar, I like that. That's a very sensible approach. And it bridges the assets fiscally to their retirement. It doesn't pay for us building any new ones. But it makes a lot of sense economically to break that particular barrier. And it's good for generation.
Michael Barnard:
China will continue to build new nuclear reactors because they need more energy than anybody else in the world, and they're burning way too much coal.
Bill Nussey:
But according to what I've looked at, they have scaled back their nuclear ambitions surprisingly from the number of plants they were projecting a couple years ago to the ones they are projecting now. I couldn't get hard data on it, but I think they are even trading out solar and wind for nuclear, although to your point, they need nuclear. They need everything.
Michael Barnard:
Absolutely. Yeah. I published something last year which was a decades perspective of the annual increase of capacity and generation of terawatt hours for wind, solar, and nuclear in China. It's a natural experiment. China has the ability to have a national scale strategic initiative which blows over regional concerns, which is necessary for nuclear to be cost effective. They had the ability to standardize on a single technology, which they failed to do. They've got six technologies, now seven that they're deploying. So that's a failure condition for China's choice.
Michael Barnard:
And they can blow over siting and social license concerns more than anybody else. There's a lot fewer NIMBs that are allowed to be NIMBs in China.
Bill Nussey:
Not in my backyard is NIMB.
Michael Barnard:
Yeah. And so China is going to keep building nuclear less, because they had 2020 goals for nuclear which they didn't hit. They achieved double their target in solar and 150% of their target in wind. Wind and solar both vastly exceeded delivery and deployment expectation, while nuclear underperformed. And China is a very intelligent organization. They run experiments and they listen to the results of the experiments. And then that informs the next five year perspective and goals.
Bill Nussey:
Can you do that?
Michael Barnard:
I know. It's crazy talk.
Bill Nussey:
You actually look at data and learn from things and make rational decisions? It's not in my book, but I interviewed a very high level person in the Chinese government. It was a scientist. And I asked her … I went to Beijing to research the book and I asked her, "How did you get the politicians to listen to the science around climate change and technology progression of solar?" And she looked me genuinely and she's like, "I don't understand." And I said, "Well how do you get your politicians to look at the data?" And she goes, "What else would they do? Oh. Oh," she said. "Okay. No. We're different in China than you are in the United States, because most of the politicians that I talk to, they look at the data and it just makes sense and they act on it. It's very different than your country." That was just her reaction, like why would you even ask that question. It was so telling to me.
Bill Nussey:
By the way, I'm not an advocate for China. There's a lot wrong with what they do. But there's a lot we could learn from a couple of things that the government and the culture does well.
Michael Barnard:
Yeah. I've spent a lot of time working with people in China, working with Chinese people outside of China, studying China and what it does. There's a lot of things what should be doing that they're doing, around the world.
Bill Nussey:
So we are way over time, but I do want to do the SMR and then hydrogen. And then we'll jump to a very quick version of the lightning round, because everyone loves that.
Michael Barnard:
Okay. So small modular reactors. I foreshadowed this one. The industry tried them in the 50s and 60s, and they weren't cost effective.
Bill Nussey:
Really?
Michael Barnard:
It's not like the physics have changed since then. The new technology is safer, but our current versions of generation three reactors are passive safety features as well. Nuclear's problem isn't safety, it's economics. And small modular reactors, you have to … Moore's Law or Wright's law, or the efficiency curve, says you have to build dozens of the same thing to get value out of them. Now I've actually recently been engaged with … I promised I was never going to try and pronounce his name, Bent Flyvbjerg, doctor who's the chair of major program management in Oxford. He holds a similar role in Copenhagen. He is an expert on why projects fail, mega projects and things like that.
Bill Nussey:
Wow. Fascinating. You have my interest. What did you learn?
Michael Barnard:
Well he and his co-author, Dan Gardner … Dan Gardner was co-author with Tetlock of Super Forecasting, one of my favorite books of the recent years. So they are collaborating on a book coming out in a year or so on modularization and efficiencies of multiplying small scale stuff, as opposed to using mega-
Bill Nussey:
Well I have to read that. Wow.
Michael Barnard:
Oh yeah. And they reached out to me because my natural experiment stuff with China for nuclear, wind, and solar, was exactly aligned with their stuff. So they're going to reuse improved versions of some graphs that I produced for that assessment in the final chapter of the book, apparently. But I asked-
Bill Nussey:
And I'll still read it, even if you have stuff in it.
Michael Barnard:
I know. I know. That's very nice of you. By the way, you should look in the prologue at how you thanked me, because there's a period in the wrong place.
Bill Nussey:
Oh, dude. Wow. That's intense. I did find a typo in the article you wrote me in CleanTechnica the other day. So back at you, buddy.
Michael Barnard:
Yes, of course. It happens. But I asked Bent, "How many iterations does it take before the efficiency curve kicks in?" Because this is what he spends all of his time assessing. And it takes dozens at minimum of building the same thing before you get to the point where doubling actually becomes statistically valid.
Bill Nussey:
Oh. Okay.
Michael Barnard:
So you have to build 60 of them before you start getting efficiencies of building more. Then you have to double that to 120. And then you have double that to 360. Then you have to double that to 720. You're just not getting a lot of efficiency improvements, until you get into the thousands and tens of thousands and hundreds of thousands.
Bill Nussey:
And unlikely we will ever build that many plants.
Michael Barnard:
Especially because there are 18 competing technologies the different countries and corporations are favoring and lobbying for around small modular reactors. So the only answer for a small modular reactor to become a cost effective solution is, A, to ignore the physics of scaling vertically, because we build gigawatt scale generation for a reason. B, have major governments lean in and pick a winning technology and mandate it, blowing over competition and saying, "We're only going to build one of them." And the having a strategic requirement from the federal government down to say, "This is the only one we're going to build. And you're going to build this many and you're going to build this many and you're going to build this many. And we're going to pay for it." We have the big slush fund for nuclear overruns. It's the only way we can get the manufacturing and scaling appropriate. And even then, gigawatt scale is what's required for nuclear because it's thermal.
Michael Barnard:
So SMRs, my serious answer to you is that most of the attention being paid to SMR is being funded by right-wing politicians who want to avoid doing anything about the climate.
Bill Nussey:
Fascinating.
Michael Barnard:
Talking about fusion, I recently looked at the ITER Tokamak program, which I consider to be the most credible, likely candidate to deliver net positive fusion. The CFS people from MIT beg to differ, but I can't be bothered. I looked at a few. Anyway, the ITER Tokamak, their big claim is they're going to be net positive by 2040. A, that's 20 years from now and we got to do stuff by 2030. B, that's thermally net positive. 200 megawatts hours of heat comes in, 500 megawatt hours of heat comes out. But then you have to generate electricity with that, and that turns that back into 200 megawatt hours of electricity.
Bill Nussey:
Oh wow. Oh I had not thought about that.
Michael Barnard:
And secondly, they plan to maintain that wonderful ratio for five minutes maximum, in 2041. So, as I said, breakthrough, fusion recedes into the distant future for the 57th time.
Bill Nussey:
You know, I pulled some strings and got an interview with one of the top leaders at ITER. I didn't get the thermal things. I didn't even ask that. But I did say, "So if it all works, where do you think that the price would come out?" I know you have to first make fusion work, and then you have to build it into a power plant. And of course economies of scale work there, so you need gigawatt or larger scale plants, again. And I said, "Where do you think the price is going to come out?" And his price was basically a little cheaper than fission.
Michael Barnard:
Not a chance.
Bill Nussey:
That wasn't his expertise. But his point was that if/when fusion becomes tenable scientifically, it's not going to change the cost economics. It will remove some of the long-term waste disposal issues, which no one's really accounting for anywhere in the world. And that's a maybe. But it's not a cheaper solution. So as attractive as it is … And to my point I said at the beginning of this, there's an undeniable attraction to the incredible sexy science that goes into this, and the thought of virtually unlimited energy. But once upon a time when they were building the early fission plants, the quote by the leaders was that it's going to be … electricity, it's going to be so cheap we don't need to meter it. And that has not worked out at all for nuclear.
Bill Nussey:
Well let's take this last area, because this is the juiciest one. I have learned … And as I've said to everybody that'll listen, I had written my section of the book on hydrogen and I read a bunch of your articles and I completely rewrote it. I think we might disagree on some of it. But I have to tell you that I found your perspective on hydrogen was so eye opening in a world where there's a growing degree of frenzy and excitement around it, sort of that scientific thing again. And you are not as bullish, to put it mildly, as some of the folks out there talking about it. So how much of that $1 billion would you bet on hydrogen?
Michael Barnard:
If we're talking about energy, it doesn't make my list, at all.
Bill Nussey:
Okay.
Michael Barnard:
And the reasons for that are multifold.
Bill Nussey:
But it could make your list if you were using hydrogen for a feedstock.
Michael Barnard:
Oh yeah. We've got about 120 million tons of hydrogen that are manufactured for industrial feedstocks today. The biggest portion of that is hydratreating and desulfurization of oil in refineries. Gee, is that a growing market? No. I've had this conversation with Paul Martin, who's a chemical processing engineer and co-founder of the Hydrogen Science Coalition that started last year. The 20% of a barrel of oil that we will still consume in 2100, because it will have industrial feedstocks that we can't get easily or cheaply from other sources and we're not going to burn them.
Michael Barnard:
A subset of that still requires that it be low sulfur. So Paul's perspective is that we'll be using hydrogen to desulfurize stuff for that portion of the barrel. But, my portion and my argument is the only oil that'll be being pumped in 2100 is the sweetest oil, the lowest sulfur oil that is the closest to water. In other words, the best oil for that purpose. So it'll have the least sulfur in it already. So we're barely going to be using hydrogen in refineries that remain in 2100.
Michael Barnard:
The next biggest use of hydrogen is in fertilizer. Once again, I mentioned Pivot Bio. There's Precision Agriculture and there is Low Tillage Agriculture, both of which are radically reducing fertilizer demand. And so our demand for hydrogen in that space is going to shrink as well, especially because hydrogen is going to be more expensive than it is today. Right now we make it from natural gas and we throw all the stuff into the atmosphere like an open sewer.
Michael Barnard:
So then you've got some other stuff that's industrial feedstocks, and we're burning approaching zero for any energy use today. And it makes zero sense to use it for energy use in the future, for the simple reason the best possible scenario is 37% roundtrip efficiency.
Bill Nussey:
That low, really? I did not realize it was that low.
Michael Barnard:
It is. Well you just kind of do the math and it's-
Bill Nussey:
So you mean if I put in 100 kilowatt hours of electricity into a "hydrogen" battery, I'm going to get only 37 kilowatt hours back out when I discharge it?
Michael Barnard:
Best possible case, absolute best possible case. Hydrogen is a terribly inefficient roundtrip thing. For grid scale storage I like to talk about 70% is the minimum threshold, because people assume that hydrogen will be viable because electricity will be free. I just think that is the most naïve perspective that someone could have on hydrogen. We'll have surpluses. But there will be multiple demands and we still have to transmit it. Right now, natural gas is as close in British Columbia to a free commodity as it is possible to imagine. They pump it out of the ground. They take off high value distillates. And they shove the rest into the distribution network. And it's mostly the cost of distribution and management of billing for FortisBC that people are paying for. Our natural gas is dirt cheap here because it's almost a waste commodity compared to the high profit portions.
Michael Barnard:
So that's the model you have to think about. It still has to be distributed. Somebody still has to bill for it. You still have to do all the regulatory stuff around it. My assertion is that 2100, the base cost of electricity would be $20 per megawatt hour in 2020 terms, whatever that turns into. Call it $27 or $29 or whatever it is. But it's $20, in our current numbers, is going to be the base price. And so you have to think about that.
Michael Barnard:
Now if you look at the Lazard LCOE material on hydrogen, what they say is if you get $10 per megawatt hour and you run the electrolyzers at 90% capacity factors, both deeply unrealistic numbers, then you get down close to the cost of hydrogen today, for manufacturing.
Bill Nussey:
Wow.
Michael Barnard:
That's in the best possible case scenario. The entire assumption of using wind and solar when it's available and cheap falls apart as soon as you say, "Well the capacity factor." You got to run these things all the time. So then you got to distribute the hydrogen from wherever it is. And if distribution … I recently did the math on shipping hydrogen over oceanic routes.
Bill Nussey:
Okay.
Michael Barnard:
Yeah. Because actually the first hydrogen laden ship left Australia for Japan in the past few weeks and people are betting big on putting hydrogen in ships as a medium of energy delivery. Except that you got to chill it down to 27 degrees above absolute zero.
Bill Nussey:
Wow.
Michael Barnard:
I know. Which takes three times as much energy as chilling natural gas for liquid natural gas.
Bill Nussey:
Now that's actually technically even colder than Canadian winters, right?
Michael Barnard:
In most places. But then it gasses off. It's like .2% per day or something like that. So you lose another 5% of the energy.
Bill Nussey:
Really?
Michael Barnard:
Yeah. The best possible case scenario for shipping hydrogen is 5-7 times the cost of the same unit of energy in liquid natural gas, which is already expensive.
Bill Nussey:
Whoa.
Michael Barnard:
Oh yeah. And piping it, it takes three times the energy to pipe the stuff, to deliver less units of energy. It likes leaking through stuff. In distribution networks it dissipates-
Bill Nussey:
It's the smallest molecule there is.
Michael Barnard:
It likes dissipating through plastic pipes. Its explosive range is much broader than liquid natural gas. Liquid natural gas is 5%-23% of air. It can explode. Hydrogen is 4%-76% and it takes three times less energy, a third the energy, for a spark to ignite it.
Bill Nussey:
In my book I have it's 10 times more ignitable than gasoline, as a good example.
Michael Barnard:
Yeah. So you add up all this stuff. The aviation industry is claiming they're going to used liquified natural gas. That's 20 degrees above absolute zero inside the cabin of the airplane.
Bill Nussey:
They're already having to work to heat that anyway, just because they're so high in the … Anyway, that's crazy, man.
Michael Barnard:
There's all sorts of stuff there. The Hydrogen Science Coalition, I urge your viewers to look them up. I urge any journalist who are considering hydrogen to call the H2 Science Coalition, .com or .org, whatever they are, and talk to them because you'll get the real story. And it's not what the fossil fuel industry wants us to know.
Michael Barnard:
So hydrogen for energy, I say that Germany was probably the only place that's going to build a salt cavern for energy storage using hydrogen, because they're stupid about hydrogen in that country, in a different way than South Korea and Japan are. And nobody else is going to bother, because it's such a waste. Unless the lobbyists of the fossil fuel industry get their other fossil fuel into the panoply of solutions.
Bill Nussey:
See I think that's … My conclusion in the book was that you've got the largest, most politically powerful industry, a trillion dollars a year in oil and gas. And they are facing, I don't even want to call it existential. They're facing a near certain future where the need, the demand, the revenue from what they've been doing for a century will drop 80-90%, 95%, who knows how low it's going to go. But it's going to get low in the next 20-60 years. And so they see this coming and they have … Unlike the solar industry, they have unbelievable profits. And they have billions and billions of assets, trillion probably. So they are not going to let hydrogen go away because hydrogen is the one thing that allows all their infrastructure, all their political influence, all of their expertise to remain relevant.
Bill Nussey:
And I totally applaud Shell and others that are embracing solar and EVs and things like that. But hydrogen fits their business model wonderfully. And I don't know what all that spending and influence will create, but I know that hydrogen will remain relevant and in the top of the discussion field among governments and scientists for a long time. If we can keep nuclear alive, which has relatively less money and less supporters, hydrogen is going to be … It may be life support, but it's going to be a healthy heartbeat for a long time.
Michael Barnard:
Yeah. When I talk to investors about it I say hydrogen hope has got through 2030 before all the spreadsheet jockeys figure it out. And that's already started. Demark, I think it was, had 60 buses, hydrogen buses they were going to buy. And they canceled it because the numbers didn't pencil out. And so that's going to happen.
Michael Barnard:
So I guide people to say we're going to need 90 million tons of green hydrogen to replace the remaining stuff. And that requires a lot of electrolyzers, and so electrolyzers are a great place to invest. Fuel cells are a terrible place to invest. Electrolyzers will be needed in 2030, 2040, 2050, 2060. Investments there are good today and good tomorrow. It's a good way to ride the hype today.
Bill Nussey:
Man, that is an informed and thoughtful answer, and very compelling to me. Thank you for all the work you do to put that together. And every time I talk to you, Michael, I wish that we had another five or six hours, because I learn so much. And I love the way you present it. It's not just data. I would hate to see you ever become some research scientist. The way that you present it is as interesting and engaging, and very often, provocative, which I think makes it … Normal people get interested in doing the hard work of understanding this stuff. So I am personally very grateful for all the learning I've done from you over the years, and the many collaborations we will certainly have going forward.
Bill Nussey:
So this has been eye opening. It's been one of our longe recordings. But I think it's worth every minute. And I want to wrap up with what we put all of our esteemed guests through, which is what we call the lightning round questions. So I'm just going to jump right into that right now and get your quick thoughts on a couple of things so that our listeners will get a sense of what makes you wired towards the clean energy industry. So first of all, what excites you most about being in the clean energy business?
Michael Barnard:
Pretty straightforward, I'm a nerd who likes complex problems and values making a positive impact. There's not much more valuable right now, in my opinion, than climate solutions. And boy oh boy is it a complex space.
Bill Nussey:
I love it. I love it. Hear, hear, man. Second question. If you could wave a magic wand and change just one thing, what would it be?
Michael Barnard:
Globally we have a really weird, inverted power structure being rural land area, over where people live. Cities are an afterthought in constitutions globally. They're buried deep in the governance structure and yet they are 40-50% of GDP of countries. And they're where 80% of the population lives. And those numbers are only increasing. And yet provinces and states can wave a magic wand and change everything about cities without them being able to do a thing. And they get whipsawed by rural voters. It's inappropriate and it's contrary to climate solutions.
Bill Nussey:
In my many hours of speaking with you, Michael, I would call you an absolute urbanist. And I feel like if you drove down my cul-de-sac here in middle Georgia, here outside of Atlanta, that you might get hives. But you'd see the solar panels on my roof. Anyhow. Actually not from the street, because the homeowner's association does not allow us to have these ugly things visible to the other neighbors. Don't get me started. Anyway.
Michael Barnard:
You're in one of the 12 states in the United States where the HOAs are not blocked from having that requirement.
Bill Nussey:
Wow. I did not know that. All right, third question. What do you think will be the single most important change in how we generate, store, and distribute electricity in the next five years?
Michael Barnard:
Batteries.
Bill Nussey:
That's the right answer.
Michael Barnard:
Especially in a redox flow space. Redox flow batteries have big tanks of liquids on either side or gases on other side. And they have the fuel cell bits in the middle. And you pump stuff through. And you can make the tanks as big as you want. Great stuff. My bet's on Agora Energy Technologies' CO2 based chemistry because of the efficiencies. I'm engaged with them. Full disclosure, I'm a strategic advisor and I'm a board observer to them and assisting them as they move through this very seminal year for them. I think they're going to take a huge share of the market after they commercialize in the middle of this year. Redox flow in general is a strong place to look.
Michael Barnard:
And then the battery cell technology for the lithium ion little batteries that we have, like the AA and AAAs and stuff, that space is still booming. There's so much research going on that's going to be so seminal. We're seeing massive advances there. It's just going to continue.
Bill Nussey:
Last question. I'm sure you get a lot of people who are outside of the industry that are enamored with being part of addressing climate change and cleaning energy transition. What advice would you give those folks? Many of them are listening in today.
Michael Barnard:
Vote up and down the ticket for climate oriented parties that have the opportunity to gain power. In the United States, where many of your listeners are, there is November mid-terms coming up that is critical for continued climate action in the United States. I would urge people who are not engaged already in the get out to vote organizing to get involved and to plan around that vote.
Bill Nussey:
I love it. And absolutely, and thank you. So Michael, this has been fun. I have laughed. I have learned. Thank you so much for all your help leading up to this wonderful podcast discussion today, and certainly all the things we'll do in the future. But thank you for sharing all your insights with our listeners and everyone in the Freeing Energy world.
Michael Barnard:
Thank you. Take care.
Speaker 1:
Thank you for joining us today. You have been listening to the Freeing Energy podcast, personal stories from the clean energy movement. To learn more about the Freeing Energy Project, visit our website, freeingenergy.com. Subscribe to the Freeing Energy podcast on Apple Podcasts, Spotify, Google Podcasts, and anywhere podcasts are found. Make sure more people learn about clean local energy by rating and reviewing the show on Apple Podcasts.