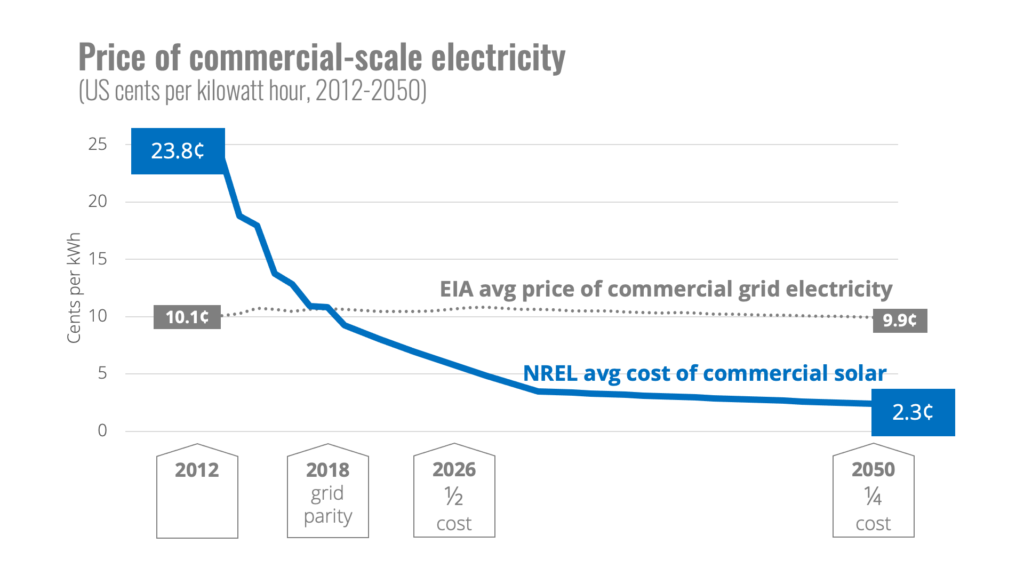 Cimpatico Studios is a live-stream talk show that explores the world's most pressing business and social issues. This year, Cimpatico launched its first channel, the Climate Adaptation Channel, hosted by Doug Parsons.
In this talk titled "How much cheaper can solar get?", host Doug Parsons interviews Bill Nussey, the founder of the Freeing Energy Project, about the history of solar prices, new solar manufacturing technologies, and the role of the government in funding and subsidizing the renewable energy sector.
Here are a few ideas Bill shared during his conversation with Doug…
"Over the past 40 years, the price of solar has dropped over 300 times."

"We have to remember, solar is the technology and not the fuel itself."

"Solar benefits from economies of volume… therefore, even small changes can provide massive benefits."

"Research shows that if you put solar on your roof, it's probably one of the best returns in regards to selling your house in the future…"
For more information about topics covered in this episode see…
Freeing Energy Project founder, Bill Nussey and co-host Sam Easterby talk to the individuals who are disrupting the century-old grid monopoly and making clean, local energy a reality.
Freeing Energy Project – "Myths of Solar" Series
Solar may have its challenges, but it has an even longer list of myths and misconceptions surrounding it. In this 4-week email series, the Freeing Energy Team has compiled a series of data-driven articles about some of the most common solar myths. Topics include-
Coal and natural gas are a lot cheaper than solar

Rooftop solar shifts grid costs onto low-income households

Solar uses too much land
And many more!
Energy Facts – The Freeing Energy Project
To help make sense of the plethora of energy related data available, the Freeing Energy Team has created a series of graphics and visual aids to explain changes and make predictions about the clean energy economy.