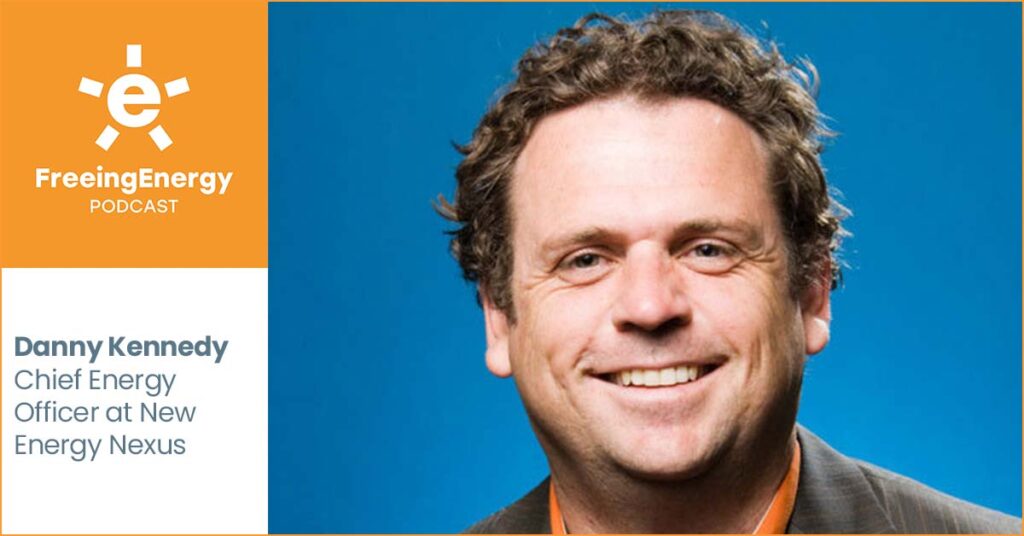 Clean tech entrepreneurs, listen up! Host Bill Nussey talks with Danny Kennedy, a founder and CEO of New Energy Nexus. Kennedy shares his journey from activist to entrepreneur, and how his firm is using a dramatically different theory of change and a massively broad engagement model to pave a significantly faster on-ramp for climate tech startups in California and around the world. Plus, hear from the executives of two startups, Mark Anderson of Icarus RT and Zander Mrlik of Intertie, who companies have benefited from New Energy Nexus and one of its partnership programs, CalSeed.
Here are some of the highlights from their discussion…
"Our mission is to support diverse entrepreneurs that drive innovation and build equity into the global clean energy transition so that we can make it happen as soon as possible."
---
"There's this sort of mistaken thought out there that we need to invent, de novo, some things. But the reality is that we probably have most of the things we need already to make the energy transition happen in time to stave off the worst of the crisis. What we need to do is bundle things in ways that are useful to customers and delightful for customers that they want to buy and and pay for it now.
---
You can also listen to this podcast and others in our series on these platforms:


Check out these links to learn more
New Energy Nexus: https://www.newenergynexus.com
CalSEED: https://calseed.fund
Icarus RT: https://icarusrt.com
Intertie:https://www.intertie.com
Full Transcript
Bill Nussey:
We'll, hello and welcome to everyone in the Freeing Energy podcast world. I am your host today, Bill Nussey the founder of Freeing Energy. So most, all of you will have heard of our guest today, and we're going to hear his story. But part of what we're going to do today is we're going to talk about what he and his organizations have created. And we're going to hear from some of those organizations themselves, just to really drive this point home about the exciting and fast-paced innovation that's happening and in this case based in the state of California. So I want to start off by offering a warm welcome to today's sort of co-host and guest Danny Kennedy. Welcome Danny.
Danny Kennedy:
Thank you so much, great to be here, Bill. Good to see you again.
Bill Nussey:
So I'm sure most of you have heard of Danny, but he has such an amazing background that I want to make sure we highlight some of the really cool parts of it because he's been at this a long time and it's had a huge impact. He started as one of the earliest cleantech entrepreneurs with a company called Sungevity, which really was one of the earliest rooftop solar folks in the industry. He's even written a book called Rooftop Revolution, go book writers.
And he has since really devoted himself to creating systems and organizations that accelerate the creation of new businesses. It's all part of New Energy Nexus. And it includes CalSEED, which is the California seed incubator and several other. He was the co-founder of Powerhouse. So this is a recurring pattern. And if you just look at what these organizations are creating, all the new companies coming out of it and the new entrepreneurs, the impact is incredibly wide. So I am really excited to dive into this today. And we're going to talk about your background first, and then we're going to talk about these organizations.
Danny Kennedy:
Great and thank you for having me. Great to be here and big fan of your book and happy to chat about all the incredible startups we got to support just 450 in the last year alone.
Bill Nussey:
450!
Danny Kennedy:
Through the New Energy Nexus family, broadly speaking. Yeah.
Bill Nussey:
Wow. And I didn't mention one of them, you also helped create Third Derivative, which was an organization done with Rocky Mont Institute. And we've had Brian Hassin and the CEO on the podcast before. So you're just like pied piper of startups and incubators. This is fantastic.
Danny Kennedy:
We need a lot of them. Lets keep going.
Bill Nussey:
450. Wow. So we always want to start with at least a little bit of your background. So we were doing some research and at 12 years of age, you were already an environmentalist and a climate change activist. You led a successful campaign to stop the construction of a dam in Tasmania. So what spurred a 12 year old to get into this?
Danny Kennedy:
Oh, and just to be clear, I didn't lead that campaign. I was just a bit part of it, but that was a very famous case of a dam in Tasmania that really was the meat of the 1983 Australian federal election. This is all old history and your listeners don't need to know too much about the detail, but it was about bad centralized electricity choices, which were being foisted on in this case, a mighty wilderness in Southwestern Tasmania. And the fact that there were better options and the good news is we won that campaign. The dam wasn't built that world heritage wilderness is still intact to this day.
And Australia is now at the cutting edge of the adoption of distributed renewable energy, much like you'd like to see, Bill, Freeing Energy from the rooftops down some states and cities of Australia's mainland, which that down was going to feed from Tasmania. Those cities are now 50% rooftop, solar power. They're cranking the electricity in Australia. Some states of Australia can be a hundred percent wind and solar on a given day. And that's no small feet having come from just a very different adverse place in the '80s where the big power sector was just building central station all over the place. And today the Australian Energy Market office is saying coal fired power will probably be gone by the end of the decade.
Bill Nussey:
Australia's been a postcard for the future. I have been to Australia. It is a spectacular place. Just really, what was it like to, you grew up there?
Danny Kennedy:
Yeah, that's right. Oh a wonderful country very privileged obviously to be there as a kid. And the wilderness was my kind of thing. And so, was heavily involved in environmental work through the '80s and '90s, but a lot of it around energy choices. And that became an atmospheric science sort of campaigning career for a while because of the ozone issue in the late '80s, early 90s. And then greenhouse gas issues later on, as we used to call them. I don't know if you remember that, but global warming was not global warming. It was the greenhouse effect when it first got talked about, and then it became climate change and climate crises because we haven't handled it. So here we are.
Bill Nussey:
Start from the beginning. What made you start New Energy Nexus?
Danny Kennedy:
Well, so New Energy Nexus is an outgrowth of an organization called the California Clean Energy Fund or a rebrand, if you will. And, CalCEF, the shorthand was set up in 2004 here in California, where I'm speaking to you from to support the energy goals of the state of California with a small fund of $30 million that the state wrought out of a settlement with PG&E for the first bankruptcy. If you remember that history around the energy crisis at the turn of the century. Yeah.
Danny Kennedy:
So that fund did well in the first decade or so, and backed some really important businesses in the energy space for state purposes, but also nationally and internationally. Companies like Bridgelux in the L E D markets. Solarcentury was a really great early solar company that just last year or two years ago now had an exit to Statkraft, a Norwegian giant utility that used to build dams, but is now building solar and wind. And also Tesla, we were involved with really early around a, series a, when Elon joined the operating team. So yeah, a proud history of backing innovation in California.
Danny Kennedy:
I took on the role running CalCEF in 2015 after having helped Emily Kirsch set up Powerhouse and having built a couple of businesses myself in the solar space. And we sort of rebuilt it with the CalSEED funds, which is this fantastic early stage grant fund for entrepreneurs in California, to help the CEC meet its goals in the coming years. We can talk more about the detail of that fund. But we've also built a whole pipeline of support for companies through the different Valleys of Death here in California with the CalTestBed initiative, as well, as a compliment to the CalSEED fund.
Danny Kennedy:
And we've replicated this sort of ecosystem approach in many markets that matter for climate around the world. In New York with The Clean Fight, we call it. In China, in India, in Indonesia, the Philippines, Vietnam. We're in Thailand, Uganda, Nigeria, basically trying to create entrepreneur support organizations and platform for startups to succeed. Our mission is to support diverse entrepreneurs that drive innovation and build equity into the global clean energy transition so that we can make it happen as soon as possible.
Bill Nussey:
That is absolutely inspiring, man. And your reach is difficult to overstate you and a few other people gave me some words of encouragement and it mattered. And I can't imagine when you multiply it by the thousands of people that you've touched, it's an amazing story.
Danny Kennedy:
Thank you and good to hear, and I'm glad you've stuck with it, Bill, because I think this podcast and the service you're doing educating more people with the book and the rest is exactly what we need. Our goal as an organization is to support a hundred thousand startups, this decade with that mission.
Bill Nussey:
You should set some big goals though. Think about that.
Danny Kennedy:
Well, we're clearly needing to go on our own little exponential curve here because we're only in the hundreds right now and maybe cumulatively touched a couple thousand. So we have to get way up that S- curve and work out ways to touch many and inspire lots of folk to get into the game. The good news is as you've covered really well for years now that opportunity space is opening up and services like those that New Energy Nexus and our partners and affiliates and friends in the clean energy acceleration climate tech solution space provide are way better than 15 years ago when I was starting Sungevity or whatever. It's a much different space and there's a lot more capital around and human capital to help as well.
Bill Nussey:
So let's talk a little bit about CalSEED. Now, there's a surprising number of incubators and accelerators across the U.S. and across the world, as you've pointed out. CalSEED is headquartered in California, obviously focused on companies there, but if you're a California company or any company what would they, what should they think about CalSEED? How should they evaluate that relative to other places they might go incubate?
Danny Kennedy:
Yeah. So CalSEED and listeners can go to www.CalSEED.fund to find out more is an amazing opportunity, I think for early stage entrepreneurs who are working around kind of core electricity sector needs for the energy transition. As California has a law now, 2045 will got to be a hundred percent renewable powered. Probably that will be brought forward with the politics of the time in coming years. There's a pretty aggressive need to electrify everything as we say, and do it all with renewables. Each year we do a solicitation, looking for a different thematic verticals for startups. We've taken in over a hundred companies to what's called the concept award level under CalSEED so far. That's $150,000 grant. So the best kind of money you can get non dilutive for the entrepreneur at this stage. As well as a bunch of business training and support services from going through cleantech open, to having access to mentors and other things in the CalSEED program that the team provides.
Danny Kennedy:
And it's a really awesome service that I'm sure you'll hear reflected back from some of the entrepreneurs you're going to interview for this very program. So we won't want to brag on it other than say, it is incredible the throughput that this small team has affected and even more remarkable, I think, is the diversity as part of our intention with CalSEED, where we're really sought to get out of the mold of sort of Stanford and Cal kids that sort of get told they can be entrepreneurs all the time. And it's not that we don't want them. And we do have them, but we also want the ones from the community colleges and in the central valley and the rest of The State of California who have great ideas and their own genius to be supported and uplifted to bring their solutions to market as well.
Danny Kennedy:
So the way CalSEED works is this concept award gets going and then a year in there's a prototype award of another $450,000 available for a subset of companies within the first cohort of concept awardees. So four or five might get that follow on and therefore you can get a long way down the line, right? Having been an entrepreneur, you know that $600,000 of non dilutive money can buy you quite a bit of time to get to prototype, get ready for your product market fit tests and so forth.
Bill Nussey:
If I was to apply my next startup or someone says, should I go to CalSEED? And there maybe in the very early stages, conception, invention and what might they experience, what's a day in their life look like?
Danny Kennedy:
There's a range of offerings that the CalSEED team provide, including, as I mentioned, the partnership with cleantech open for the last several years. So they go through that whole accelerator program here in the Western region, the CTO. So, CTO is actually a partner with and spin out really of CalCEF back in the day, in the private prior decade. So we work closely with them on the offerings they provide. There are also a bunch of symposia and events that we connect to in the, what's called the California Energy Innovation Ecosystem. The state has actually been quite thoughtful, I think, in trying to ensure that the benefits of the clean energy investments, the policy is made to drive California towards 100% renewables, continue to accrue here in the state jobs and wealth building, et cetera.
Danny Kennedy:
So there is a bunch of infrastructure for startups in California. It's famous for its startup culture, obviously Silicon valley and such, but on clean energy I think it's probably the best place in the nation to set up and go because there are awesome organizations like Cyclotron Road and the Los Angeles Cleantech Incubator and Bluetechvalley in Fresno, which is a partner at the CSU out there, at the California State University. In San Diego, there's wonderful cluster organizations.
Danny Kennedy:
So we match folk with them. We help find them places to work. And then maybe one of the more important things to mention is, we also, once they're at prototype or sort of coming through that TRL5 as its known Tech Readiness level 5, under the DOE construct, we can also get them into the CalTestBed pipeline, which is another program that allows them to apply for a voucher to go and test and measure their products and services at a University of California system testing facility. Which is a pretty rich opportunity where you can get a third party like the UC, the University of California, to prove that your prototype does what you claim it will do. And that we pay for.
Danny Kennedy:
And we also basically introduce you to what could be one of the biggest off takers of your product or service because the University of California has a high goal for carbon neutrality by 2025. And they're looking for vendors and services to buy. So the CalTestBed program is a great next stage for these entrepreneurs to benefit.
Bill Nussey:
You guys have helped create hundreds of companies that have gone on to be successes. Educated I can't even imagine how many entrepreneurs, created networked. And today we're going to take a quick look at a couple of them. So the first one is Icarus RT, and I actually sat down with Mark Anderson, the CEO, and had a chance to talk with him. So let's listen in.
Mark Anderson:
Originally we set out to cool solar PV panels to improve their performance because, it's common knowledge that as panels heat up during the daytime, their performance drops and they can lose about 25% of their power output because of heating up so much. So we were looking for ways to cool the panels to keep them cool, to keep them at their maximum power output level. And what we found is we did a proof of concept and we found out that we can do that, okay, but we're generating or co-generating all this heated fluid that we should collect and do something with.
Mark Anderson:
And so we begin to change our design. And ultimately we found that we can improve the P, the power output of a PV panel between 12 and 18% during the daytime, okay. But with the heat that we collect, we can actually double the energy output per square foot of a PV panel. And that became very interesting to us and so we decided to start focusing on the extra heat energy that we are creating. And so we do both things we cool the panels, and then we can-
Bill Nussey:
That's exciting.
Mark Anderson:
… We store the heat, which is awesome as well because we can use it after sunset.
Bill Nussey:
I love that this has been an evolution and an invention that grew along the way. And I have to say just for all the Freeing Energy listeners, I love the idea that you've taken photovoltaics and turned it into heat energy at the same time because all the people that listen in Freeing Energy are in their homes, or they're in CNI installations and hot water is just as important as electricity. So you guys are killing two birds with one stone and grabbing a lot more energy from the sun, which is real breakthrough. So what made you get into the business of solar in the first place? What was the genesis of Icarus?
Mark Anderson:
Well, you can tell by my age, that's a long story. So, I've been in the power industry my whole career, which is over 40 years. First 15 years or so in nuclear power. I did a little oil and gas here and there, some water treatment as well. But eventually I ended up in wind and solar about 15 years ago as well. And I had a capstone of being the director of engineering and the engineer of record for the Chevron Solar to Steam project in Coalinga, California which was the pilot for the big Ivanpah solar power tower project outside of Las Vegas. Yeah.
Mark Anderson:
And so that was a very big solar thermal project, if you will, for me. And the pilot was solar thermal and really enjoyed that and came out of that just wanting to start a business of my own. And I did that with a little company called RETECH Engineering, basically trying to do EPC management work and suddenly it sort of morphed itself into the idea of Icarus and we are doing different technologies, trying to vet different technologies for others. And Icarus fell out of that. We started the company five years ago and kind of pushed through it since then.
Bill Nussey:
Talk a little bit about the role that CalSEED has played in this. We were discussing it briefly before we started recording. It sounds like they've been helpful to you guys to get off the ground?
Mark Anderson:
Sure. I'm glad to, CalSEED was really important to us because it was about 18 months into our life, I guess, that we had begun applying for different programs. CalSEED was fairly new. I think they're in their second round at that point. And we had applied for their prototype or their concept award, which is $150,000. And we had missed it the first year and got at the second. So I think that was the second time of it was made available and we did win it. And since then it's been a real ride because they gave us a lot of notoriety. They gave us a lot of credibility. They gave us a lot of publicity and they also helped us to network with other bigger opportunities. For example, CalSEED nominated us for the Shell GameChanger programme, which we won in 2020. And that wouldn't have come without CalSEED and having won that was another huge milestone for us that, just increased our credibility and our publicity that much more. And they've done that again and again since.
Bill Nussey:
So how are you guys as a business today? Where are you at in the development of this pretty cool product? What do you see going forward?
Mark Anderson:
Well, we're finally ready to go commercial. We're actually, after the first CalSEED award, we won the CalSEED prototype award, which is a much bigger award and it helps you to build your first commercial projects. And we are doing that this year with that grant and several others as well. Actually, we have several commercial projects on the books now. COVID sort of hit us a little with the, mostly in the supply chain, that sort of thing. It slowed us down, but we've been able to pick that up and complete the development of the heat extractor that we've developed that goes on the back of a PV panel. And so those final designs are in testing right now. As part of the Shell GameChanger, the results of our testing will go into that GameChanger final report. And from there we'll go straight into commercial production. Well, will make a few final tweaks to the design, but we pretty much have at this point.
Danny Kennedy:
It's wonderful to hear Mark there. And it's been a while since I caught up with the company because I think they are in the second cohort, which means three years ago or so, for CalSEED's hundred companies now. But like some of the others that I think you're going to talk to Intertie, for example, Icarus are a great example of the sort of bundling of components that I think often makes for the innovation we need at this stage of the energy transition. There's this sort of mistaken thought out there that we need to invent de novo some things. And the reality is we've probably got most of the things we need to make the energy transition happen in time to starve off the worst of the climate crisis. What we need to do is bundle things in ways that are useful to customers and delightful customers that they want to buy and pay for it now.
Danny Kennedy:
And if they can make the PV thermal thing work at Icarus, that would be an amazing example of that sort of bundling. And then in the case of Intertie, who I think you're going to throw to next, I've always loved their ability to think outside the box in terms of EV charging infrastructure, which the State of California is putting $2 billion this year into, just out of the state budgets.
Danny Kennedy:
But under grounding it using vaults and technologies from the power electronics industry that other EV charging businesses haven't yet sort of really cottoned onto. I think it's part of their innovation proposition. And also finance like the old story, I was at the ground floor with the solar leasing industry and Mosaic and the truth is all of these clean energy adoption curves are going to be accelerated if we can bring bundles of finance with the hardware. And I believe Intertie are sort of working on that front as well. So, great to hear entrepreneurs who come with that creativity and that magic combination of things, the ingeniousness as much as the inventiveness, I think is what I really look for in a lot of startups.
Bill Nussey:
That's fantastic. Let me switch right now to my conversation with Intertie and let's hear what they're doing. So I'm really excited to be talking to Zander Mrlik today. He's the president of Intertie, which is another proud CalSEED graduate and has a really amazing story about what they're up to. So Zander, welcome today and looking forward to hearing your story.
Zander Mrlik:
Bill, thanks so much for having me.
Bill Nussey:
So let's just jump in, tell us what you guys are doing.
Zander Mrlik:
So we're essentially a microgrid technology company. Now we didn't start off going that direction. We kind of started off with an idea of a battery boosted, fast charger, hiding the battery. So we ended up getting a patent on an underground battery system that would fast charge electric vehicles, right? That was kind of the initial concept. And as we started looking at the business model, you realize what's been great is utilities have actually made it a lot easier for fast charge and they kind of eliminated demand charges in certain areas. And that kind of, while that's great for incentivizing fast charging, it kind of killed the Delta that we were making before.
Zander Mrlik:
So we then realized, "Oh, we have a patent on underground battery system." Small to medium commercial buildings integrating solar, and peak shaving all the different use cases that you can use at the building. This system's actually more valuable as a microgrid versus just a battery boosted fast charger. Now we haven't moved away from that initial vision. We actually just got a $2 million CEC grant to keep funding that vision on the battery boosted fast charger for-
Bill Nussey:
Congrats.
Zander Mrlik:
Thank you very much, for 150 KW and above. So it's, we're super, super excited about that, but right now we're laser focused on building microgrids, targeting the small to medium commercial buildings.
Bill Nussey:
I love it. We're all about microgrids. So that's a, it's a great story. And what an interesting take on it, particularly on the EV fast charging angle and the pivot, right? Most great businesses, don't start out with a business plan they began with and it's the art of pivoting that makes them successful in my observation. So, well, let's talk about where you guys are as a business. You obviously, congratulations on having recently raised that big, or gotten that big grant from California. Where are you guys as a company?
Zander Mrlik:
Yeah, so we, It was, I'd say the first couple years was a lot of, well, I'll be honest, there's a lot of failures, right? We try things we have, we're fortunate to have early on two really key, True Ventures has been backing us as that they're a great venture capital firm, Phil and Priscilla over there have been great. And then CalSEED has, from the beginning.
Zander Mrlik:
The initial idea we started with, I think when we start, from that idea, trial and error realized that we've got a, we finally figured out our business model maybe a year and a half, two years ago. And from that point have been laser focused on building a best in class energy management software platform, integrating the, essentially the suite of the different products we have in the microgrid. And now we launched, we raised a series A round maybe six months ago led by True and one big CEC grant. And now we've been laser focused on commercialization. So, I think we have about a little over 2 million in sales in the past couple months. And we are targeting initially Northern California, PG&E territory. And then, but we're, we have partners across the country. Our vision is to build a network of microgrids all across the country.
Bill Nussey:
So you guys have already closed contracts and you're in the process of commercializing and deploying this stuff. That's a pretty exciting place to be, good.
Zander Mrlik:
Oh, No. Yeah. So we're really, we've got a great team. We all wear a bunch of different hats, right? So my title's president, but I'm executive assistant, HR. And actually for our first solar system, we had, we were tight on money so I was actually solar installer. So I could tell you, how difficult it is putting 80KW system on a small to medium commercial building, right. So, but you learn a lot, right? It's a startup, right? You got to kind of wear all hats. And our team's great about doing that. I think our CTO was a, I think he's started and he's had like four successful exits and he's all in on the clean energy space. And he's doing supply chain logistics. He's all over the place, but I think that's what you have to do. You have to, everyone's got to be fully bought in.
Bill Nussey:
Yeah. That's what's great about startups, is that you get to put on a million hats and if you're the kind of person who loves to do that, it's the best job you'll ever have. So, glad it's working for you guys. And I'm excited to watch and see where you guys go. And let's talk about that. If Zander, if this all goes the way you vision and your customers are totally happy, let's roll out maybe in five years. What do you think Intertie is doing in five years?
Zander Mrlik:
Ideally we're may managing tens of thousands of small to medium commercial building net zero, but we essentially turn them into net zero buildings, right? So our energy management system is controlling the micro grid side. We've got our CSM charge station management software managing the EVs. And then we have a building controls and automation doing the windows, doing HVAC, everything. And so all these buildings across the U.S. small to medium are all controlled by Intertie software.
Zander Mrlik:
And so that's for us, we want to be, I guess we'll say like a property management firm for your energy assets, right? So property owners are, everything's, and it's very transparent. One of the things we want to do is, California has low carbon fuel standard credits, right? Instead of hiding those credits from the property owners, just, "Hey, we'll monetize these. These are your LCFS credits, here's your demand charge reduction, give them a monthly transparent energy bill. I don't know if you've, when people read the PG&E bill that's always often confusing. It's nice to have, "Okay, we put this on, here's your baseline, here's your savings, here's your cost. Here are our fees associated with it." Right? We want to make energy super easy to understand and clean energy even easier.
Bill Nussey:
That was really interesting. So glad we had a chance to talk to him. And I really want to echo what you said a moment ago, Danny, about bringing these parts together. This is one of the big things in my book. I have this five orders model and the first order is creating components, solar cells and batteries, and the science stuff that people get so enamored with. But I have a second order, which is precisely what you said. And it's so heartening to hear you reflect that, that is a huge area for value add. One of the stories I love to tell, another California company, you probably heard of it called Tesla. And when they started making their early cars, they had access to the same parts and components that BMW and Ford and General Motors had.
Bill Nussey:
They had a few unique things the way they wound the motors and things like that. But by and large, there was nothing that Tesla could have accessed that all the other car companies didn't yet they pulled it together and created what Car Driver magazine said is the best car ever made in the history of cars. That is one of the best examples of taking existing components and putting them together in creative ways. I think there's a huge amount of value. And as you get further up the order stack in my book, it's more exciting for venture capitalists and you can move more quickly. So I love the clarification you added. Thanks for that.
Danny Kennedy:
What do you call that second order? Remind-
Bill Nussey:
I call it integrations. So first order is components, integrations and then systems and then platforms, which in the software world I come from is the highest place to be, except for the fifth order, which is disruptions. Which is where you have an industry that's doing really well in its silo. And then it just leaps out of that industry goes to an entirely new industry and just destroys it depending on what side you're on. That's awesome or terrible.
Danny Kennedy:
Wheel of creative destruction. That's what capitalism's for supposedly.
Bill Nussey:
These are really exciting examples of what the CalSEED and New Energy Nexus and Danny Kennedy and everything going on in the west coast is producing. It's an inspiring set of stories. And hopefully we'll have some of the other companies coming out of California, hopefully through CalSEED on our podcast is sort of deep dives because each of these stores are so exciting. So we're going to use that as a transition to the last part of our show today, and we're going to get a little insight into Danny Kennedy's brain and his passion and his heart. So we call these the lightning round questions, four quick questions to get a sense of how you think about this industry. So the very first one jump right in is, what excites you most about being in the clean energy business?
Danny Kennedy:
The most exciting thing about being in the clean energy business is that we have the opportunity not only to address climate change, which is the great threat and peril of our times, but sort of rescript the whole history of the world and make a more distributed power system literally and figuratively. Take the power out of the hands of the few and give it to the many with this gift of sunshine and abundant renewable resources that don't destroy the planet.
Bill Nussey:
Patting my heart man. And what a better place to start and set that vision in California because I think a lot of the monolithic computing age started it on the east coast and then it was California and the garages of Steve jobs and Wozniak that the microcomputer, the decentralized computing took off. So you guys are going to do it again with the decentralized energy, I'm sure. Second question. If you could wave a magic wand and change just a single thing to make this whole transition happen faster, what would you do?
Danny Kennedy:
I think that governments have to stop subsidizing dirty energy. Our government in the United States has still way too much invested in fossil fuels, to this day, backing it with tax paid dollars. Perverse abuse that history will look down poorly and if that were removed, these guys couldn't compete with these better, faster, cheaper technology sets that we have in distributed renewables and electric vehicles and all the rest.
Bill Nussey:
Fantastic. Third question. What do you think will be the single most important change in how we generate, store and distribute electricity in the next five years?
Danny Kennedy:
How we generate and store electricity in the next five years? The big shift I think will be, I don't want to get too geeky here, but I'm wondering whether sodium iron batteries don't come online in that sort of timeline. I know that's a big ask, but the lithium chemistry set is pretty well maxed, in terms of supply chain and so forth. And we're going to use a lot of that for electric vehicles, electrification of everything. What I think we might need is other chemistries to do the balancing on the grid and the energy storage in the system. And that might be zinc, it might be sodium, it might be LFP, other things.
Bill Nussey:
You are probably the best person that I've ever had to ask the fourth and final lightning round question. When people who are outside the industry say, "What can I do to get involved? Where can I start? What should I do?" You have answered this question for thousands, maybe tens of thousands of people, you certainly did for me personally, what do you say to all our listeners, many of whom listen to the podcast because they're not in the industry today, they want to get in it. What do you say?
Danny Kennedy:
Get involved. Start your company. Normally this question comes with a, "I have this idea, I want to do a media business, I want to tell the stories of Freeing Energy." And I say, "Yeah, someone needs to do that because God knows the industrial media complex has failed to tell this story at the scale it deserves." Or someone says, "Oh, I have an insight that my bus route could be well served by a micro mobility solution for the first and last mile to link me to my commute or whatever." And, "Yeah, why don't you do that? That could be a great business for you to do in your own town or city and so on."
Danny Kennedy:
So, the advice I guess, Bill, is take that first step, just get involved. And there are organizations like New Energy Nexus that are here to serve and there's thousands and maybe millions now of entrepreneurs around the globe on the same path and engage in the same struggle. And we can connect you to them, our slack at New Energy Nexus network, which you can access through the website, is a great place to start, if you want to get involved.
Bill Nussey:
I love it. I've been in several industries, mostly in software tech and little in healthcare. And my own observation is that no other industry is as welcoming and has many on-ramps as clean energy. I think it's unique. I think it's because this is one of the best things that any of us can do to make the world a better place and it matters. And if we get this right, it's going to make the world a far better place.
Danny Kennedy:
That's really interesting observation. I think it's true. I think the community commitment and the spirit of it is, it's more of a movement than a market. And I think people that engage in it believe that they're doing something greater than just building a business. That's huge and hard and they have to do [Immense 00:37:44] work to get it done, but they're also contributing to something that'll last the ages, for our children's children, et cetera.
Bill Nussey:
Well, Danny, I have had the privilege of meeting many people. Few of them are as quotable and as thoughtful and impactful as you. So thank you so much for creating the groundwork for all these wonderful companies to come into being. Thank you for sharing your time with us today and thank you for these great insights and hopefully the inspiration for a new round of entrepreneurs to jump into the space may be in California. So thanks again.
Danny Kennedy:
Thank you Bill. Thanks for doing the show and covering these cool CalSEED companies.