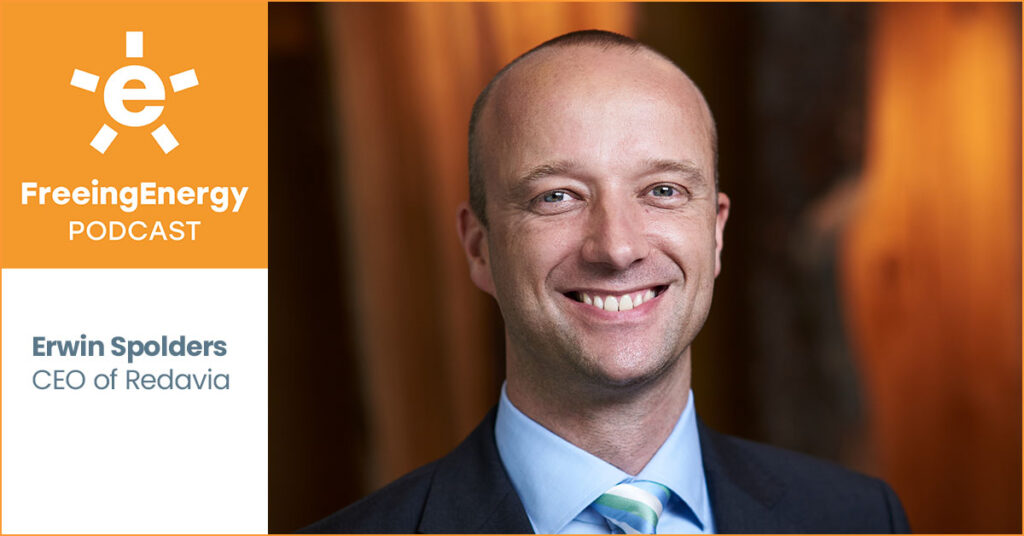 Host Bill Nussey talks with Erwin Spolders, CEO and Founder of Redavia Solar Power. Redavia, based in Germany, Kenya, and Ghana, provides pre-configured, containerized solar power generation systems to small and medium sized businesses across Africa. Learn how this company's innovations are leading to these cost-effective solutions and proving to be easy to ship, set-up, scale, and redeploy as needed for minimal upfront investment, all using time-tested rental contracts. Plus, learn how crowdsource funding is energizing Redavia's future.
Special note: Redavia is launching one of their biggest crowd sourced funding efforts to date in early March 2022. Check it out if you're interested in how this type of financing works or helping Erwin and Redavia deliver cheaper, cleaner electricity to people in Africa. https://invest-redavia.com/en
Here are some of the highlights from their discussion…
"As solar becomes less and less expensive as we go down the learning curve, more areas in the market will become economic for solar to compete. What's interesting for an entrepreneur or for business is to try to predict, which of these 'islands' effectively are going to be coming up next and are going to be big or small."
---
"…It's one thing to have a product, it's one thing to start a company, but for somebody to actually sign up to pay money for your product and sort of validate the idea and the vision, that's really nice, it's a big deal. So, I was very happy in the Mongolian yurt."
---
"We're signing a deal every week, we're commissioning a solar farm every week, and we're raising a few hundred thousand euros or dollars for that solar farm or for the portfolio of our solar farms also on a weekly, monthly basis. So, it's all very much about moving from big deal batch process to a small deal, continuous process on the financing side, on the procurement side, and on the sales and installation side."
You can also listen to this podcast and others in our series on these platforms:


Check out these links to learn more
Redavia Solar: https://www.redaviasolar.com
Check out Redavia's most exciting crowd sourced funding project to date: https://invest-redavia.com/en
Full Transcript
Bill Nussey:
Well, hello in happy March to everybody in The Freeing Energy world, all of our friends and supporters. We're really excited to share a story that you may not have heard of, but I think everyone's going to talk about because there's a lot of things that local energy you can do, and some of the most exciting are those where it literally changes people's lives. Our guest today does just that with his company and his customers. Before I jump into it, I want to just take a moment and thank all of you for your time and your interest in what we do here. Time is as precious to all of us as any commodity. And when you share a few minutes with us, it means the world to us, and hopefully returns value to you with some really inspiring ideas about how we can accelerate the transition to clean energy.
Bill Nussey:
Without any further ado, I am really excited to introduce you to Erwin Spolders. He is the CEO of Redavia, and we're going to give you a little background, but I just want to welcome Erwin to the show today.
Erwin Spolders:
Great. Great to be here, Bill. Very nice to be here.
Bill Nussey:
So, Irwin has been in the trenches of the clean energy transition for well over a decade. He was born and raised Dutch, but he went to university in Washington DC Area. For 12 years, he's been the CEO of Redavia Solar Power, which we're going to talk about, an incredibly cool company. Prior to that, he was the general manager of Q CELLS in France and Germany. As you know, that's the giant solar panel company, solar cell company. He was also an engagement manager for McKinsey in Belgium, which is a pretty impressive part of his job history. And he has an MBA from Wharton in finance, marketing, and entrepreneurship. Again, welcome today. We are really excited to hear about your background stories and all about what Redavia's doing.
Erwin Spolders:
Great. I'm always excited to talk about Redavia.
Bill Nussey:
I love it. So, your undergraduate work was at the University of Virginia in international relations in economics. How in the world did you go from there to get into the world of energy, and specifically renewable energy and clean tech?
Erwin Spolders:
Yeah. I mean, I've always been interested in business and sort of social and political issues. I think it's because my father was, or is a successful businessman. My mother had a very strong sense of social justice. So, I feel like I'm still trying to somehow satisfy both of them by being an impact entrepreneur. Of course, energy, utilities in general, but particularly energy is a business with a very strong social and political aspect to it, has very important implications on people's well-being.
Bill Nussey:
I love it. I love it. I think, as people hear about what you and Redavia are doing, I think there's going to be a lot of folks, even more excited about how local energy can literally make the world a better place.
Erwin Spolders:
Yeah, exactly. I mean, so practically for me, I ended up working … Actually, I ended up working at a political advisory company in Brussels, in the telecom industry. Then from telecom, another network industry with similar economics. Ended up working in the US energy market as a consultant. From there, then at McKinsey, focusing on climate change aspects of the energy sector. Then from there, it's a small step to a solar company. It's perhaps an interesting story that there was literally one slide in a McKinsey renewable energy deck that compared the cost reduction curves of different renewable energy technologies.
Erwin Spolders:
That's the slide that I looked at and said, okay, my career is going to be about solar because you could see that solar had, at the time, 2006 or so, still very expensive, but had, by far, the fastest cost reduction curve, the fastest learning curve.
Bill Nussey:
I got to tell you, that's the single reason that sparked my interest in clean energy as well. I was a couple years behind you, but when I saw how far the cost of solar had fallen, and I knew enough about the science and engineering, to see that it would continue, I realized that this wasn't just a technology shift. This was a disruption of one of the oldest and most entrenched industries in the world, and I just had to be in it. Literally, that was the reason I got into the industry as well. I didn't see the McKinsey slide, but I wish I had. I think I would've got into it much earlier.
Erwin Spolders:
There was one other graph that I really liked. I should still send it to you at some point. It was called the Welcome To The Thunderdome Graph. I think this was from an investment bank's analysis in the past. They had, at the bottom, were the fossil fuel cost curves. So, basically oil and gas going up and down over the years. They went back really far, so like a hundred years back or something, and it was basically flat. Then since the 1970s, you had like the solar cost curve just coming in like a lightning bolt basically, and starting to undercut these fossil fuel cost curves.
Erwin Spolders:
They did it nicely on per MMBtu, so like per energy unit basis. So, you could really compare oil, gas, coal, all the different fossil fuels, and then there's this completely different dynamic of this technology based energy source, solar energy. It was really, yeah, really depicted the disruption very well,
Bill Nussey:
One of the key things I talk about in my book is the notion that solar and batteries are technologies not fuels, and that, that kind of price decline is entirely attributable to the fact that it's a technology. You could never see that kind of price decline on fuels. The crazy thing is that the entire energy, not just electricity, has been trapped in this economic model of fuels for centuries. Pretty much from the outside in, you see these technology disruptors coming in. As an entrepreneur and person who loves a good disruption, this is a really exciting time, and it's just about to get a lot crazier and a lot more fun.
Bill Nussey:
With companies like Redavia, we're doing some great, important things to change people's lives. But before we jump into Redavia, you have some really interesting parts to your background, and I wanted to pick on you about one of them and find out, just sort of the backstory. You sought out and received a certificate in Conquering Humor Fundamentals.
Erwin Spolders:
I'm big on humor basically. I think humor is a super power, right? It's I think a uniquely human thing. It can be incredibly powerful in business leadership, when dealing with teams or with partners or in negotiations. We talked about disruption and a new perspective on energy. I think there's a similarity. Of course, it's not humorous as such, but there's a similarity in that there's a tension and you're trying to figure out exactly what's going on. You're getting surprised by facts and juxtapositions in what you're seeing. I think that's similar. Yeah. That's I think why humor. I mean, science of well-being, that sounds … That's obvious. Everybody wants to be well. So, it's nice to have a scientific approach to that. That was a very interesting course actually. I would recommend the science of well-being course on Coursera to anybody. Very interesting.
Bill Nussey:
But let's shift gears and let's talk about your day job. Let's just jump right in. What does Redavia do?
Erwin Spolders:
Redavia is a solar company that provides solar plants on a leasing basis to SMEs and large corporates in Ghana, Kenya, Tanzania, and soon, Nigeria.
Bill Nussey:
How can you lease solar? Because it's like, you build, it's stuck.
Erwin Spolders:
Yeah. It's not stuck in fact. What Redavia has done is made solar into an equipment leaseable asset. We actually designed a versatile and mobile solar plant. So, a standard product that, or a range of standard products, a roof mount, a ground mount, carport, and an energy storage product that can be deployed and also undeployed, and redeployed if necessary, so that we can provide this on a lease to own basis and effectively use equipment finance techniques.
Bill Nussey:
When people think about solar anywhere, and particularly in Africa, where it can make so much difference, they tend to think of this solar as just a plugin set of hardware. They see pictures of it so they don't give it a lot of thought, but one of the key issues is, how do you finance it? And one of the problems with traditional solar installations, especially mid-scale ones like you guys offer, is that, once it's built, it's very expensive, if not entirely impractical to disassemble it. Then, by then the panels are used. So, essentially, financing becomes hard because you're making a bet that the customer will pay for it over the entire lifetime.
Bill Nussey:
What you guys are doing is basically making it something you can deploy easily and then undeploy, and if a customer doesn't pay or doesn't want it anymore, you can just pack the system up and send it to another customer. That was one of the biggest reasons I wanted to talk to you because that is a really huge shift in how people think about solar. It's one of those things that I love, because it seems kind of simple and like, okay, big deal, but that's actually transformative to the economics, and therefore, the reach of products and solar and local energy. Let's go in a little bit deeper. Let's go back to the beginning of Redavia and how did it get started? What made you decide this was an industry and a product approach that the world needed?
Erwin Spolders:
Yeah, exactly. Redavia came after I was working at Q CELLS, right? I was working at Q CELLS and looking to start my own business and effectively going from what I was doing there. At Q CELLS, I was in charge of the utility scale construction business, doing utility scale, solar plants under the feed in tariffs, grid connected feed in tariffs in Germany and France, and a few other European countries. There was someone there who always told me, or had this nice image, where he was saying, the next 10 years in the industry is like effectively the water level going down and a number of islands becoming visible as the water level decreases.
Erwin Spolders:
What does that mean? As solar becomes less and less expensive as we go down the learning curve, more and more different areas in the market will become economic for solar to compete. What's interesting for an entrepreneur or for business is to try to predict, which of these islands effectively are going to be coming up next and are going to be big or small? And what exactly is the solar product that is needed to capture the opportunity in those islands. So, in those areas where we have a cost advantage for solar.
Erwin Spolders:
This can be utility scale. Some utility scale projects get really low cost, a few cents per kilowatt hour. That's one island of cost competitiveness. Remote versus diesel, that's one island where solar is competitive and has been competitive for a few years. Behind-the-meter residential, you can see, for example, with some of these Californian companies doing behind-the-meter residential solar. That's the overall picture that I was looking at. With Redavia, we said, "Okay, let's go look for expensive fossil fuel power, basically, because that's one of the first islands that are going to come up.
Erwin Spolders:
Because in 2010, solar was still largely, almost exclusively a subsidized industry with feed in tariffs and other ways of making it competitive. But you could also see that market segments were going to emerge where you could go without subsidies and compete on a market basis. So, Redavia started out looking for expensive fossil fuel powered operations, which got us looking at remote industry effectively. These are diesel electricity. So, diesel fired electricity powered operations like mines, or camps, or lodges, or sometimes entire islands that are running on diesel and have really high electricity costs because is expensive.
Erwin Spolders:
Diesel gen sets are relatively fuel inefficient and they're remote. So, you have to truck all this diesel to this remote place before you can turn into electricity. That's sort of where Redavia started because that was where the first economic opportunity for solar was at the time around 2010.
Bill Nussey:
So, you've identified these remote mines and other locations as a great opportunity, and they taught us in business school that when you want to really understand a market, you got to go out and see it yourself. I think there's a great story here for your first customer. How does that work?
Erwin Spolders:
There's more than one. There's more than one stories.
Bill Nussey:
How did that work? Did you leave the office or did you Zoom [crosstalk 00:15:26] to get that first-
Erwin Spolders:
Yeah, I left the office a lot. Yeah. I did an analysis actually of, where are the remote operations, particularly remote mines? Then you get to interesting places. One interesting place was Western Australia, so around Perth, and there's of course, a lot of gold mining in Western Australia. I spent days driving around the Outback visiting these remote mines. One of the first more successful conversations we had was with a camp operator in the South Gobi Desert in Mongolia.
Erwin Spolders:
This is also very remote. You fly to Ulaanbaatar, then you take another flight, and then you drive for three hours and you get to a really nice camp in the literally middle of the South Gobi Desert, running on about half a megawatt or about a megawatt of diesel generator, with an electricity cost of $40, $50 cents per kilowatt hour, really interested in solar because solar there can be a lot cheaper. At the time, 20, 25 cents per kilowatt hour. Yeah, went out there, did the technical site visit. Went out there twice. And the second time around, ended up signing Redavia's first ever solar lease in a Mongolian tent, a yurt, around a little campfire basically, with the owner of this camp.
Bill Nussey:
I'm trying to imagine this. First of all, I just have to say as an aside that it makes my day a little better, that I was someone who can say, "I closed my first deal and a Mongolian yurt in the South Gobi Desert, just the fact that you can say that is pretty cool.
Erwin Spolders:
I agree.
Bill Nussey:
I'm sure it wasn't as Indiana Jones in your early prospecting as it sounds, but that's what I'm imagining, with the hat on and horseback going around doing these exotic trips, but it may have been work too, but I got to tell you, when you write your biography of how you started the company, put me on the first of your list. I want to-
Erwin Spolders:
Yeah. I mean, but I feel the first lease or the first customer for any startup is a big deal. It's one thing to have a product, it's one thing to start a company, but for somebody to actually sign up to pay money for your product and sort of validate the idea and the vision, that's really nice, it's a big deal. So, I was very happy in the Mongolian yurt.
Bill Nussey:
Well, let's move around to another kind of market and another place in the world from some of the stories you and I discussed. When I think of awkward solar, I think of communities or individuals, solar lanterns, maybe microgrids for a community, a village. You guys did some of that as well. What did you do and what did you learn?
Erwin Spolders:
To follow on from the Mongolian yurt, basically the next deal we signed was in Tanzania. From there, we went to look at Tanzanian off grid villages. So, there's about 50 million people in Tanzania living outside of the coverage area of the national grid. In typical villages, a few thousand people, a few hundred households, houses or huts, if you will. There's many of these villages, and we thought, okay, there's a need for power there. We have a system that is containerized and standardized, and we can roll this out in a very efficient way to power this households and operate these solar mini-grids in these villages.
Erwin Spolders:
I think that's still a good idea. And we tried, we raised funding in order to install in two villages in Southwest Tanzania, two times, about a hundred kilowatt peak of solar, two lithium-ion batteries. In total, about 20 kilometers of low voltage grid, about 600, 700 smart metering devices that were connected to a mobile payment gateway. So, our users could charge up their balance and then effectively prepay for electricity.
Bill Nussey:
That's a pretty in-depth system.
Erwin Spolders:
Yeah, it was technically really cool, really advanced worked also technically really well, was fit for purpose, but was hard to get it going. Most of these technologies were early doors. This was 2014, '15, '16 that we did this. So, even lithium ion batteries were, for energy storage, was still somewhat early stage. Low cost smart metering was a couple of startups doing that. Our solo plant was also container five and six, if I remember correctly, in our business. This was also still early doors.
Erwin Spolders:
But yeah, we put it all together in a remote area. Again, sort of go as far as you can on a bitumen road and then drive another three hours on a dirt road, and then you're in the villages where we were at, so really quite remote. And giving 500 households electricity for the first time ever. Until then, yeah, it was no electricity and no lighting, no electricity access.
Bill Nussey:
Yeah. 40% of people in Tanzania have no electricity. It's about 35 million people according to the IEA.
Erwin Spolders:
Yeah, exactly. I think there's a little bit of gaming on those figures. Some people have one electricity pole in a village, but no connections to that electricity pole.
Bill Nussey:
Oh, interesting.
Erwin Spolders:
Some people count those as on grid, but in reality, they're not actually getting access. Maybe the 35 million is … My guess is that's an underestimation, but either way …
Bill Nussey:
That's great perspective. Interesting.
Erwin Spolders:
Yeah. Either way, there's many of those and it's … On the one hand, it's an opportunity to go electrify those villages. And it's also, frankly, a disgrace that these people haven't gotten access to electricity yet. It's a huge waste of human potential.
Bill Nussey:
What did you learn from that? Because your business is now more B2B, and what did you learn about this village, and what would you suggest to other folks who want to go and tackle that very important problem too?
Erwin Spolders:
Exactly. What we learned is that … We learned many things, but at a high level, specifically to this opportunity and economic reality is that what's needed is for the economics of these mini grids to improve, right? The basic ratio between capital investment per connection that's required and monthly revenue per connection that is available from this market is for now, and in our case, and this is already five years later, so perhaps it has improved, but at the time, that wasn't an economic … A commercial proposition. So, significant grant funding was needed. CapEx subsidies were needed. Ways to get average revenue per user or per household up were needed. I know that in the industry, since then, different organizations have worked on that.
Erwin Spolders:
For us, it meant, okay, we can do this technically, we can do this operationally, but we can't run this as a commercial business. The breakeven period on the investment or the rate of return is just too low to run this as a commercial business. My personal objective as an entrepreneur was always to start and keep running a commercial business and not be dependent on subsidies or grants and things like that. For us, that meant this is going to be a one off, or we can do maybe 10, but we can't scale this in a commercial way because we won't be able to attract the types of capital and the amounts of capital that we need to do this a hundred times or a thousand times.
Speaker 1:
In a recent interview with The Freeing Energy Podcast, guest, Danny Kennedy, CEO, and Co-Founder of new Energy Nexus commented that what we need to do is bundle things in a way that are useful to customers and delightful for customers that they want to buy and pay for now. Erwin Spolders and his team at Redavia are do just that, utilizing existing advanced solar panels and components, coupled with well-established risk mitigated leasing contracts, they have bundled solutions that are playing a catalytic role in how businesses can save money, reduce emissions, and contribute to a more sustainable society.
Speaker 1:
This is a great example of what our host and author, Bill Nussey, refers to as one of the five orders of clean tech innovation in his new book, Freeing Energy. Integrations, as Nussey calls this order, combines the basic components or building blocks of solar power generation into a new product to serve needs in new markets for solar power. In this case, Africa. Nussey notes that understanding where a new technology or company fits into these orders simplifies the assessment of its risks and growth opportunities.
Speaker 1:
In the new book, Nussey explains how these orders of innovation are wind and how explosive growth is taking place across all five orders. Want to learn more about the five orders of innovation? Read more about Freeing Energy, the book, at freeingenergy.com. And if you're enjoying The Freeing Energy Podcast, don't forget to like and subscribe to our show and share with friends and colleagues. Now back to Bill and Erwin for even more.
Bill Nussey:
Let's talk about where Redavia is focused today. What are your primary businesses? What do your customers look like?
Erwin Spolders:
Yeah. From the Tanzania villages, to keep sort of the link to what we were talking about, we looked at on-grid markets or our bad grid markets, is one way to put it, where, certain markets in Africa have very high grid rates and very poor quality grids. Examples are Ghana, which have a high grid rate. Nigeria, which has a very poor grid and a high grid price. Kenya has a relatively high grid price. So, these are markets, also interestingly, where there's actually a lot of economic activity. So, particularly around certain cities, right? One of McKinsey's Africa experts always talks about Africa is an economy of cities, not so much countries. So, think of Accra, think of Lagos, think of Nairobi, of Mombasa as your markets, not necessarily the countries.
Erwin Spolders:
I think that's … Redavia followed that insight, I think unwittingly, but we realized that around Accra, which was our next market after to Tanzania villages, there is a lot of industry going on. There's a lot of economic dynamism there. New companies being started and emerging African middle income segment in the city triggering a booming of everything that a middle class needs, right? From better food, to leisure, to education, shopping. People are everywhere looking for a better life, the good life.
Erwin Spolders:
That triggers than an economic opportunity, which also means people have more money in the cities, which gets remitted back to the villages where they're from or where their family lives. So, by stimulating economic activity in the capital, you do help the whole country get better off. For Redavia, that means we're not … This was 2017. We looked at the grid rates in Ghana and said, these are rates we can undercut. The cost reduction curve of solar, a few more years of 20% reduction per year meant a new island effectively, a new market emerged where we could undercut grid prices for commercial and industrial players, clients in Accra, in and around Accra, capital of Ghana.
Erwin Spolders:
That's what we did. Initially, my chief sales officer and I got in a Jeep and drove around Accra, visited 20 customers in a week, supported by the German Chamber of Commerce, fantastic service, and got a very warm reception, and then decided to move forward into that market. Hired a sales team, set up a B2B sales engine, supported that with engineers and installation engineers, and backed it up with a financing model so that now we have around 50 customers in and around Accra mostly, or little bit more around in the last year or so, all in the commercial industrial segment.
Erwin Spolders:
So, from a university to a fish farm, to various factories, biscuit factory, for example, hotels. Again, everything that an emerging middle class needs. We're making sure that they get those needs in a sustainable low cost way.
Bill Nussey:
So, your solution basically works with the grids that are there, but those grids are both expensive and often go down or unavailable. So, you're providing a combination of resiliency, lower cost, and of course, a much greener source of energy for some of those countries. Is that really the … And then of course, they don't have to buy the entire project, which is typically the case. They're able to lease the solution from you on an annual or five year term or something like that, right? So, they don't even have to make as big a commitment as they might have to with traditional solar installations.
Erwin Spolders:
Exactly. I think that's … Now you're getting to the heart of what makes Redavia different and why our productization or leasing approach is so important. There is an economic opportunity to undercut the grid with lower cost carbon free electricity. That's the basic sort of spreadsheet logic, but then, to market that, you're dealing with SME companies that are not typically able to obtain project finance type financing.
Bill Nussey:
Great point.
Erwin Spolders:
And you're dealing with SME companies that need to reinvest all of their money that they make into growing their business. These are not businesses that have a budget to buy a solar farm. That's really the crux of the problem that Redavia solves, right? There's SMEs that can benefit from solar, but don't have the upfront capital available, or don't want to spend that on a non-core in investment. But at the same time, aren't entities against which you can raise project debt like you would in a utility scale type solar farm.
Bill Nussey:
By SME, you mean small and medium enterprise, just in case people don't know that term. Before we started recording, you were giving me an example of one of the projects that you guys have done, and specifically what the customer's benefiting. How does it work with their business? How does it help them? Can you just give us a quick case study of a day in the life of one of Redavia's customers. They get your container, what do they do? How does it change their business and their lives?
Erwin Spolders:
Exactly. For example, a farm in Kenya has gone from farming to also processing at the farm, their sweet potatoes. This is also a typical emerging middle class, early industrialization example, right? Post harvest value adds, adding value locally instead of exporting raw produce. This new processing plant needs the electricity, but the grid that runs this farm is off and down. Even when it's up, has large voltage swings and frequency issues, so it has a low quality of power
Bill Nussey:
Which damage the [crosstalk 00:33:51].
Erwin Spolders:
Which damage the equipment, crazy outages. Yeah. It makes overall the whole operation inefficient, because of course, when power is inefficient, everything that's dependent on that power is also unpredictable and inefficient. Spoilage of food product, you have to clean out the machines when you start them up. These types of issues then costs a lot of money, even if it's not directly reflected in the electricity price.
Bill Nussey:
Something a lot of people don't know about electricity is that if you're powering a light, lights don't really care if the electricity is … Whether the voltage swings are too much, or if the frequency goes bad, but if you have something like an industrial motor, it actually is entirely dependent upon that frequency and the voltage to be precise in order for it to work. In the US and many places we take for granted, that happens, but in remote places around the world, that quality of power goes down, and one of the things that happens is that the motors wear out faster and they break and need repair and maintenance.
Bill Nussey:
This is actually a very real, the quality of electricity is something very few people understand, but it's a very real issue. I think we just can add that to the really cool technical services that Redavia is offering to its customers. This is getting to be a long list in this conversation.
Erwin Spolders:
Yeah, exactly. In this particular case, then RVIA can provide a storage system and a solar power system on a lease to own basis to this company that where they can improve their power quality through the battery and also reduce their power cost because we bring in that power at a cost that is below the cost of the grid power, plus the diesel backup, plus the cost of all these reliability issues, and all without any upfront investment. So, it's a saving from day one proposition for the customer that allows them to go from pure farming to farming plus post harvest value add, yeah, which adds tremendous amounts to their margin and the local wealth that business creates for the owners, and of course, then also for the community that they're in.
Bill Nussey:
This is such an inspiring story. You take it for granted. I'm trying to imagine a day in the life of Erwin traveling over the world and making these amazing products. I wish we could have your team on this interview because I'm sure that they have equally amazing stories and meet your customers, but maybe for another day. But so many people who listen in on this are American. They haven't seen the world like this. They haven't thought about businesses in this way, but they aspire to. And that's one of the reasons that we do this podcast is to tell the stories about people like you and your team and your customers, because this is changing the world and making it a better place.
Bill Nussey:
We are pushing up against our clock, but there's a really important part of Redavia that I found is interesting and is educational as anything I've gotten from folks that I've had the privilege of talking to, and that is the way that you are financing this. When you talk about, let's call you a clean tech or climate tech company, the short answer on financing is, I go to venture capitalists. And if you go, my website has the top list in Google for clean tech venture capitalists and people download that all the time, and they, I guess they just email everybody.
Bill Nussey:
That is a valid way to do it, but you have, and among all the things you have pioneered at Redavia, you are also pioneering a way to fund these capital assets and your company. Tell us a little bit about that area of innovation.
Erwin Spolders:
Yeah. Great. This is obviously a very important part as we're building a portfolio of assets and are building effectively a stream of cashflows from these assets. And as we want to grow, we need to raise funds in order to pay for solar farms. So, we've also circled around this and iterated through this over the years, and have found a winning combination in a mix of institutional debt funding plus crowdfunding to really position Redavia as a platform, combining our supply chain activities to get equipment at lowest cost through our product approach, our sales teams in Africa generating leases, and then through our crowdfunding and our own crowdfunding platform to get the capital needed to fund those assets.
Erwin Spolders:
We combine, like I said, institutional funding with crowdfunding. The institutional funding is sort of the regular part. There are banks and funders that fund solar and assets in emerging markets. These are development finance institutions, for example, or green banks in Europe, for example, that fund these types of assets. What we have found is that if we can combine those with the agile and sort of fast moving aspects of crowd funding, then we have the perfect mix to match the type of solar that we do, which is many small projects.
Erwin Spolders:
We're signing a deal every week, we're commissioning a solar farm every week, and we're raising a few hundred thousand euros or dollars for that solar farm or for the portfolio of our solar farms also on a weekly, monthly basis. So, it's all very much about moving from big deal batch process to a small deal, continuous process on the financing side, on the procurement side, and on the sales and installation side. That's …
Bill Nussey:
This is a breakthrough.
Erwin Spolders:
Yeah, it's super cool.
Bill Nussey:
This is so different. When I think of crowdfunding, I'm thinking about somebody's, their ebike they're selling, or they've got some movie they're making. This is a very serious and really make the world a better place type of crowdfunding. What platforms, how do people learn about this kind of high impact crowdfunding?
Erwin Spolders:
We've done and are continuing to work with third party platforms. So, impact funding focused crowdfunding platforms. Specifically, there's a crowdfunding platform in the UK called Energise Africa that we've used successfully. It's a great partner. Lendahand.com is also a great partner. It's a Dutch crowdfunding platform. The final platform that we use is called trine.com. It's a Swedish impact crowdfunding platform. And these have all provided about eight and half million euros of crowdfund to our projects so far.
Bill Nussey:
Eight and a half million dollars of crowdfunding. Eight and a half million Euro. This is not $25. This is amazing. You guys are pioneering on so many levels at once, including this eight and a half million dollars of capital you've raised from crowdsourcing. As I understand it, you're taking all those lessons learned, and you're taking it to another level. And it actually is something that's happening very soon, I think, days or weeks right after this podcast airs. Tell us about what this next level of crowdsourcing is all about and why you're doing it.
Erwin Spolders:
Exactly. What we found, we were very excited about crowdfunding, and we're very grateful and very happy with the partnerships with Lendahand, and Trine, and Energise Africa. And to take it then to the next level, to compliment our institutional debt funders, and to complement these third party platforms, we are setting up and launching our own direct crowdfunding platform. It's called invest-redavia.com. Through that, investors can invest in equity like security, so into the growth of Redavia, as we expand our portfolio and serve more and more companies in industrializing African markets.
Erwin Spolders:
The background of this is really to complement the debt crowdfunding that we do and the institutional debt raise that we've done with crowd equity to match the capital needs of the company as we build more and more solar plants at these companies.
Bill Nussey:
Personally, I want to participate in this, at least in a small way, but is this something that can be done out … Can people in the US participate in this thing or is it limited to Europe and Africa? How does it work?
Erwin Spolders:
Anybody who's interested can go have a look at invest-redavia.com and decide for themselves whether this is something they can invest. At the end of the day, you can make, if you want to invest, you can make a payment with a credit card or a bank transfer, and then obtain an electronic certificate of ownership so that yeah, you can benefit from the growth of Redavia and also obtain a return in the case of an exit event for Redavia.
Bill Nussey:
It's so inspiring, man. I just love the … How many innovative you're bringing together, the impact you're having on the world, the ground work that you're laying for decades of innovation that's going to make huge impacts on people's lives.
Erwin Spolders:
Thanks.
Bill Nussey:
Well, listen, we are at the end of our segment today. And one thing we do with all of the folks who honor us their time is we ask a simple set of questions. It gets to the heart of, I think, the reasons that people, our guests do what they do, and I think we have heard that it's inspiring and informative to our listeners who are, many of whom are thinking about pursuing paths that make a really big difference in the clean local energy world that we're moving into. Let me just jump right into the four lightning round questions, start with number one. What excites you the most about being in the clean energy business?
Erwin Spolders:
Number one is we're fixing climate change, which is the major challenge of our generation, and we got to get on that, stay on it. That's number one. There's more, right? I think it's fascinating. I think the energy sector is fascinating. Disruption is fascinating. So, this whole moment in time we're in is fascinating on a business level economics level, political level, social level, particularly with, in our case, emerging market, frontier markets, African aspect, all of that's fascinating to me, and I find it exciting.
Bill Nussey:
Excellent. If you could waive a magic wand and change just a single thing, what would it be?
Erwin Spolders:
My main thing I would change with my magic wand is fix the fact that about a billion people are living in poverty, and I think that is a disgrace on humanity. So, my magic wand would bring this billion people out of poverty in a sustainable way.
Bill Nussey:
If I had that wand, I would-
Erwin Spolders:
Yeah, it's a big wand. Yeah.
Bill Nussey:
What do you think will be the single most important change in how we generate, store, and distribute electricity in the next five years?
Erwin Spolders:
Yeah, so I agree with you. I think the main point that's happening is moving from centralized to distribute it from the center to the edge, and everything that goes with that. A lot of things go with that. So, from consumers to prosumers, adding storage centrally, but particularly on the edge of the grid. Turning the grid into a multi-way grid and not just the one way center to the edge grid. That's what's happening and what will continue to happen. Renewables are part of that because they scale down so well, so economically well. They have great unit of economics, even at small scale.
Erwin Spolders:
With that comes a technology cost curve, therefore ongoing cost reduction. Who knows where it will end, but it also comes with intermittency. That's then a major part of this distributed generation aspect that needs to be dealt with. On top of that is the data grid, right? So, all of this needs much more coordination and a much thicker data layer. So, we're adding a data grid on top of a power grid, and I think that's, particularly for entrepreneurs, a super interesting area to be involved in.
Bill Nussey:
Couldn't agree more. Final question. I'm sure you're asked all the time by people who are inspired by your life's work, what can they do to get into the industry? How can they make a difference in the transition happening faster?
Erwin Spolders:
I think everyone can make a difference by being a conscious consumer. So, buying clean energy, buying equipment that has a clean supply chain, or buying products that have a clean supply chain. So, being a conscious consumer, I think, is the easiest and lowest threshold way to make a difference. That would be the main advice and also the main request for people listening to this podcast.
Bill Nussey:
Well, Erwin, I am just so excited to have spent this time with you. I've learned a ton in these podcast series, and my day to day work, and the book, and my professional life, I have the great honor of meeting people, some of whom are tremendously inspired to go do work that changes the world, and others who have a incisive business mind that apply classic business principles and cutting edge innovation to problems that need to be solved. It's a rare treat to meet someone who brings both of those together into a single person, into a single company. I wish for you, and your team, and your customers tremendous success. We'll be following you very carefully and we will help spread the word that Redavia is a company that's the bleeding edge of changing the world. So, thank you very much for your time today.
Erwin Spolders:
Thanks so much, Bill. You're very kind and it was really nice to talk to you.