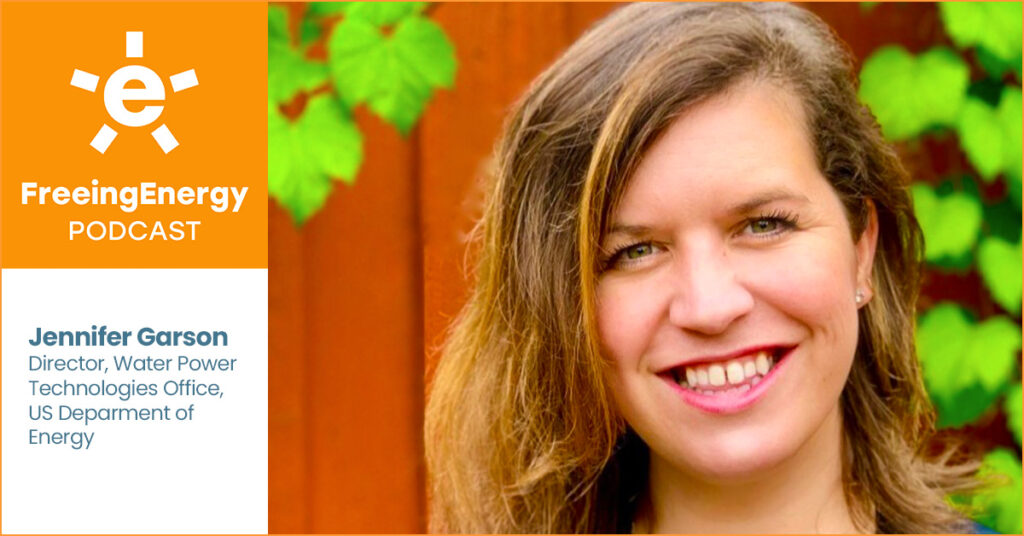 Host Bill Nussey dives into the astonishing world of hydropower and marine energy with Jennifer Garson, Director of the Water Power Technologies Office in the US Department of Energy. Garson helps us navigate the well-chartered waters of our nation's oldest source of electricity generation and largest source today of energy storage. She shares just how big a role hydropower and marine energy can play and is already playing in shaping the future of clean renewable energy in communities nationwide.  And, Garson describes how her team is opening the floodgates for innovators and entrepreneurs as they drive even more innovation in this exciting part of the clean technology revolution. 
Here are some of the highlights from their discussion…
"Most of us in hydropower, we don't anticipate that we're building big dams in the United States. That's just kind of the legacy of hydro. It's the smaller distributed non-powered dam projects and projects like closed loop pump storage that are the future of a 21st century hydropower development in the United States."
---
"I think sometimes we only think about energy as scientists and physicists and engineers who are gonna come with a solution. And the reality is it's gonna require communicators, storytellers, you know, people who can understand how to work with communities."
---
"The capacity that we've added at existing pump storage systems… almost as much pump storage capacity was added from 2010 to 2019. About 1.3 gigawatts was mostly from upgrades to existing plants to put that in perspective. The combined installed capacity of all other forms of energy storage is 1.675 gigawatts."
You can also listen to this podcast and others in our series on these platforms:


Check out these links to learn more
Water-power-technologies-office
American-Made Challenges | Department of Energy
Full Transcript
Bill Nussey:
Hello and welcome to everyone in Freeing Energy podcast world. Happy, happy summer. It is a blistering summer around the United States and it's definitely trending our power grids. So, like we love to do here, we are going to talk about all the great opportunities to improve our power grids and to help out make the world a better place. We're going to talk about an energy solution that's played a role in meeting energy needs of communities around the country frankly, even before there was a country of the United States. So, just go with me at a little detour off the Interstate 73 in North Carolina and head north on Highway 68, and you'll pop into the town of Oak Ridge. And, there you might stumble across the old mill of Guilford built in 1767.
Bill Nussey:
It's on the Reedy Fork of the Haw river and it's one of the oldest working grist mills in operation in the country today. Now granted, this is an example of using water to create mechanical power rather than electricity, but nonetheless, it illustrates just how important water power has been in the history of the United States and frankly in the world. So, grist mills play a vital role in our early communities and they were powered by water. So, obviously we've come a long way. And, today we have a very esteemed guest, Jennifer Garson, who's the Director of the Water Power Technologies office as part of the US Department of Energy. Jennifer, welcome today and we're so excited to have you.
Jennifer Garson:
Thanks, Bill, excited to be here.
Bill Nussey:
You've spent the last decade or so in the Department of Energy and in the last several years in water, but all of this is sort of the intersection of government and making the world a better place, public policy. So, what got you interested in that? Did you know when you were six years old learning to ride a bike that you wanted to do this? When did this career unfold for you and why?
Jennifer Garson:
I've always loved the environment or nature. As a kid, I played a lot outside. We visited national parks. I was really kind of lucky to travel a lot of the country and see how different people use and interact with the environment. But honestly, when I went to undergrad, I had no idea what I wanted to do. I ended out majoring in anthropology and the interesting thing about anthropology is it is all about the intersection of people, both historically and currently. It's sort of this wacky field where you have archeology where you're looking back deep into the past and bio anthropology, how we evolved to social anthropology, which is one of my big spaces. Yeah and linguistics is even thrown in there. It's a pretty widespread field. But, when I was a junior in college, I studied abroad Australia for conservation and resource management.
Jennifer Garson:
And, one of the things that I saw there was the use of solar passive design. How do you design buildings to actually capture the power of the sun? So, not just solar energy, but where heat sinks could be. Where you could cool things more ambiently. And, they were even using concentrators for cleaning water. I also went to Tasmania where we saw the impact actually of hydropower. What does it look like when you're actually flooding an area for the production of power? And, I was also lucky there that I studied a lot with local communities, really seeing how they interact with the environment, whether it was rain forest or dry areas. And, so I got really inspired in Australia to think about, how can we actually harness our energy in a more sustainable way?
Jennifer Garson:
And, this was back in early 2000's and I ended up taking a class in solar chemistry. It turns out I'm not that great as a scientist, but this intersection of how do we incentivize people to really think about having a cleaner environment, was a passion of mine.
Bill Nussey:
I love the fact that you had this instinct early in college, you wanted to do this and you've landed at the DoE. And, I can tell you, as a percentage that a very small number of people who listen to this podcast are working the DoE. Most of the work in companies. What do you think the biggest difference is to build a career in the Department of Energy versus doing it in, what do you guys call the private sector? I call it startups and businesses. What do you think the biggest difference is from your perspective?
Jennifer Garson:
I mean, there's obviously when you're in a place like the Department of Energy, it is a very large bureaucracy. So, there are very bureaucratic processes and things tend to take a long time, but just like in private sector, if you take an entrepreneurial approach, even inside government, I love this whole idea of in entrepreneurship, you can come up with novel ways to solve problems, even inside of bureaucracy. So, take an example that I know that your podcasters have been talked or heard a lot about prizes. Prizes are actually only about 10 years old. It was passed in the American Competes Act and kind of sometimes, when there's a novel, new thing in government, we tend to shy away from it or run away from it. But instead, what we've seen is this embrace of a new way of doing things, really thinking about how do we best solve problems that companies can solve through newer novel approaches?
Jennifer Garson:
So, this whole entrepreneurial spirit I think, is really embedded in a lot of people inside DoE. We view it as our mission to think about, how can we make a difference? Which on the private sector y'all are developing the solutions to make a difference. I think inside our own bureaucracy, we're trying to think about ways to make a difference inside government. But, we move at a slower pace, but some of us are trying to make things move faster, especially to meet some of the challenges that we have in front of us.
Bill Nussey:
Well, one of the things that I want to make sure everyone listening hears today, is that for all the places where the US government can be properly blamed for sort of not spending the money the best way, the amount of money that the Department of Energy and the NSF and other groups put into entrepreneurship to promote things that make the world a better place, the country, but the world a better place is actually staggeringly large and incredibly effective from what I've seen. And, I didn't know until we started doing a deep dive to prepare for this, just how much the Department of Energy has done in water.
Bill Nussey:
And, one fun fact that very few people are aware of is that of all the grid scale storage, it's not lithium ion or lithium ion phosphate or any of those lithium phosphate. It is pumped hydro. Hydro dams that take the water out from the bottom and put it back at the top. That's 93% of all the grid storage in 2021. So Jennifer, I mean, is this a thing? Is this something we did in the seventies or is pumped hydro actually still a growing part of the grid scale storage story that we need to have?
Jennifer Garson:
I think it's a critical component. I mean, obviously we see a lot of really interesting novel technologies that could offer long duration storage in order to balance our variable renewables that come online. But, even the amount of extra capacity we've added at existing plants has actually exceeded the amount of batteries that have come online.
Bill Nussey:
Wait minute, say that again slowly because that's a really big headline. Big, big headline there. Say it as slowly again.
Jennifer Garson:
The capacity that we've added at existing pump storage systems, so almost as much pump storage capacity was added from 2010 to 2019. About 1.3 gigawatts was mostly from upgrades to existing plants. To put that in perspective, the combined and saw capacity of all other forms of energy storage is 1.675 gigawatts. So we added-
Bill Nussey:
Wow.
Jennifer Garson:
That's just added capacity. That's a plus from where we already were. And, where interestingly enough pump storage was originally built to help store excess nuclear energy. But, what we're seeing now is we're thinking about pump storage in a totally different way. It helps to balance the grid, both from minutes to hours to potentially up to seasons perspective. And, what we're seeing is also that those systems that were originally built, they were open loop. And, that means they can, they actually connect to a river or waterway the new projects that we're seeing that could potentially get built over the next decade plus, are what we call closed loop. They're are just two reservoirs connected.
Jennifer Garson:
They're essentially a giant water battery where the water gets pushed up when you have excess power and comes right back down when you need it. And, these types of systems, they're not small little reservoirs. These could be giant reservoirs that could help balance entire regions. And, so I think while batteries are awesome, other long duration forms have a lot of promise. It works. We know it works. It's almost elegant in its simplicity and it's going to be critical moving forward, both the existing and I think closed loop, pump storage, being built out to help stabilize the grid is going to be an incredibly critical element for our grid of future.
Bill Nussey:
I think that's such a big story. And, I think one of the ironies of I guess all industries, but including the power and energy industry is that we have things that actually work really well, but they're not new and we overlook them or downplay them. And, when I was writing the book, I was interviewing one of the people who… Lead scientist for IDER, which is the big nuclear fusion project out in Europe. And, I would love it. We'd all love it if fusion worked. And, we started talking about the cost of it and his best estimate, was it be four or five times more expensive than solar if it actually worked, in decades. And listen, I want it to work, let's get it to work. Maybe we can get it super cheap. But, I think I often point to people that solar is just sort of thing. It really works. Wind really works. Just do more of it. I think today we're bringing water, hydro into that story. It really works.
Jennifer Garson:
It really works. And, we're seeing our European counterparts do this. There was a one gigawatt facility just opened in Switzerland in the last month.
Bill Nussey:
Really?
Jennifer Garson:
Yes, it is going to basically help support the entirety of the European grid. It was built with, I think GE was one of the companies behind it, but it's a massive facility that just came online.
Bill Nussey:
Gigawatt?
Jennifer Garson:
And, you barely hear… A gigawatt.
Bill Nussey:
And, that's the size of a modern, large nuclear plant. I mean, that's the amount of capacity we're talking about there. I honestly hadn't seen that, Jennifer, this is so cool. I love it when my perspective is expanded because this is that we overlook the obvious stuff and we'd quit doing that, we'd get to where we want to go faster. And, so what you and your team are doing, and let's switch gears to, there are, you are finding all kinds of or you're helping discover and explore through the interactions of the private sector and scientists and the national labs, new and innovative ways we can bring water to bear on the question of clean generation of energy and storage of energy.
Bill Nussey:
So, you oversee the DoE's Water Power Technologies office, which is lovingly called the tongue twister, WPTO. Give us a sense of the range of projects you're working on.
Jennifer Garson:
Sure. So, the Water Power Technologies office, the WPTO, we focus on two different forms of actually harnessing energy from water. The one that we've talked about primarily so far is hydropower. And, the second is actually marine renewable energy. And, what I'd like to say is within our portfolio, we have both the oldest and the newest form of renewable energy. It really kind of spans the spectrum. And, for us, we really care about energy at all scales. So, even for marine energy, and I'll get into some examples, we're talking about watts all the way up through pump storage with gigawatts. And, that at each one of those scales water is really critical as an energy source. We are this year, we have about 160 million that was appropriated by Congress, actually 162. 50 million of that is for hydropower and 112 is from marine renewable energy.
Jennifer Garson:
And, across our portfolio, we have a range of different types of projects, everything from funded companies, through our prizes to a pretty rich set of companies in our SBIR portfolio. To technical assistance that we actually provide both to developers, project developers or utilities, but also to communities. We support programs that is really trying to take a look at what are some of the localized needs of communities and how can water power help meet and address some of those needs. But, it really ranges from everything from technology development, technical assistance, and really trying to advance things like marine energy and more environmentally friendly hydropower solutions.
Bill Nussey:
So, a lot of our listeners are entrepreneurs or want to be people building high growth companies, big innovators, disruptors. What are the parts of the WPTO program? I'm getting used to saying that by the way, comes off more smoothly WPTO programs, that they should be paying attention to.
Jennifer Garson:
Sure. So, I'll start with marine energy first. So one of the initiatives that we've been growing over the last couple years is called powering the blue economy, which is kind of trying to flip the narrative of what can marine energy do. A lot of times when we think about energy, we think about it in terms of big gigawatts. Power to the grid. But, the reality is that out in the ocean and in our blue economy applications, there are severe energy limitations in everything from ocean observing to desalination, to providing power to remote communities. And, so we're trying to kind of better unlock opportunity to say, "Okay, what does the end user really need? And how do we develop a marine energy enabled system to power it?"
Jennifer Garson:
And, so through that initiative, we've run several prizes. We have an SBIR topic that we run each year, which really just says, "Go out and find an end user. Tell us how you would meet it with marine energy." And, through that, we've seen things like the modification of monitoring buoys out in the ocean with a kind of heef plate below it to actually provide more persistent power because, fun fact, is a deviation. We know more about the surface of Mars than we do about the subsurface of our oceans. And it's going to take-
Bill Nussey:
That's cool.
Jennifer Garson:
Energy to actually solve it. Yeah, it's cool but it's complicated.
Bill Nussey:
Kind of also sobering.
Jennifer Garson:
Very sobering how little we actually know.
Bill Nussey:
And, I'm a big consumer of YouTube videos, like Two-bit DaVinci and Undecided with Matt Farrell and just have a think and a couple of these folks in the last month or two have started talking about marine renewables. And, I don't know if this is your team's outreach educating the world as you did with me and our team, but there's some really cool things and some numbers and stats and LCUE and longevity. One of the videos I watched that the marine systems can run more than the typical two or three decades you'd expect a solar system to. Just fascinating facts. And, I feel in the last really three months, my eyes have been opened wide to what's going on in the marine side of it. And, what excites you the most on that?
Jennifer Garson:
I mean, I think a couple things. One is we're seeing companies that are trying to really laser in on certain applications like ocean observing, to provide more scientific data, more observations, even around like offshore wind turbines, because it's going to be really necessary for us to understand what those learnings are. Wave power desalination. We are going to run into, oh, cool mobility challenges everywhere. And, so you can use it both from either providing electricity or through hydraulic measures. So, essentially pressurizing water against a membrane to produce potable water.
Jennifer Garson:
And, if we can develop systems and solutions that can bring fresh water from the ocean then that's just an enormous opportunity. And, then you're also seeing a lot of growth in tidal power. This is a lot over in Europe and the UK, but increasingly for us as well, we had a title turbine actually right off of in the river by New York City. We actually had a deployed tidal turbine that was providing electricity for New York City. And, so I think we're seeing the kind of maturity of marine energy really come to bear. And, I think we're going to see a lot of interesting technologies and solutions out there providing local power. Power to better observe and understand our ocean. Provide potable water and provide really, hopefully, low cost electricity to the grid.
Bill Nussey:
Very cool. And, in talking about the potential, I understand there's 90,000 existing dams across the country, which I guess less than 3% are actually generating electricity. And, these are some of… And, so can we take some of this existing infrastructure and turn it into something that contributes to the grid or even becomes pump storage? I mean, what can we do with what exists already?
Jennifer Garson:
Yeah. It's one of my favorite stats that only 3% of the 91,000 dams are actually producing electricity, because oftentimes people think-
Bill Nussey:
Damn.
Jennifer Garson:
Every dam, yeah, has electricity and it doesn't. But, you're actually seeing some really interesting measures thinking about not only can you power those dams, can you pair it with storage or solar and really provide localized firm power delivery for communities nationwide? Can you already take advantage of the fact that the river ways already damned? Add power and add services locally? You can't move that generation so it's always going to provide local power. And, so we've looked at it from everywhere from Montana to Vermont, to West Virginia. There's just such an enormous amount of potential and some really cool companies that are thinking about solutions in powering non-powered dams. But, it's not just the dams. There are existing conduits and canals that you can add actual energy to.
Jennifer Garson:
So, one of the things we've been looking at is irrigation modernization. A lot of irrigation canals essentially have head. And, for those who are not steeped in hydro, if you have head, it means the water's running down a hill so you can actually try to capture the power. We've been looking at the feasibility of adding either run of river, which means it's diverted through a little generation facility or adding it into a canal to provide power to help decarbonize irrigation. Help it with precision agriculture or charging farming equipment, if we move to electrification in the agricultural sector. So, I think we're really, most of us in hydropower, we don't anticipate that we're building big dams in the United States. That's just sort of the kind of legacy of hydro. It's these smaller distributed non-powered dam projects and projects like closed loop pump storage that are the future of a 21st century hydropower development in the United States.
Speaker 1:
Jennifer in the WPTO team at DoE remind us of several really important tidbits. First hydropower facilities currently supply 6% of all electricity in the United States and account for 32% of renewable electricity generation. And, hydropower provides critical energy storage accounting for 93% of all utility scale energy storage. This resource helps to ensure that power is available when consumers need it. And, with critical upgrades to existing hydropower plants, almost as much energy storage capacity was added to the grid from 2010 to 2019 as the combined installed capacity of all other forms of energy storage. That is huge. While the spotlight might be on solar, solar plus batteries and other technologies as the front runners in getting to a much needed clean, renewable energy faster, we need to keep an eye out for amazing innovations taking place around a long standing, often community based, proven renewable resource like water.
Speaker 1:
Just like subtle changes in technology have kept that 250 year old grist mill in Guilford, North Carolina operating, there are countless opportunities for innovation along the hydro and marine power value chain to be explored. And in just a moment, we will hear Jennifer talk more about the aggressive outreach her team and others at DoE are making to encourage even greater innovation in the private sector. It is a partnership that can alter the course of our future in a rapidly changing climate environment and one that we encourage our audience to explore. We've included links to the WPTO and some of the programs Jennifer mentions over in the show notes for this episode on FreeingEnergy.com. Take a look and if you enjoyed this episode, don't forget to like subscribe and share this podcast with friends and colleagues. Now, let's get back to Bill and Jennifer.
Bill Nussey:
Let's talk a little bit about what you're doing in the, what we call local energy. Where the generation is occurring, close to and often owned by the communities that are benefiting from the electricity.
Jennifer Garson:
Yeah, I mean, one project that we have up in Igiugig Alaska, which is a community of only 75 people. They have been over the last 10 years, really strong partners in the development of a solution that's harnessing power from river currents. Right now, they're only dependent upon diesel and in case you haven't checked it out, the price of diesel in Alaskan communities is exorbitant right now. And, so they've been working with the company and we've been funding the project, this company, ORPC out of Maine to develop a system that can interact in a friendly way with the salmon population that's incredibly critical to them, but provide more localized power. And, that's where when we talk about scales that's megawatts or kilowatts. But, those kilowatts matter to that community, it's how they live and they are not connected to a roadway. So, trying to think about how you harness river current systems, I think is really important.
Jennifer Garson:
And, the other program that I'll mention too, is the energy transitions initiative partnership project that WPTO has been helping fund and support. We're working with, we've selected 11 communities in the first cohort. Now, we have another 12 communities and it's all about local ownership and control. How do we think about the energy systems those communities actually need? Instead of it being a technology push. And, so we're seeing how do they add existing capacity at hydro? How do you think about title energy? How are we going to power our ferries that go from small islands back to land bases?
Jennifer Garson:
So, there's a number of examples where we've worked with community local power. The other one I'll mention too, is with Idaho Falls Power. They were looking at how do they use their run of river hydropower systems to provide what we call black start capabilities. Grid goes down, how do you go to flip the switch back on? Really important. Hydro is really good at that. And, so they looked at adding basically super capacitors, so storage, with their hydro runner river systems, and we simulated their ability and did it real time, but they can black start the grid. And, so it's not just about the technologies, it's even how do you use them for more critical, local support and services?
Bill Nussey:
Yeah, black start's a really interesting idea that not a lot of people know about, but it's very similar to jump starting a car. You've got this large thing that needs to turn, called a power plant, and it doesn't turn on its own. Long time ago they used to crank it, in a car, can't crank a giant coal plant or nuclear plant, but to get that giant turbine running there, you need to have another power plant to kick it off. It's called black starting. We don't want to do this very often because that means the grids had a major failure, but it happens it's needed. And, hydro is a fantastic solution for that.
Jennifer Garson:
50% of the black start capabilities in the United States were hydro. It's been shown time and time again, helped flip the lights back on, even for some of the wildfires that we saw a couple years ago, Black start and grid services was one of the most important things that hydro can really provide, particularly in evolving grid.
Bill Nussey:
So, I love these local energy stories where communities and water and energy intersect. So, I think you might have some more to share?
Jennifer Garson:
Yeah. So, another project that we've been doing in partnership with the Office of Electricity is in Cordova, Alaska where they were looking at, they have hydro resources. They have big loads to meet because they have canneries for their commercial fishing. And, so they need power in order to provide refrigeration, manufacturing, you name it and it is a small, more isolated community. And, so we work to provide them with resources and technical assistance to think about adding storage plus their hydro to provide more consistent power so that they could displace diesel.
Jennifer Garson:
And, but then we're also working with a couple projects in Sitka, Alaska. Which is also a community further down south, where they're looking at optimizing their hydropower resources. And, so we're running these huge simulations through this platform at the National Renewable Energy Laboratory called Aries, which is really trying to imagine what their grid of the future will look like at a local level in Sitka.
Jennifer Garson:
And, it's not just their power. We're actually working through the ETIP program, but with the Alaska Long Line Fisherman's Association, that's trying to think about how they decarbonize and reduce the amount of fuel they need for their own vessels. How could they move to a hybrid vessel approach? And, so it's amazing that once you get down at the community level, when you're thinking about energy, it's not even just the electricity on that's on the grid for many of these coastal communities. It's, how do you decarbonize that next step? How are you going to do maritime de carbonization? How are you going to move away from dirty fuels that are still polluting local communities because of the over reliance on bunker fuel or diesel fuel for vessels.
Jennifer Garson:
So, it's why I really love some of this work in Alaska or the communities is you just see how many facets that there are and how important it is to think about energy at a holistic level for communities.
Bill Nussey:
And, one of the things that I love about this conversation, Jennifer, is the echoes with the rest of the world. And, you start to think about this next generation, hydro, solar, the difference between powering a community's lights and basic necessities versus powering canneries and industrial systems. And, those echoes go, we've had a lot of guests who are focused on Africa and people are surprised to hear that a lot of electricity in East Africa comes from hydro dams. It's cleaner than some places in Europe and the US because of that historical generation source. But, when you get to the rural parts of Africa, very different economics than the US, but they have the same challenges. It's more straightforward to turn the lights on and power the phones and the TVs, but to get industry that's a really large challenge, takes a lot more electricity, a lot more power.
Bill Nussey:
You need transportation, which then pulls in fossil fuels. And, so one of the things that got me so inspired about the energy industry, the clean energy industry is that it's not something that's uniquely American and the problems that we solve in Alaska will solve problems for people in East Africa and people in East Africa will solve problems for people in Latin America. And, it makes the opportunities, the challenges, it brings us together and the solutions that hopefully some of our listeners will be creating some of the grantees and the people you're collaborating with will create solutions for the entire world. And, it's sort of my whole personal mission is to make the world a better place where I can. And, so I love these stories and your stories about Alaska, where those echo across every part of the world.
Jennifer Garson:
Yeah. Or islands. I mean, that's where we see in marine energy. It's, well, maybe we don't need the large scale marine energy for us right now in the United States. Well, for some communities that might be the only way that they can not turn to fossil fuels, whether it's because of resource availability or it's just as more consistent power. I know some of our companies are even thinking about development in places like Chile, where it for a small EV station to be added to one of these small islands essentially is almost like adding 10 homes. Well, if you only had 20 homes in the first place, just imagine how much power that you'd need. And, so if you've run out of land space too, looking to the ocean is one of the potential ways that you can actually produce the power that you will need, even if you're you're isolated or not.
Bill Nussey:
That's a great point. And, the creativity that's being unleashed that you guys, the DoE and the WPTO are inspiring and entrepreneurs and providing means for people to do things. I know that a big part of why you like to do this is to work with early stage businesses. And, we were talking previously about some of the motivations. I just sort of, as we wrap up about water, just, I mean, from Jennifer Garson's point of view, why do you enjoy this? What's the part about the small companies and early stage businesses that you think is so fun?
Jennifer Garson:
Because, we're not going to solve the challenges without them. And, even the companies that now that we're… I've been really lucky that I've spent the last decade at DoE working with small businesses and startups that started as literally an idea pitched to the business plan competition that's now getting the hundreds of millions of dollars of venture backed finance out from the venture community. And, realizing how government can really be a catalyst for company growth, particularly at the early stages, is what makes me want to come to my job. Sometimes it can feel slow in government to know that it takes a long time to issue grants, or it takes a long time to do project management. Seeing the rate of innovation of startups that I've worked with over the last decade is just awe inspiring.
Jennifer Garson:
There are even companies in our own portfolio, [inaudible 00:32:29] is a wonderful example. Another is Natel who has funding from WPTO that's developing what they call a fish friendly turban, which they have been doing testing with the Pacific Northwest National Laboratory, where literally fish can pass through the turbine with no mortality. Think about how you wouldn't need to pass, pass fish along. Fish can just swim through the turbine. That's an incredible innovation. And, it went from something we saw on paper to now in the field and that's so cool to be able to be a part of the startups journey.
Jennifer Garson:
I want to say we're enablers. We hope we are there to help support entrepreneurs. But, it is really the tenacity, the growth, the drive of these entrepreneurs that makes me want to figure out better ways to help support more people and more entities that come into this space. Because, we've got so many challenges to solve, and it's going to take the kind of entrepreneurial drive and spirit that hopefully we can help fund and support and watch that journey of startups going from an idea to deployment. That's an incredibly rewarding thing to do to know that we've helped in some measure or some way.
Bill Nussey:
Well, Jennifer seriously, I love hearing. That I'm touched and I guess got to sort of back at you. I think one of the things that surprised me so much about my last few years, when I've gotten to know people who work in the government, in the Department of Energy, for most of my career in tech, if a salesperson came and said, "We are going to sell this to something in the government." And I said, "Don't talk to the government. The government's going to slow it down. It's going to be difficult." I've seen people on television. They that represent like these Senate hearings that I don't think they're very nice people, certainly not, not people that we're going to be able to be dynamic with. I used to quote all the time, the scariest sentence in the English language is, "Hello. We're from the government and we're here to help."
Bill Nussey:
But, I fast forward to the last couple of years, and I have met people that inspire me like you and others that you work with in the DOE who are doing this because they love it. They want to make a difference. And, they're using this incredible set of tools available through the government to do things that quite frankly wouldn't exist, wouldn't happen. I hope everyone's listening that what happens you, Jennifer and your colleagues are doing is so different and so few people are aware of it. And, I want to make sure people understand that opportunity.
Jennifer Garson:
We obviously, it depends on the type of funding that you're going for. Some of the larger cooperative agreements can be challenging to navigate, but there are so many other points of entry that's not just through the large complicated grant programs. And, one of the things that we've really been trying to do at DoE, is understand what are some of the persistent barriers to accessing funding? Is it replicability of topics? Is it open topics? Is it providing more ecosystem support to entrepreneurs? One of the things that my team actually ran last year was this inclusive energy innovation request for information where we said, "Tell us everything we're doing wrong. Tell us why it's hard to get federal funding. How could we better help support underserved entrepreneurs and solvers? How can we do our jobs better?"
Jennifer Garson:
And, we didn't just take the RFI and say, "Thank you very much." We published a report on what we've heard and we're really trying to embed it in our programs. Not just in water power, but elsewhere. We even ran an inclusive energy innovation prize where we're funding, intermediary partners like incubators or community based organization who, over the next year, we actually selected 17 different projects nationwide who are going to try to help us better address some of the inequities that we even see in accessing federal funding. Because, it can sound like a scary thing to navigate and it can sound overwhelming, but we are increasingly trying to provide support out to a much broader ecosystem to make it more easy to navigate the space. And, Bill though, I do love the fact that we talk about prizes, it is no strings attached money, but you articulated the same argument I've given to any federal manager of, "Well, what happens if they just take the money and run with it?"
Jennifer Garson:
In my seven years of running prizes, in the 20 plus prizes that I've been involved in, not once would it have dawned upon any of our winners to turn around and buy a Tesla? In fact, they are so inspired to keep going that's why I think prizes are really great mechanism. You get people inspired, you get people in the system, you get them to see that there's the art of the possible of developing a technology or a company. And, you give them the resources to thrive. Now, we're not say, "Here's a hundred million dollars. Go. You do you." We think about it in a staged approach. But, that 500,000 to a million dollars at really critical first stage capital, guess what? Y'all are probably better suited at figuring out how to best direct those resources too, than us over prescribing where they should go.
Bill Nussey:
The prizes started 25 and $50,000. And, so if you just got an idea, you probably aren't going to win, but if you really believe in it and you've done some research, I mean, think about it. For everyone listening, if you get $50,000, that's a game changer that allows you to get on a plane. That allows you to buy equipment. That allows you to do pay someone to put up a website for whatever it may be. But, it is a game changer. And, I don't know how many of those prizes we gave in the last 12 months, but I bet it's in the hundreds, if not close to a thousand prizes of that scale. So, it's available.
Jennifer Garson:
And, that's-
Bill Nussey:
[crosstalk 00:38:04]
Jennifer Garson:
Go to American Made Challenge. Yeah. Go to AmericanMadeChallenge.org. There are so many prizes that we're running and there are going to be more and more, assumingly every day.
Bill Nussey:
Wow. Well, I hope everyone got the message and I don't think we can say it enough and I hope we have guests as articulate and passionate as you are in the future that'll just keep pounding it into our entrepreneurs and innovators that there are many ways to test and poke and push your idea forward that you're probably not thinking about. And, so Jennifer, you've done a great, great job sharing that with us today. I love what you're doing with the water program. I learned a ton. So, as we like to do, we want to wrap up with our four lightning questions we put all of our esteemed guests through. So, I'm just going to jump in, but are you ready? Are you ready for this?
Jennifer Garson:
I'm ready.
Bill Nussey:
Okay. Yeah. Buckle up. So, what excites you most about being in the clean energy business, Jennifer?
Jennifer Garson:
The rapid transformation that we're going to see over the next couple of decades is going to be unprecedented.
Bill Nussey:
Excellent. Number two, if you could wave a magic wand and change just one thing about the world, what would it be?
Jennifer Garson:
That we would make the transformation more equitable.
Bill Nussey:
Excellent. And, what do you think will be the single most important change in how it generates store and distributed electricity in the next five years?
Jennifer Garson:
Solar plus storage expansion. Really, I think that's where we're going to see a lot of growth. Solar's going to go from 3% I think to at least 10, 15%. It's just the growth is going to be enormous.
Bill Nussey:
Well, there's no right answer to that question, but people call me Battery Bill and any answer there, that includes batteries, you get five gold stars. So, congratulations we'll send you the prize.
Jennifer Garson:
I like it, thanks. I love stars.
Bill Nussey:
And, the final question and maybe the most important one is a lot of our listeners want to know what they can do? What can they do to get involved? I'm sure you get asked this question all the time. What can people do to get involved in the broadly that transition to clean energy?
Jennifer Garson:
Bring your talents and skills. I think sometimes we only think about energy as scientists and physicists and engineers who are going to come with a solution. And, the reality is it's going to require communicators, storytellers. People who can understand how to work with communities. Even if you think that your skills aren't translatable, I bet they are. And, there are a ton of job openings and opportunities to engage, but bring your talents. I guarantee you they're going to be needed actually in this energy transition.
Bill Nussey:
Well said. Very inspiring way to wrap up an incredible conversation, Jennifer. Thank you, thank you. Thank you for all the work that you and your colleagues are doing. Go water and definitely on my radar now, I'll be following you guys very carefully and again, appreciate your time today and I learned a ton.
Jennifer Garson:
Well, thank you Bill.