Feedspot, one of the top sources for podcast rankings, recently ranked the Freeing Energy podcast as #1 in their Renewable Energy Podcasts category.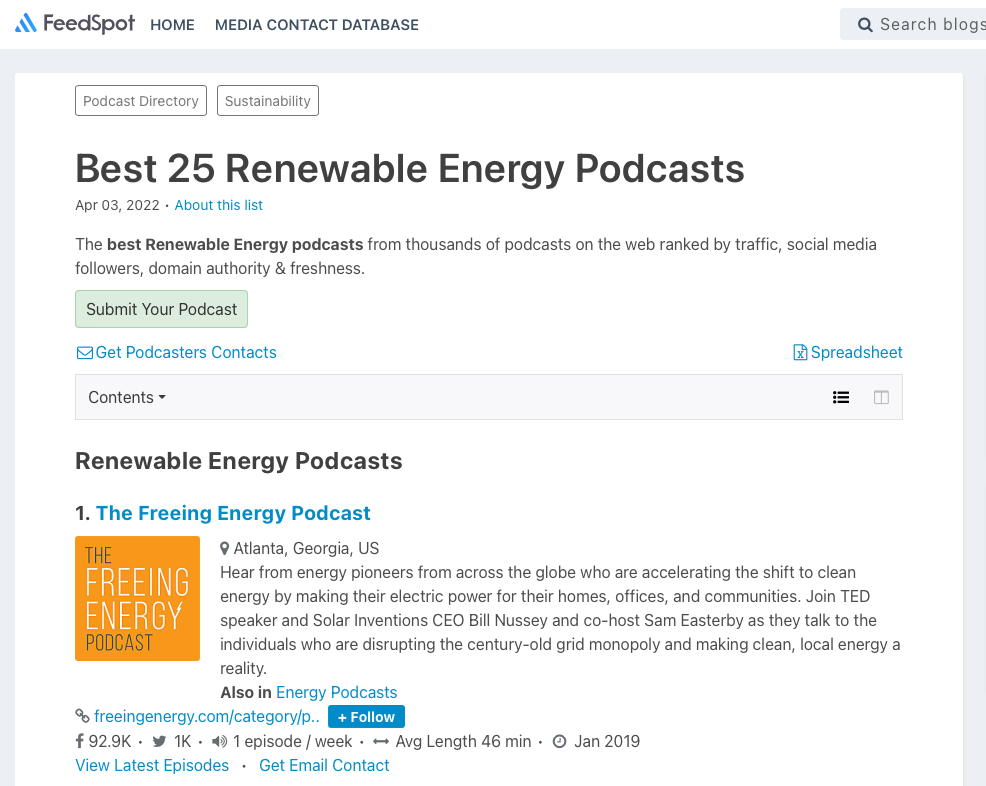 The Freeing Energy podcast has been steadily climbing in popularity and third-party rankings since it launched in January of 2019. The podcast has also been ranked #10 in Feedspot's much broader Best Energy Podcasts category, sharing the top ten with other podcasts like the Energy Gang and the Columbia Energy Energy Exchange.
The success is due in large part to its amazing guests, including some of the most downloaded episodes with folks like:
Michael Liebreich, CEO of Liebreich Associates and the founder of Bloomberg New Energy Finance
Amoy Lovins, the co-founder of RMI (previously Rocky Mountain Institute), the most influential "Thank (and Do) Tank" in energy
Danny Kennedy, the CEO of New Energy Nexus, one of the most prolific climate tech company builders in the world
Andy Klump, CEO of Clean Energy Associates, the top firm in the world at streamlining global solar and battery supply chains
Abby Hopper, the CEO of Solar Energy Industries Association (SEIA), the voice of the US solar industry
Andrew "Birchy" Birch, the CEO of OpenSolar, and one of the early leaders in rooftop solar
Michael Barnard, author and head of global strategy firm, the Future is Electric (TFIE)
Another source of the podcast's success is the vision, research, and tone crafted by the show's producer, Sam Easterby, as well as the voice and expertise delivered through the main host, Bill Nussey. Sam and Bill work with an incredibly talented and dedicated team including rockstar audio editor Sean Powers, research and data analyst, Bailey Damiani, and content editor, Melinda Nussey.
You check out all the podcasts here.