This is the second in a three-part series on Puerto Rico's electric resilience in the aftermath of Hurrican Maria. Click to read the first article, Six months without electricity; stories from Puerto Rico and Hurricane Maria.
After Hurricane Maria slammed Puerto Rico on Sept 20, 2017, the island's three million inhabitants suffered through the worst electricity outage in American history. The entire island lost power for weeks, with many areas waiting nearly a year before power was restored. An estimated 3,000 people lost their lives in the aftermath, largely due to the lack of electricity (read more about this in the first article in this series).
For even the most basic electricity services like charging phones, pumping water, refrigerating food, and powering lights, people turned to a tried and true backup solution: generators. FEMA installed 1,667 large generators across the island. Hundreds of smaller, home generators were sold every day for months after the hurricane. When it comes to local energy, generators are the grandparents who are always there for you but usually overstay their welcome.
Generator island
Generators have long been the last line of defense for maintaining some of the security and safety of modern life, but they are a temporary lifeline, at best. When used improperly, their carbon monoxide exhaust kills almost 100 people a year. They are hard to get after disasters, with many Puerto Rican communities waiting months. They require a constant supply of fuel, which is often impossible when ports and roads are washed out. Most generators are not designed to run continuously and can burn out after weeks or months of continuous usage. But their most persistent problem is high cost. Many Puerto Ricans were paying hundreds of dollars a month in fuel while they waited for the grid to be restored. With an average income of $19,000 per year and a staggering 43% of Puerto Ricans living below the poverty line, the cost of generator fuel pummeled low-income families across the island.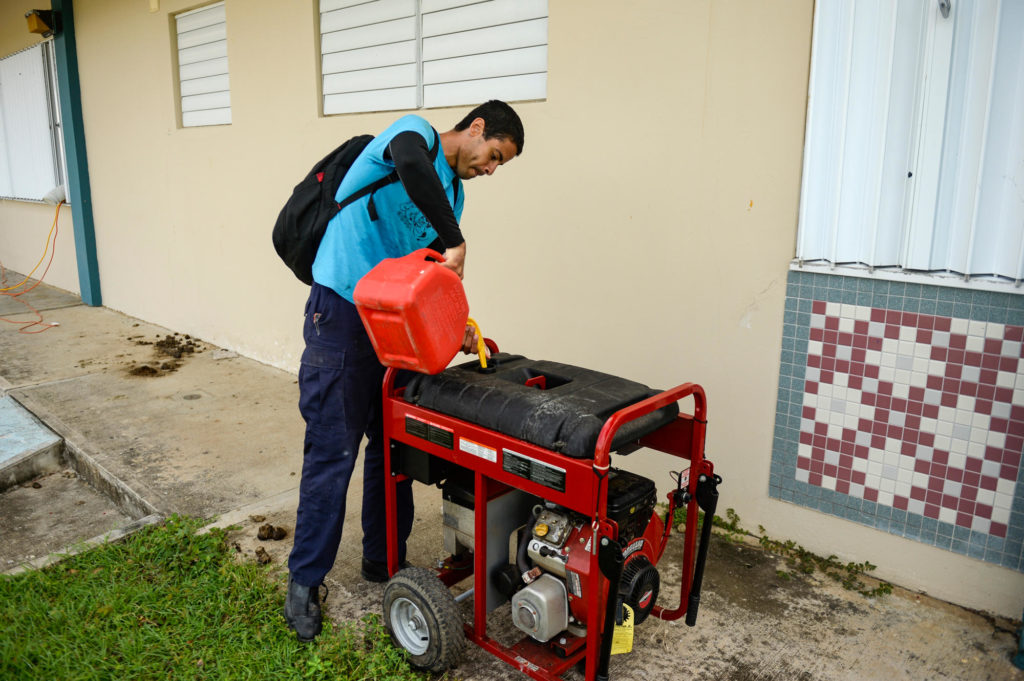 The solar microgrid era begins
2017 may be remembered as the year Maria destroyed Puerto Rico's grid but it was also the year that solar microgrids came of age, both for the island and for the world.
Solar microgrids are a technology marvel that have only become practical in the last few years as the price of both solar panels and batteries has plummeted. If a generator is like storing bottled water for an emergency then solar microgrids are like digging a well. Bottled water is fine for a few days or a week but it quickly becomes too expensive (and supplies become scarce). Wells cost more upfront but you not only get an endless supply of water during emergencies, you also get water year-round, essentially for free.
Solar panels by themselves are great for lowering electric bills and helping the environment. But, as many Puerto Ricans discovered after Maria, electric safety regulations require panels to be automatically shut down during power outages (to prevent back-feeding electricity onto the grid that could kill utility workers repairing downed power lines). In contrast, solar microgrids can disconnect from the grid during a blackout and operate on their own (called islanding). They achieve this by combining four components: traditional solar panels, batteries, a controller and a switch that can disconnect the home or building from the grid. Solar microgrids are the quintessential example of local energy and a fundamental building block of the vision for the Freeing Energy Project.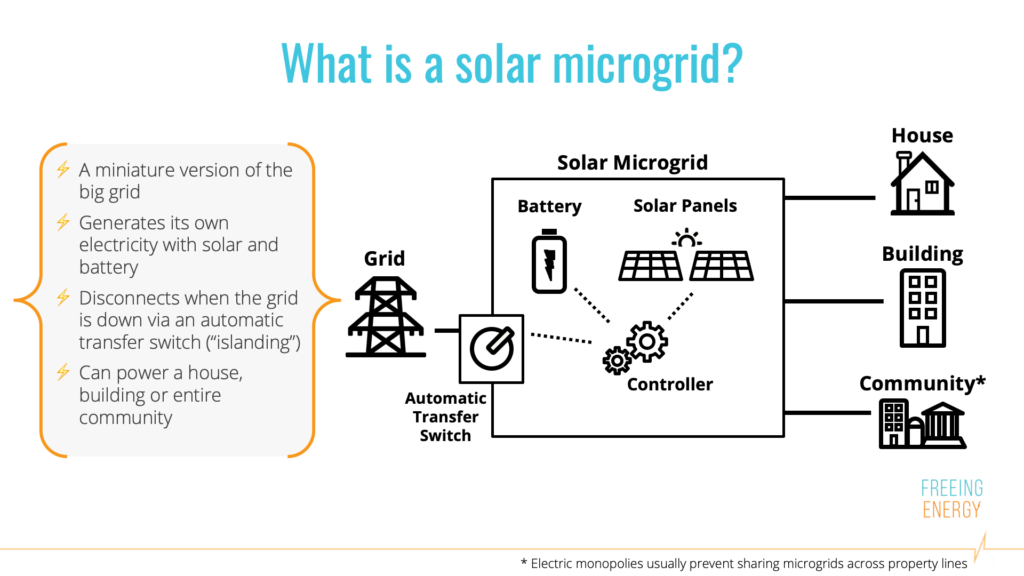 Some older microgrids are powered by diesel or natural gas generators but most new microgrids, especially smaller ones, are powered primarily by solar and batteries. Compared to traditional fossil fuel-powered generators and fossil fuel-powered microgrids, solar microgrids have many advantages:
NO FUEL. Solar microgrids get all their power from the sun and essentially operate for free.
CLEANER. Solar panels and batteries emit no pollution or greenhouse gases.
SAFER. Fumes from fossil fuel generators can be deadly and the fuel itself is dangerous to store and handle.
CHEAPER. When used over time, they are cheaper than generators and increasingly cheaper than electricity from the grid.
MORE RELIABLE. Generators require regular maintenance, whether they are used or not. They are notorious for failing to start when they are needed the most.
GET MONTHLY NEWS & ANALYSIS
Unsubscribe anytime. We will never sell your email or spam you.
Microgrids are a better (and faster) way to re-power an island
While the island's utility, PREPA, struggled to restore power, individuals and communities took matters into their own hands. Thousands of solar microgrids were built at blindingly fast speeds. House by house, and building by building, electricity began to flow again. Resilient Power Puerto Rico (RPPR), a group founded by architects in New York and Puerto Rico, quickly shipped solar panels and batteries to the island. Within 30 days after Maria, RPPR had built three solar microgrids for community centers in the poorest parts of San Juan. Within that same first month, Tesla built a solar microgrid in the parking lot of San Juan Children's hospital, stabilizing their electricity and allowing them to work at full capacity. Over the course of the first year, Bloomberg reported 10,000 solar+battery systems were built. Companies from Blue Planet storage to Germany's Sonnen to Pika Energy flocked to the island to install their products where they were needed most. Sunnova, the leading residential rooftop solar provider in Puerto Rico shifted its business focus from solar-only to solar+battery and has since installed thousands of systems. Their general manager of Puerto Rico, Karla Zambrana Meléndez, told me, "After Maria, Puerto Rico became a lab for microgrids. A dozen or so companies came here to test their products and understand what customers really needed."
Providing resilient power to rural schools in Puerto Rico's mountains
To understand the promise of microgrids, I went to Puerto Rico to see first hand how they were changing the island's electric landscape. I met up with Roy Torbert and the team from the Rocky Mountain Institute. RMI is a 250-person non-profit consulting, research and advocacy firm – they refer to themselves as a "think – and do – tank". They are one of the smartest and most respected clean energy-focused organizations in the world. Roy helps lead RMI's Islands team which was established in 2014 to help transition island partners "from a heavy dependence on fossil fuels to a diverse platform of clean energy and energy efficiency." RMI has been deeply involved in PREPA's efforts to rebuild the grid and has worked directly with many Puerto Rican communities building their own microgrids. But it was one set of projects in particular that brought us together — solar microgrids for the rural schools scattered throughout the mountainous regions of the island.
As we drove through beautiful, winding roads towards Segunda Unidad Federico Degetau, a K-8 school in the town of Barranquitas, Roy explained to me that reliable electricity was critical for schools like this. "Without running water, the school can't open at all. And without a kitchen to provide a lunchtime meal, the school closes halfway through the day." When children can't go to school, they fall behind in their classes, their parents need to stay home from work, and the economic challenges of the community deepen. Save the Children estimates that the children of Puerto Rico lost 13 million cumulative days of education because of Maria.
The solar microgrid at the Segunda Unidad Federico Degetau school
The driveway into the school was surprisingly steep, curving up through a set of brightly colored buildings nestled into the gently sloping mountain. As our Jeeps reached the parking lot at the top of the hill, I could look down and see the rooftops of all the school's buildings. There, just below me was a roof covered with 42 large solar panels or about 14 kilowatts, the source of power for the school's microgrid.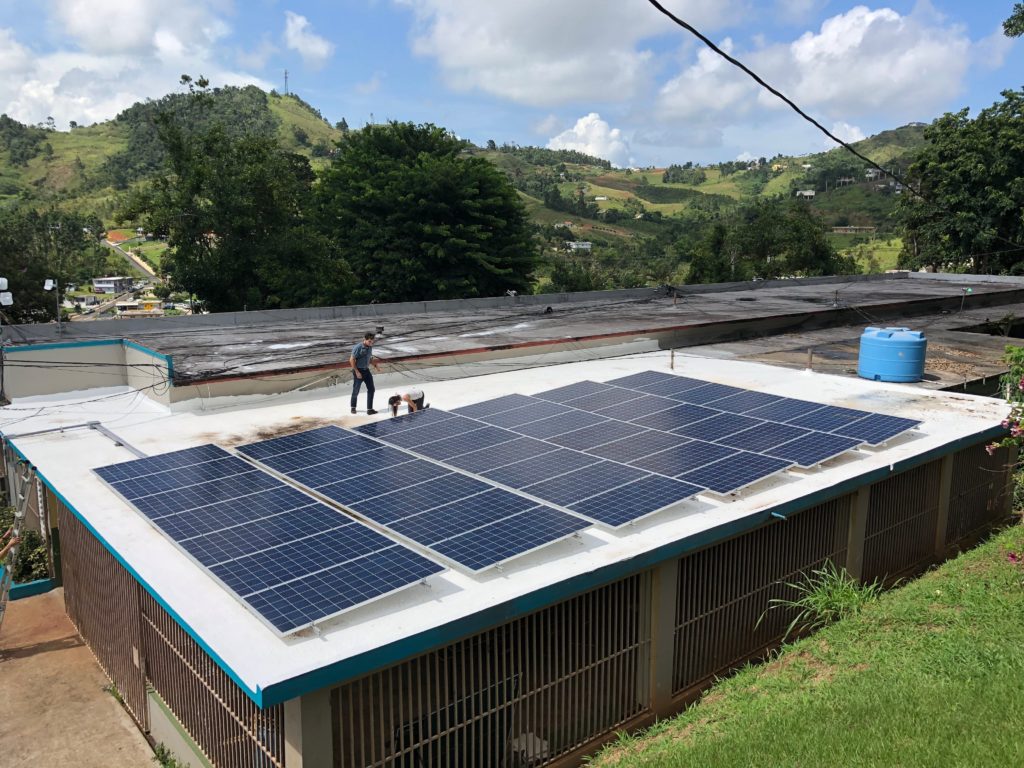 The RMI team shared the year-long journey that led to the technical marvel there before me. Roy said it all started with a simple question, "what does it take to build a school's energy system such that nothing is going to take it offline, that they will be able to provide all the services needed to keep the kids in school no matter what?" The RMI team members are world-class experts on wind-hardened solar farms, as well as procuring the components and labor to build them. But putting this in place in Puerto Rico required help. So, RMI brought together a diverse set of organizations including Save the Children, Puerto Rico's Department of Education (PRDE), and a set of donors to help finance the microgrids.
Roy's colleague, Ana Sophia Mifsud explained that one of the hardest parts was sizing the systems. A microgrid has to be large enough to power the school's essential systems (called "critical loads") but also affordable within the funding available. Many of the schools' administrators felt air conditioning was crucial and were surprised to learn that it is a power hog and beyond the output of a mid-sized microgrid. In the end, they all agreed that refrigerators, water pumps, communications equipment, administrative computers, and basic lighting struck the best balance between cost and operational sufficiency.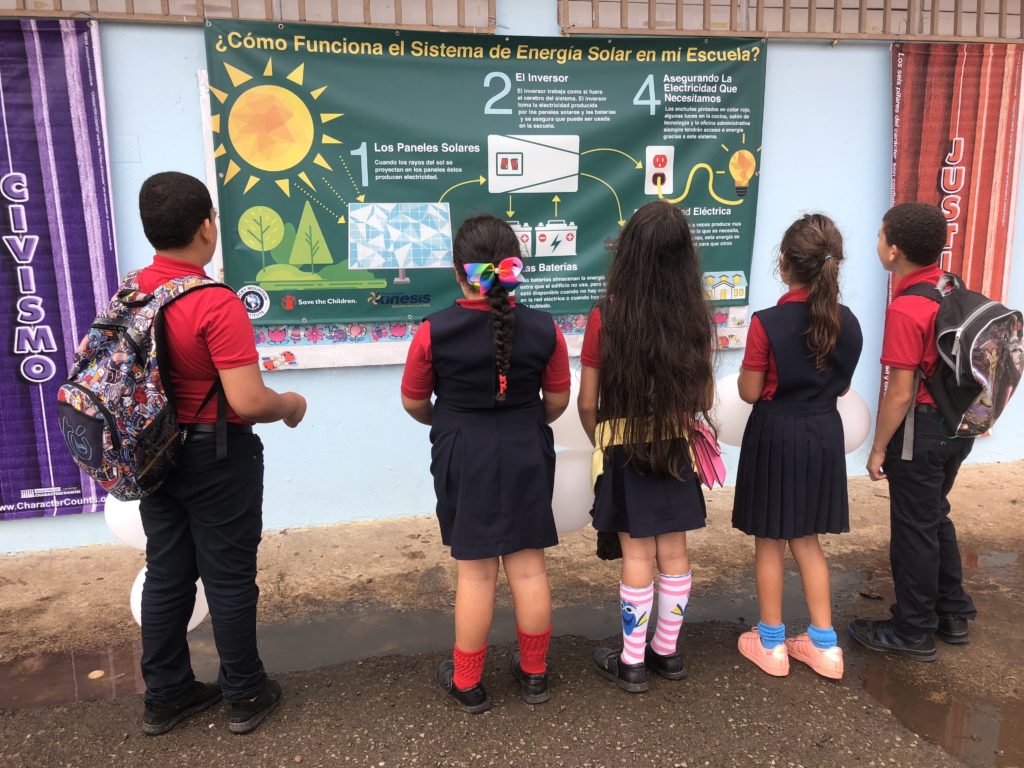 Solar microgrids in Puerto Rico are actually cheaper than electricity from PREPA
Megan Kerins, another RMI Island team member, stepped me through their process of building the microgrids. She said they reached out to 14 installation firms, toured them through the schools, and 6 ended up bidding for the projects. To get the best volume discounts, they chose a single firm to build the microgrids for the first 10 schools. Megan explained that similarly sized solar-only projects provide electricity at 15 cents/kWh (with 20-year financing), a big savings over the island's 22 cent/kWh rate. But, these systems provide no resiliency during the island's frequent power outages. So nearly all the systems built since Maria are microgrids, powered by both solar and batteries. The additional components raise the price to around 20 cents/kWh, still cheaper than electricity from PREPA. Best of all, even when microgrids are financed over time, when the financing is paid down, the schools get all the electricity and the associated resiliency essentially for free.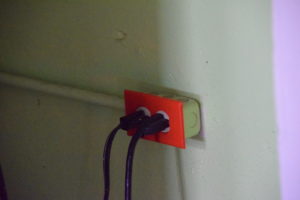 In the Barranquitas school, the solar is paired with a smart battery system from Pika Energy. Another school we visited in Naranjito used batteries from Tesla. The microgrids are wired into the kitchens and pump houses directly, connecting the critical loads with non-stop power. Elsewhere in the schools, bright red electric outlets make it easy to ensure devices plugged into them will run 24/7/365 without interruption. Some teachers at the Barranquitas school told me that they lost power for most of the day just a week before, reminding all of us that the value of resilient power isn't limited to hurricanes.
The Freeing Energy Perspective
Islands are a laboratory for the future of the clean energy grids. The realities they are facing today are harbingers of the changes coming for all the world's grids.
GRID VULNERABILITY. Direct exposure to the ocean from every direction makes islands particularly vulnerable to increasing extreme weather events. Grids are also facing new challenges, like cyberattacks (see: Russia has infiltrated the US electric grid; is this our doomsday nightmare?).
RISING COSTS OF FOSSIL FUELS. Islands almost always import oil and coal to power their grids, making their electricity very expensive. As the cost of fossil fuels rises everywhere, whether it's due to scarcity, geopolitical markets, or ideas like carbon pricing, the whole world will eventually be grappling with the rising cost of fossil fuel.
INEXPENSIVE CLEAN ENERGY. If there's one thing islands have in abundance, its lots of sun and wind. This helps make their clean energy projects a bit more cost-competitive while the rest of the world takes a bit longer for technology to continue driving down the cost of solar panels, batteries, and wind turbines.
The most important source of resiliency
The Mayor of Barranquitas, Iván Marrero, stopped by the school to offer his perspective on Hurricane Maria's impact on his town. Ana Sophia translated for us as he told me,
Right after the hurricane, everyone went into the streets to try and support the reconstruction of the town in whatever way they could. Neighbors were supporting other neighbors with water, food.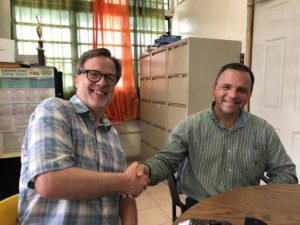 He said that FEMA showed up after 20 days with generators to get fresh well water flowing again. The first grid electricity took 2 months and it was limited to the local hospital. It took 3 months before the townspeople of Barranquitas could turn on their lights again. 
I asked him what it was about his town and his island that made everyone so inclined to pull together and gave them the courage to get through those dark months. He said,
Rural Puerto Rico is a mix of cultures and religions. From a very young age, all the children are taught by their parents to always support their neighbors and to always give to them without expecting to receive anything in return. It was our unique foundation of beliefs that allowed us to come together quickly and get through it together.
While I had come to the school to learn about the resiliency of electricity, Mayor Marrero helped me understand that in the face of disasters and hardships, our neighbors and our communities are the single greatest source of resiliency and survival.
A note about the Rocky Mountain Institute
Full disclosure: I am a long time supporter of RMI and its mission.
When I first saw their founder, Amory Lovins, speak on the TED stage in 2012, I became convinced that clean energy was one of the most important opportunities of my lifetime. When I left my software career to jump head first into writing a book on clean energy, Amory was one of the first people I interviewed. RMI has been a part of my journey ever since. I regularly donate money to them and I have even selected them as my Amazon Smile donation recipient .
None of the RMI team I met grew up in Puerto Rico but several have spent the better part of the last year on the island, away from their colleagues, friends, and families. In some ways, that is the job they signed up for. But having spent time with a few of them, I believe their deeper motivation is to make a positive difference and to do what they can to make the world a better place. I cannot imagine a more worthy career.
I would like to thank Michael Donatti, Megan Kerins, Ana Sophia Mifsud, Megan Shean, Mark Silberg, and Roy Torbert of RMI for the time they spent with me and my wife Melinda in Puerto Rico and for expanding our perspectives on just how much impact clean energy solutions can have. Also, thanks to Ashvin Dayal, of the Rockefeller Foundation, and Rebecca Benest of Save the Children in Puerto Rico for joining us on our visit as well as all the work they are doing for the people of Puerto Rico.
Additional reading