Local energy is the fastest path to cleaner, cheaper, more reliable power. Nowhere is this truer than Africa. And, few people express the amazing future of local energy in Africa better than Amar Inamdar. His recent talk from TEDGlobal 2017 was featured on the home page of TED.com and has been spectacularly well received.
If you want to understand how local energy solutions like solar home systems and microgrids are transforming Africa, check out his TED talk here.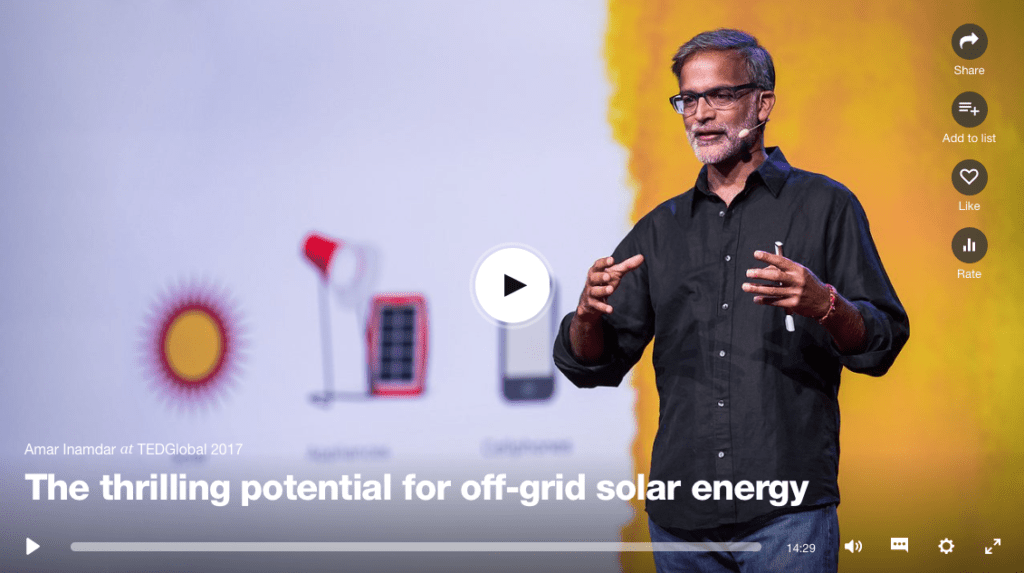 First, a little background
I first met Amar in 2017. He co-hosted a small group of us on a solar discovery tour across Rwanda and Kenya (see my earlier post: A journey through Africa). Amar had recently taken over a new clean energy  venture fund sponsored by Acumen. Their mission is to help improve the lives of Africans through solar powered electrification. What makes this model unique is that it is based in Kenya and it is bringing a venture capital funding model to startups across East Africa.
Amar and team are off to a great start. Their parent fund, Acumen, was an early investor in solar market leaders like d.light, BBOXX, and M-KOPA. KawiSafi is building on these pioneering investments and also expanding into supporting areas like finance (lendable.io), mobile payments, and monitoring.
GET MONTHLY NEWS & ANALYSIS
Unsubscribe anytime. We will never sell your email or spam you.
Who is Amar?
Amar knows the culture, the language, and the people of East Africa because that's where he grew up.  He even earned a PhD from the University of Cambridge  on the Kenyan plains as he lived alongside herds of elephants, studying savanna ecology. He went on to build an amazing career in the commercial world with roles in the International Finance Corporation, the World Bank, and, most recently Shell Ventures. But after living around the world, KawiSafi called him back to Africa where he now lives once again.
Q&A with Amar
Amar was kind enough to help me with my book research. What follows are some excerpts from our conversations…
Bill: Can we really meet part of Africa's electrification needs through the private sector?
Amar: Absolutely. Yes. In fact, the private sector has already proven it can play a vital role in Africa's development. Just look at the cell phone revolution. We've seen mobile money payment systems like M Pesa and others transform banking by moving it outside bricks and d into the mobile phones of people across the region. Early on, people weren't confident banking could be done this way but the market proved it could. Experiences like this give us confidence that private organizations and grass-roots customers can work with businesses   and the government to deliver better solutions than any of them can offer on their own.
Bill: Is it possible to build electrification from the ground up, one home at a time? Or as you say, can we really democratize the grid?
Amar: We are already well on our way but challenges remain. The fact is that national grids are an incredibly expensive and inefficient way to get power to people, especially when domestic energy consumption is low – as it is across so much of Africa. National Development (GDP) and electrification are closely correlated. Unfortunately, some folks have a mindset that the only way to get electrification is the grid. "Well, electrification and the grid are the same thing." But what if we could get electrification to happen without the expense, infrastructure, and inherent inefficiencies of the traditional grid?  There is a fast growing group of companies that offer customers scaleable power solutions – energy that is right-sized for their demands, and can grow with them to meet their power needs in the future.  So we link electrification and development, rather than the grid and development.  And we can help people to unpack that by showing them the breakthrough products and early successes of these amazing young companies that KawiSafi and others are helping fund.
Bill: How do you think about the business opportunity for electrification in Africa?
Amar: If you look at the 620 million people in Africa that are completely powerless at the moment — zero power — and if you multiply that number by what the average US consumer pays for their electricity, you get a real sense of the scale of where this market could end up. At present, one American uses the same electricity in a year as 80 Ethiopians.  That's going to change – and our challenge is to support that change in a way that is good for people and the planet.  It's an exciting path to a more efficient and sustainable economy.
Once people have power then they start using more of it; and once people have productive power – like irrigation and cooling – then their incomes go up, they can afford more, and there is a virtuous circle.  This feeds into the market so the demand picture today is a small fraction of the pent-up, potential market that is there to be unleashed. It might take a while to get there but the opportunity is enormous.
[Freeing Energy note: 620,000,000 people multiplied by the average annual US electric bill of $1,351 and you get a market size of US$838 billion]
Bill: What is the biggest challenges to bringing local energy solutions to Africa?
Amar: The products and the customers already exist. The challenge is about de-risking energy markets so that governments and financial institutions support the growth of this new segment. First, we need to get decentralised, low carbon technologies to play on the same field as subsidised grid power – policy, regulatory direction and leadership so that countries see a diversified energy system as a benefit, not a cost. Second, we need affordable storage solutions that can be deployed at scale. And third, markets need to price the commercial risk better so that private capital comes to the party – we need to see liquidity, investor returns, and local currency markets working to bring energy access for all.  

The democratization of energy in Africa — solar home systems and microgrids — is really a story about local energy. While governments and large corporations will always play a role in electricity and the grid, leaders like Amar and regions like Africa are proving that local energy is the best way to quickly improve the lives of people living in low income, rural areas across the world.