This article is the second part of a Freeing Energy series looking at nuclear power. In part 1, I explored the scope of nuclear power across the world. I examined costs and explained nuclear's role as "baseload" power. In this article, I will dive into the safety of nuclear power plants.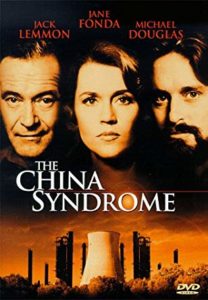 Nuclear power has a unique challenge. While it's much safer than most people realize, it easily conjures up thoughts of meltdowns, sickness, and bombs. Decades of movies and the occasional nuclear disasters have kept these fears at the forefront of people's minds. Up until recently, the future of nuclear power looked grim. However, the growing concern over greenhouse gases has put nuclear back in the spotlight as a possible source of carbon-free electricity.
For nuclear power plants to be more widely adopted in the U.S. and Europe, a more objective assessment of their risks is required. Let's take a closer look at four of the most common disaster scenarios and try to understand the underlying risks.
#1 – Can fuel from a nuclear power plant be used for a bomb?
The most terrifying scenario is all too common in modern action movies. Terrorists break into a well-guarded facility, steal some nuclear material, and use it to create a thermonuclear weapon. But is this really possible to do this with the nuclear fuel used in power plants? Depending on who you ask, this is either extremely difficult or outright impossible. Thermonuclear bombs require incredibly pure uranium or plutonium, 90% or higher. Power plant fuel is less than 10% pure. A 1997 U.S. government report determined it was technically possible to use power plant fuel to make a thermonuclear weapon, but it also found there were far simpler ways to create bomb-grade material.
GET MONTHLY NEWS & ANALYSIS
Unsubscribe anytime. We will never sell your email or spam you.
A more feasible scenario is a "dirty bomb" which combines nuclear fuel with a traditional explosive. Such a device has the potential to disperse radioactive material across a wide geographic area. The actual impact of a dirty bomb varies widely depending on weather patterns, geography, size of the bomb and the fuel being used. But, overall, it's likely that resulting public panic would be far worse than any direct damage from the radioactive fallout.
#2 – How dangerous are the materials or gases that might escape during a nuclear meltdown?
Like a dirty bomb, the impacts of a meltdown-triggered radiation cloud vary widely. Not surprisingly, the one major incident, the 1986 Chernobyl meltdown, has been extensively studied. The U.S. National Cancer Institute followed 12,500 people exposed at Chernobyl. Since the human thyroid gland readily absorbs radioactive iodine, thyroid cancer is the most common health impact from fallout. Over the following 30 years, about 30 of these people came down with thyroid cancer attributable to the accident. Since the half-life of radioactive iodine is only eight days, scientists believe that quick distribution of iodine pills could block the body's ability to absorb this radioactive material in the early weeks, thus reducing long-term cancers. Other studies show a more significant but still surprisingly small long-term impact. For example, one group found up to a 3% increase in the incidents of lifelong cancers attributable to Chernobyl's radioactive fallout.
#3 – What are the other, non-radiation impacts from nuclear accidents?
Nuclear advocates proudly point out that there are virtually no deaths directly attributable to nuclear accidents, at least since Chernobyl. And while uranium miners die from accidents and long-term health issues every year, the nuclear fuel supply chain is hands down safer than fossil fuels.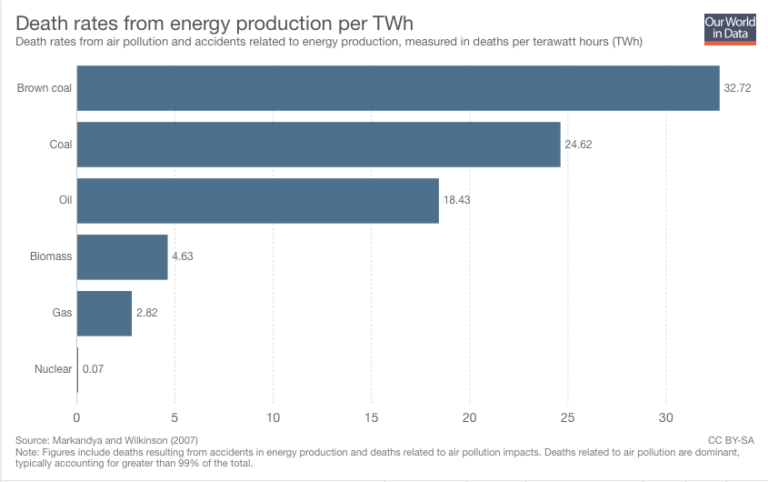 Even though the direct loss of life is relatively small, the number of people indirectly impacted by nuclear accidents is large. For example, 130,000 people were evacuated after Fukushima. And, an estimated 1,600 of them died in the relocation process (notably, most of the deaths occurred with people over 65). Nuclear advocates respond to this saying that much of that relocation was an overreaction by disaster response officials unfamiliar with the real health risks of radiation. Either way, the tragedy of lost lives is dwarfed by the 15,000 deaths directly attributable to the earthquake and subsequent tsunami that set off the Fukushima disaster in the first place.
#4 – How likely are nuclear accidents?
There have been several close calls, but only three nuclear accidents have warranted global headlines: the Three Mile Island accident in 1970, the Chernobyl disaster in 1986, and the Fukushima disaster in 2011. Nuclear advocates like to point out the number of incidents is small. Nuclear critics respond by pointing out that if three, or even one, out of every 440 commercial jets catastrophically failed during their lifetimes, airlines would surely be out of business.
The probability of another major nuclear accident is low. And, even if one occurs, the odds are that it will be contained as it was at Three Mile Island. But as long as catastrophic disasters are possible, people and politicians will continue to have reservations.
For me, the risk of nuclear power is like the risk of walking across a busy highway. While the odds are pretty good that you'll make it safely across, the question is whether you really need to do it at all.
---
In my upcoming, third article, I will dive into environmental impacts like waste storage and water usage. Stay tuned.
If you want to be sure and receive the final updates in this series, please share your email address below. 
[yikes-mailchimp form="5″]