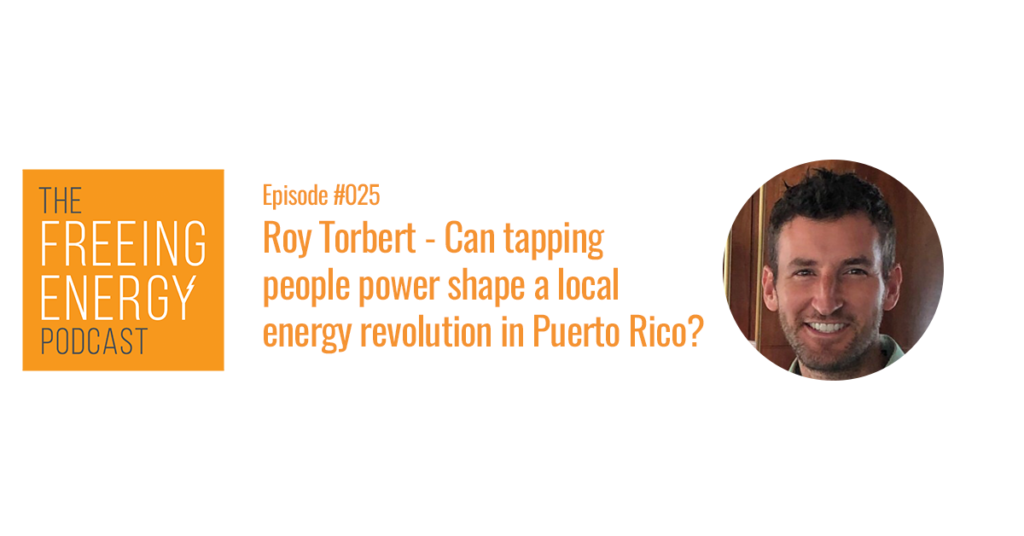 In this second of a special three-part series, Host Bill Nussey travels to Puerto Rico and talks with Rocky Mountain Institute's (RMI), Roy Torbert. Listen as Roy tells us how the RMI team fostered powerful partnerships to craft long-term, resilient, community-based electricity solutions using solar microgrids for schools in remote parts of the island.
Listen to this podcast and others in our series on these platforms:
http://freeingenergy.libsyn.com/roy-torbert-can-tapping-people-power-shape-a-local-energy-revolution-in-puerto-rico
Additional reading
If you'd like to a part of these efforts and help bring resilient electricity to schools in Puerto Rico, read RMI's article, Schools Stronger than Storms, and consider donating.
Several recent articles on our visit to Puerto Rico and the rural schools:
Transcript
Bill Nussey:
Today's podcast is going to be one of the most interesting and unique ones I've ever done. I am sitting here in Puerto Rico having been down here for a few days and met so many amazing people I've lost track. I want to start with Roy Torbert, who I've met over the years through my relationship with Rocky Mountain Institute, which is one of the coolest organizations. If you don't know about them and look them up. Their founder, Amory Lovins, was maybe the single largest inspiration for me to get into clean energy when I saw him speak at a Ted Talk, and he has an amazing mind and a perspective on things and I've been following them. When I jumped into the clean energy space thanks to some generous introductions, I had the chance to meet Amory, and he was one of my first interviews. You'll have to read the book to read about that, but I met Roy early in the process and he's one of the senior folks in Rocky Mountain Institute, and one of the leaders behind this story that we're going to tell you today. So Roy, welcome to the podcast.
Roy Torbert:
Glad to be here.
Bill Nussey:
On paper you live one of the most exciting lives imaginable. You travel all over the world doing amazing projects, helping people in every walk of life. You've probably been to more continents than anyone I've ever going to meet, and as I was joking with you earlier, you have the whole superhero chin, so you should have a cape on, but seriously, how did you get into Rocky Mountain Institute? What brought you there and ultimately what led you to here to Puerto Rico?
Roy Torbert:
I grew up hearing the teachings of Amory Lovins around the dinner table, and it was one of those fascinating inversions of what you'd often heard about the energy world. That just sort of stuck a bug in my brain that stayed there for many years. I ended up during college getting a great internship with General Electric in Dubai, driving forward their solar and wind programs, what is now a largely renewable city called Masdar was more like a concept on paper when I was there.
Bill Nussey:
Where did you actually grow up? What part of the world did you grow up?
Roy Torbert:
So I grew up mostly in the Boston area. Father is a physics professor, so we sort of traveled where the research would take us.
Bill Nussey:
Oh neat.
Roy Torbert:
Yeah. The concept of how much the energy system shapes the world around us and the sort of awesome power of humankind now to fundamentally change earth and climate and in no small part because of how we use energy, just sort of stayed in the brain. It was one of those topics that I kept coming back around to. So I jumped at this chance to work for General Electric in Dubai. It was very nascent in any sort of renewable energy in that region, which of course continues to be one of the major oil and fossil fuel producing regions in the world. I always tell this little short story, if I may.
Bill Nussey:
Please.
Roy Torbert:
So I lived in this apartment complex. All of it was unspoiled desert around this apartment complex. So I'd go running almost every evening when it was cool enough to do so. Then I would circle my way back to this apartment complex, and I started noticing that the doors were left open. I started asking why, why is this happening? Being a curious person I just went in and asked. The security guard at each of these buildings would start to give me a really similar answer once I got to know them. They're required to wear a uniform. That uniform is a short sleeve shirt and shorts. The buildings are cooled extensively. They're not comfortable if you're in a short sleeve shirt and shorts. That is largely a symbol of prestige in Dubai to say, "I've got the best technology. Look how cool I can make my building. I'm going to get it down to 62, 60". That's a sign of wealth, but these security guards are left in this uncomfortable middle. What they did as a solution is they have a stool. They would open the doors and they would position themselves with the stool such that the mixing hot air from outside would create a pretty comfortable environment in the middle and this deeply disturbed me.
Roy Torbert:
So I would talk to them about, "This is really incredibly inefficient. Haven't you heard about the climate crisis that we're creating because of our use of electricity and the fossil fuels used to create it". There was sometimes some little understanding of that, but it was a long discussion to really get it. They were equally surprised that I would be shocked that this was just a normal thing. This was part of their daily life. I sort of took from that experience this deep, fundamental feeling in my gut, which is still there in some ways, that this is a problem. We're building a society with people sort of trapped in an uncomfortable middle, and what they're being forced to do is rely on the systems around them, and they're not designed efficiently. They're not designed with the longterm future of the planet in mind. So I started knew in that moment, this is my career.
Bill Nussey:
Got it. You've been at RMI for a while, so you've seen it grow from a very small boutique into a sort of a force to be reckoned with in the world of clean energy and efficiency and everything.
Roy Torbert:
Yeah. When I joined, we were just Colorado. We were two offices with about 60 people, and now almost a decade later, we're 250 people, we're seven global offices, we've expanded. Certainly our ambition and the commensurate just caliber of people we've attracted I think has really been a sign of, it's not just RMI, it's sort of this global thrust among many creative passionate people to say, "We've got to solve this energy problem". RMI continues to be a unique place that attracts folks with that.
Bill Nussey:
Then plug for you that you were one of the folks that worked on the groundbreaking book, Reinventing Fire. So I learned that just yesterday. I've known you for awhile, but to know that you helped author some parts of that and the building's part, as I recall, that is a book that everyone in clean energy to read. When you think about when it was written, which was 2011, and to think about how visionary that was at the time was really a breakthrough. So to be a part of that, I envy you. So fast forward, what do you do at Rocky Mountain Institute and how many cities have you been in the last year?
Roy Torbert:
Well, answer to the first part because it's easy, I'm a principal at Rocky Mountain Institute. I am one of the leaders of our Islands Energy Program, which is part of what we call empowering clean economies, which across Subsaharan Africa, Southeast Asia, and many of our island partners which are predominantly here in the Caribbean. We're really helping utilities, governments, all sorts of civil society deal with the complex challenges of often growing in a chaotic energy sector that is still predominantly dependent on fossil fuels. How can efficiency and renewables help turn the corner in what in many of these regions is a rapidly developing space? So here in the United States, we've really spent in many ways our carbon bubble, but the bubble is inflating in places like Nigeria and Ethiopia, much of small island states are continuing to grow. Certainly Southeast Asia stands poised to have some of the largest buildout of coal that we've ever seen.
Roy Torbert:
So our program stands really of a way of working pretty inclusively with local stakeholders to say, "How do we solve this problem? How do we change that trajectory?". My specific role really does focus on small islands. Puerto Rico for several years has been my main focus, but I also have worked in Belize and St. Lucia and St. Vincent and the Grenadines, and I am leading our ramp up work in Indonesia and the Philippines, which share some similarities with the islands I have deep experience in, but also bring in the host of challenges from large and growing economies.
Bill Nussey:
So here in Puerto Rico, you guys I've done something that is pretty unique. Now a lot of people around the world are building micro grids, but the way that you brought the stakeholders, the people that you've done this with, I think is not only unique, not only is it incredibly impactful, but it's really, really inspiring. So can you tell us a little bit about what the project is you're doing here?
Roy Torbert:
I think it all starts from really powerful partnerships. We're an independent think tank. So we bring immense expertise, but we also are very realistic. We're not a longterm embedded entity here in Puerto Rico. So Puerto Ricans have to be the ones who lead this change, and we understood that pretty much from day one. So everything you'll talk about has been done with extensive local partnerships. So early on with FirstNet Hope and Save The Children and other foundations that really came on to support, this was tapping into the deep, powerful network here in Puerto Rico to drive fundamental change. As you said in micro grids, which really are a way of creating decentralized community solutions that can interact with the broader grid here in Puerto Rico, which many may know has been deeply troubled. When that grid either fails to function in a normal operation or a major storm like Hurricane Maria or Irma comes through and it could be out of commission for many weeks or months, that micro grid can operate on its own.
Roy Torbert:
So that really provides a power that we also when we spoke so frequently with local stakeholders here, we said, "Micro grids need to be happening, but where can they have some of the highest leverage?", and one story we kept hearing in various iterations was Puerto Ricans were left facing almost an impossible choice, which is "My child's about to start their next school year, but we have no power here. So the schools closed and really the most important thing for me is advancing their education. No one's giving me a clear answer in when the school's going to reopen. Preface has one thing, the government says another. We're left almost in this limbo. It's been weeks. It could be months more. So we don't know. Do I send them to go live with their aunt or uncle in Florida and start the school year there? This is September, they could probably get into the tail end of that school year and still be pretty caught up. Do I delay them a year? Do I gamble on our local public school system?"
Roy Torbert:
That's an incredibly disruptive thing for our community on the whole, and it means that families were getting split apart. So we said anything we can do to help schools, we're going to prioritize that first. So we established a partnership with Save The Children, which had also really dive deeply into the educational programs in schools and really helping deal with a deep trauma that Hurricane Maria and the deadly effects had caused on the youth here in Puerto Rico. We said, "What does it take to build a school's energy systems such that nothing is going to take it offline, that they will be able to provide all the services needed to keep the kids in school no matter what?" and the answer to that actually we found out really lies in the kitchen and it lies in the water.
Roy Torbert:
So without running water, the school can't open whatsoever, and without a kitchen to provide a lunchtime meal, the school closes its day halfway through. So both of those are just immense disruption. So we said, how do we design a solar battery solution that's going to be resilient to all sorts of wind or other damage that might happen, so the day after a big storm, it's going to provide power, it's going to keep the school functioning, and the parents and the kids are all going to have confidence that that school, even if the rest of the community is really trying to put herself back together, is going to be a bastion of strength.
Bill Nussey:
That's an amazing story, and one of the folks who were talking to earlier today said a meaningful number of kids, 7% to 8% have clinically been diagnosed as having PTSD. So it's hard to imagine because when we were at the schools, these kids seem happy and vibrant, but you hear the stories of how hard this was. The uncertainty that everybody I've met here has lost somebody because of the hurricane. It's so real, and it's easy to forget how tragic it is because the people here are courageous and happy, the ones that we've met, but that backdrop is always there, and the schools are the place that you guys are helping fix. So how many schools have you guys put micro grids on?
Roy Torbert:
So as of this month, we will complete our 10th school.
Bill Nussey:
Incredible.
Roy Torbert:
Yeah. We've tried to move as quickly as we can while also working really closely with local partners, which includes the Puerto Rico Department of Education, The Office of Management, which really handles all the maintenance for the schools, that's OMAB. Those relationships are really important and they're needed for this to be more than just sort of a gift that might have been a few years being neglected. It has to be an understood component of a high functioning school here in Puerto Rico. We're also really enthused that the Red Cross has announced a program for 150 more schools, and we're really trying to coordinate with them to share all those lessons. So I think it speaks to a broader movement. We said, let's move as fast as we can and get these 10 schools done.
Roy Torbert:
Let's also as much as we can bring in principals of really good procurement. We don't want to just go throw money at the problem. I want to say let's create some competition amongst all the service providers who are getting pretty good at solar and battery solutions, but they can still get better. So that was another part of why we said, "Let's take our time. Let's get the schools, but do it technically properly, and really for all the donors and supporters show a least-cost solution that still delivers all the needs of the school".
Bill Nussey:
So you're really pioneering this partnership model and pioneering the systems in the schools. What lessons have you learned if someone else was wanting to come to the Red Cross, or another country, or a another region, what things surprised you that you feel like you wish you'd known ahead of time, you might share with someone who's going to come behind you and try to do something similar?
Roy Torbert:
The first is not very shocking, which is listen. You've got to show up and listen, really honestly. So we went to every school, we talked to the principals, we talked to the faculty, we talked to some kids. It taught us a lot about how the school functions and it actually led us to I think one of the most important breakthroughs, which was to say, you don't actually need everything in the school to have power after a grid disruption, a storm or something else. What you really need is the kitchen. You need all the water pumping systems. You need some communication's equipment so that they can get in contact with the folks here in San Juan. A lot of these are in remote communities that were cut off effectively and they needed to communicate. So those three critical loads are the ones that allow the school to function.
Roy Torbert:
That lets you size your system for what is really critical rather than the entirety of what could be many single buildings all tied into one electrical system. So that's a pretty big breakthrough. It lowers your total cost. I think it also creates within the school an understanding of you and the school got to see this, there's red plugs and white plugs. Red plugs means I'm plugging into the critical microgrid; it really needs to be part of this. A white plug means it'll work all day. That's great for air conditioners. That's great for outdoor lighting if you need it, but in an emergency situation, what you want only in those red plugs is what you desperately need. That's another way that throughout all of the training, that particularly Anna Sophia on our team has led, we've really focused on let's get the students and the faculty to understand the difference and understand that it's a solar system here on the school that's providing power to the red plugs when the grid goes down, which unfortunately is frequently.
Bill Nussey:
I heard that Anna Sophia has trained over 500 people who go into these schools.
Roy Torbert:
She has.
Bill Nussey:
One of the things that I really was amazed at visiting it personally was it's not a greenfield build. This is not something where they're building the buildings from scratch. They're adding it in a lot of the infrastructure is really old. You guys had to make sure the roofs could support these things. One of the stories that we heard yesterday at the school in Aibonito, the schools we visited were on hills and in one of them the water source is below the toilet and the sewage is below the toilet so they have to pump, and without that, there's only one or two working toilets in the entire school and they can't open the school. It was just interesting to me that it required a sewage pump, that whole schools could not be open because a sewage pump didn't work.
Roy Torbert:
Right.
Bill Nussey:
As I was surrounded by dozens, and I think there was 300 children at school, you could imagine all of a sudden it becomes real. These things that we take for granted that worked really, really well in most of our lives, something as simple as a toilet flushing can be a dead stop for an entire community.
Roy Torbert:
Yeah, I think that's a great example, and it really shows that the folks who understood all this best were the principals and the faculty and really the kids, because they all lived through it. So if we hadn't started by talking to them, by listening really closely, we probably would have ended up with a few systems where we said, "Oh, whoops. We built this thinking that the problem was X, but the problem wasn't actually X". That's unfortunately pretty common in a lot of the disaster response. Everyone's going to move really fast. It's really common in the grant funded world where people come in thinking here's the specific solution I'm here to solve. Our strong encouragement is always listen with complete honesty to the folks in the community who know this best.
Bill Nussey:
When you run it to people and tell them about what you do, what tends to surprise people the most?
Roy Torbert:
I think of myself as on a mission to combat the global climate crisis and the most powerful tool we apply to that as the market. I think there's many folks who get surprised to think, "I thought that was a government, that's a policy lead, that's going to be philanthropy that solves the global climate crisis". Actually the way I view it, all of those are simple ways to try and tip markets and the wonderful power of capitalism against what really is one of the largest global opportunities.
Bill Nussey:
You could wave a magic wand and solve one thing, what would it be?
Roy Torbert:
Cheap batteries. I've seen even in my career, solar did really cheap, orders of magnitude cheaper than it used to be. Wind continues in many places where the resource is great, including offshore to have immense potential. We've tapped hydro power. We can tap geothermal. We can tap a variety of essentially the limitless power of the sun that we enjoy to power our systems, rather than relying on antiquated fossil fuels that harm our health and our planet. The problem as many love to point out, and then they usually like to end the conversation there, is that the sun's not always shining and the wind's not always blowing. Yes, you're technically correct in that, but the one I'd say of many of the breakthroughs that could fundamentally change this calculus and put us on a far better trajectory is cheap batteries.
Batteries I really think of as this wonderful, flexible multidimensional tool that makes anything from your cell phone to increasingly your car incredibly dynamic and fast and fun, but it can do the same thing to an electric grid. Much more quietly in the background it can make electric grids, integrate renewables, be responsive, be dynamic and self healing after disasters or fires as we've seen in California, or hurricanes here in the Caribbean, the batteries are the solution to not only high penetration renewables, but also resilient and reliable grids.
Bill Nussey:
That's music to my ears, and that's really one of the reasons… You said two things that I think really bear repeating. One, and this is why I love Rocky Mountain Institute, is that some of the best solutions are market driven. Government has a role as it obviously has a lot of what we're doing here in Puerto Rico, but markets are a much bigger part of the solution and they can be a part of the solution because the price of renewables and batteries has come down so much that it's now economic if used creatively. The other thing you said was batteries.
Roy Torbert:
You know I should probably say cheaper batteries, because again, people don't realize how much cheaper batteries have already gotten.
Bill Nussey:
Yes.
Roy Torbert:
They've got more room to improve, but we've run for whole island countries sometimes running analysis, and one of the first things we can tell the utility sometimes that shocks them a little is batteries make sense in your grid, even with no renewables, because what ends up happening is some of these small islands literally run 10 generators for all the island's electricity right there. They're not terribly huge generators, but you could imagine this as two high school basketball courts, you've got 10 generators there, they're spinning away, they're providing all the island's electricity in one room. This is pretty common. St. Lucia operates roughly like this. What ends up happening is if the amount of electricity demanded on that island is falling in some of these inconvenience spots, the utility operator is left with a decision, "Do I flip on another generator? Do I take one of my other generators up to maybe a point it doesn't necessarily like to generate electricity at?". You're in this uncomfortable margin. Sometimes you flip on that generator and you realize 10 minutes later, "I didn't need to do that, and now I've got it all hot and it's running and spinning, so what do I do?".
Batteries are one of those solutions right away. They're already cheap enough that you'd say those diesel generators or sometimes those gas generators for small islands, they're better with batteries. Then you start integrating renewables, which again get huge benefit from the fast response of batteries, and the value grows over time. Far more renewables means you absolutely need those batteries to even turn off those old diesel generators, which is in many ways the goal. So I do like to think of it as batteries have already reached tipping points that we're really only starting to grapple with. It shocks people to think, "It's all fossil fuels, why would I have batteries? It's not helping me be cleaner". It is helping you be cleaner actually because there's so many inefficiencies in our old fossil fuel generators that you can step around if you plug some batteries in.
Bill Nussey:
At the Freeing Energy project we like to say batteries are like bacon, they make everything better.
Roy Torbert:
Everything better.
Bill Nussey:
Next question, what do you predict will be the biggest change in the electricity industry in the next five to 10 years?
Roy Torbert:
I'm hoping and actually predicting that in five to 10 years we're going to stop thinking about distributed and efficient solutions as an option. So right now a utility planner typically says, "I understand what my big options are: build a new gas generator, build new coal firepower, new high voltage transmission lines." Only a few, and I'd say only pretty cautiously are they starting to go to the market and say something like, "I've got a whole part of my distribution system that's overloaded. Please give me a whole bunch of solar, small batteries, energy efficiency, smart water heaters. You get to pick, just bring me a solution that solves my problem". That's a solution to all sorts of distributed components put together. Sometimes in the industry, we call this a virtual power plant.
I think that's in many ways even a too limiting term because it's an incredibly flexible way of saying I'm using all of my customers as participants rather than just static customers. Prosumer is another term that often gets used to say you're no longer just a single taker in this relationship. You can be a giver and a taker, but even that concepts of why don't we use all the homes and small businesses and everything that's already connected as assets to make this great, complicated, messy grid we have so much more efficient? I hope that becomes the norm rather than the exception, and I think we're on the pathway to making that happen.
Bill Nussey:
I think you're right and again, this is spot on for people that have been listening and reading the Freeing Energy project for the last couple of years, you can hear from Roy why I love Rocky Mountain Institute because their perspectives really gave birth to a lot of the ideas that I've been pushing out there, and my colleagues and friends have shared. So last question, and perhaps the most important question we all get asked, this seems like some really important stuff. Clean energy, a lot of folks are concerned about climate change, what do you tell them when they say what can they do individually?
Roy Torbert:
The terrifying thing actually is that there are a million answers to this question and they all feel incredibly urgent. So you'll find people who say you need to eat less meat. You need to make your home really efficient, weatherize your home, get better windows. You need to put solar panels. You need to go all the way off the grid. Those are all completely valid answers. I actually think the heart of this is we all need to raise our understanding of where our power comes from, where our food comes from, where all of our products come from because we are consumers in many respects.
Consumers have a power that they rarely understand until they all start moving together, and if we all think of ourselves as this fragmented mass of "Well, okay, I'm going to go vegan, and that person's going to do solar panels, and therefore we're in separate categories". I think we should all think of ourselves as an army that's mobilizing towards a future that helps defeat this climate crisis. When mobilized, we can defeat almost anything. I tell people who think, "Oh, this is going to cost too much". What you're actually telling me is that you doubt the power of human ingenuity. It's only going to cost too much if human ingenuity fails at this immense challenge. So I think the exhortation here would be, do all the things that feel right to you, but be open with everyone you can to say, "We're headed in this direction. Here's the package of things I've chosen to do to try and reduce my ultimate impact on the planet. What are you doing, and how can we trade tips and share and become even greater in our own little battalion in this grand army?
Bill Nussey:
Wow. To all of our friends in the Freeing Energy project universe, I think that pretty much nailed it. I have nothing to add other than my deep respect and gratitude for what you're doing for the great folks, the children of Puerto Rico, for the country and for the world. So on behalf of all of us here in the Freeing Energy world, thank you. I will have to find some more time to get you back because there's so much cool stuff to talk about here.
Roy Torbert:
It's an exciting world right now.