Every month, we sift through hundreds of news items and research reports about clean, renewable energy to bring the best ones directly to you.
Getting to 100% renewables requires cheap energy storage. But how cheap? According to new research out of MIT, a grid that runs entirely on renewables is more feasible than you might think. The study looked at weather patterns in four places across the United States over a period of 20 years, attempting to calculate the cost that energy storage would have to reach in order to reliably power the grid with renewable sources alone. This is an incredibly interesting read that runs through several exciting technologies poised to drastically lower storage costs and increase the viability of renewables. (Vox)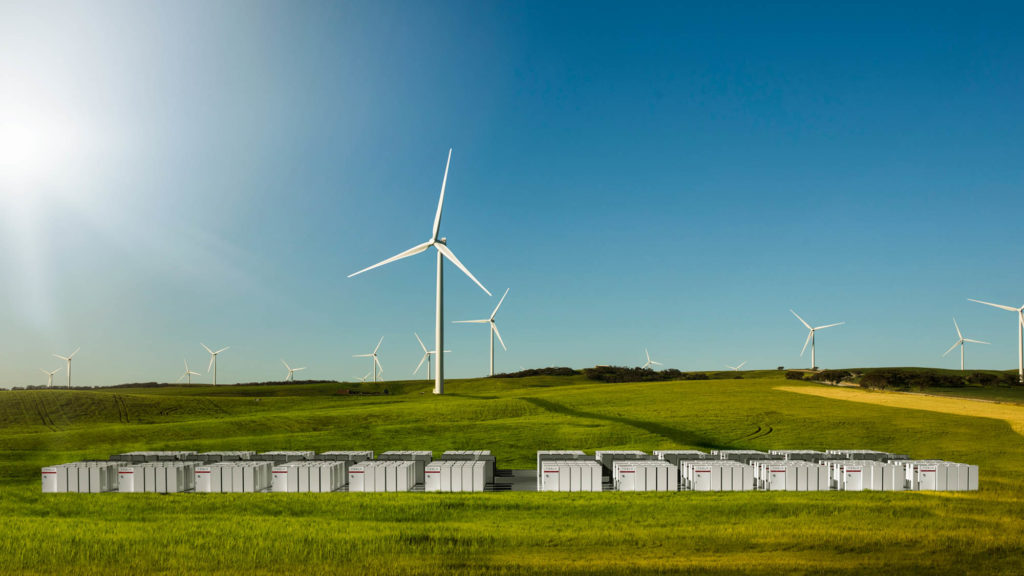 New study: Burning wood from 'sustainably managed' forests increases carbon pollution for 40+ years.  Burning wood pellets from sustainably managed forests, a large source of electricity generation in the U.S. and U.K., may not be as carbon-neutral as we once thought according to a new analysis by Spatial Informatics Group. The U.K. has been heavily subsidizing biomass energy efforts — ostensibly to help reduce emissions and mitigate the effects of climate change — but it seems that investment in wind and solar is still the best path to achieving truly sustainable, carbon-free energy. (Southern Environmental Law Center)
Solar power causes air pollution? It's not that simple. Duke Energy, one of the largest owners of electric utilities in the United States, addresses a recent misconception that increasing solar capacity creates more air pollution. The basis of this claim stems from an air permit submitted by Duke that would allow the company to increase or decrease the output from their natural gas plants in order to reliably complement their intermittent solar capacity. Conflating Duke's increasing solar energy production with a direct rise in emissions is misleading. (Duke Energy)
Dominion Energy is polling its customers for pro-monopoly arguments. Virginia energy giant Dominion is facing pressure from both its corporate customers and outside advocacy groups that want to reduce its tight grip on the industry. A lack of competition in the market has given customers limited options for procuring their own renewables, but Dominion is making an attempt to push the narrative that rates for existing customers will increase if its dissatisfied corporate customers — big names like Costco, Walmart and Cox Communications — are allowed to break away. (PV Magazine)
N.C. charging stations can now sell by the kilowatt-hour instead of minute. North Carolina has passed a new law that exempts electric vehicle charging stations from regulation as public utilities, making it the latest of 30 states to do so. This law allows charging stations to buy electricity from local utilities and resell it to customers by the kilowatt hour, a more meaningful measure of a vehicle's charge level; kilowatt hours are to a battery what gallons are to a gas tank. (Energy News Network)
August articles from the Freeing Energy Project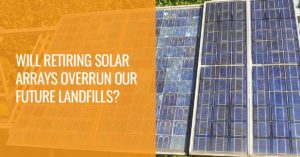 Will waste from retiring solar panels overrun our future landfills?
We take a look at just how much waste will be sent to landfills when U.S. solar panels are eventually retired, comparing the byproducts to those of other sources like nuclear and coal. (read more)
Our latest podcasts
Subscribe to follow us on popular podcast platforms:
Podcast #018 – Bill Nussey and Sam Easterby: Separating fact from fiction about renewable energy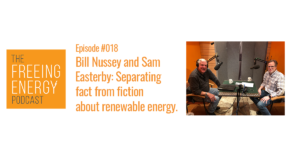 While solar, wind, and batteries are gaining traction, there are growing questions about the environmental impacts of even the cleanest energy sources. Hosts Bill Nussey and Sam Easterby dig into the debate swirling around solar energy. Learn about the facts and fiction behind toxic waste, landfills, and insufficient land arguments leveled against renewable energy.
Podcast #019 – Mike Dudgeon: An insider's guide to navigating the state politics of clean energy policy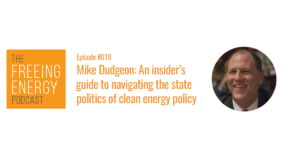 Hosts Bill Nussey and Sam Easterby team up to interview Mike Dudgeon. Mike is an engineer, a technologist, and the co-founder of a successful tech company. Most recently, he has re-entered the world of state politics and is now the Policy director for Georgia's Lieutenant Governor, Geoff Duncan. Mike offers a balanced, insider's view on how key renewable energy legislation moved from concept to law in his predominantly Republican state and tips on how others can follow suit.