Every month, we sift through hundreds of news items and research reports about clean, renewable energy and deliver the best ones directly to your inbox.
Goldman Sachs bails on coal. The largest challenge facing the coal industry is no longer regulations and high costs – it is now the lack of capital for building and operating coal plants. The most recent bank to move away from coal is arguably the most influential, Goldman Sachs. With the world's most famous investment bank shunning coal, it is a good bet that scores of other banks will follow suit. The end of coal is approaching quickly. (Axios)
Battery pack prices fall as market ramps up. BloombergNEF's 2019 Battery Price Survey, released earlier this month, highlighted the incredible trajectory of a technology that plays a key role in clean energy infrastructure. Battery prices have fallen from over $1,100 per kilowatt-hour in 2010 to $156/kWh at the end of the decade, an incredible 87% drop. As electric vehicles become more ubiquitous and the technology becomes more refined, these prices are expected to drop even lower in the 2020s, with BNEF projecting a $100/kWh price point by 2024. (BloombergNEF)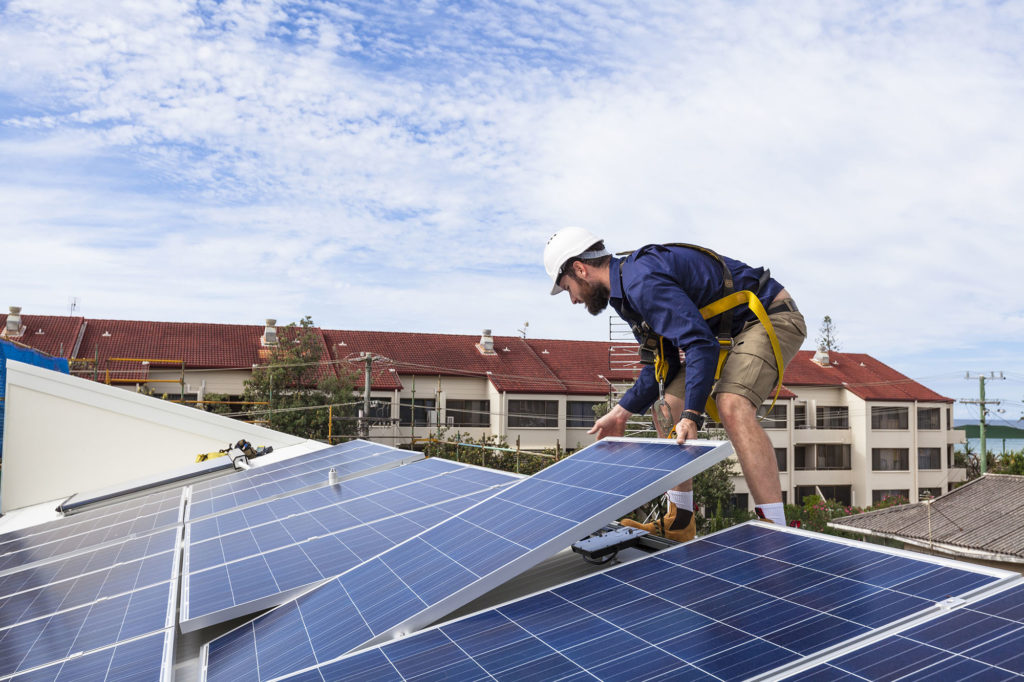 Local energy marketplace formed by LO3 and Green Mountain Power. A new pilot program in Vermont is pioneering the future of local energy by allowing homeowners to sell their clean energy, produced by rooftop solar panels, to businesses. The program, a partnership between utility Green Mountain Power and LO3 Energy, began in December with 50 businesses and 150 households. The modern electricity industry runs as a government-granted monopoly. It is illegal for virtually everyone else to sell electricity. It's hard to overstate the importance of the Green Mountain Power program as it will be one of the very first times in US electric history where consumers were able to bypass the electric monopolies. (Microgrid Knowledge)
46% of US homeowners want rooftop solar. A survey conducted this year by the Pew Research Center found that 46% of homeowners in the US have "given serious thought to adding solar panels to their home in the past year". This number is up 6% from the last time Pew conducted the same study in 2016, with most of the growth appearing in the "South Atlantic" states, a group that extends from Delaware to Florida. Only 20% of South Atlantic residents surveyed wanted rooftop solar in 2016; this year, 51% showed interest. (PV Magazine)
Building a 100% clean energy grid could pay for itself in 7 years. A new study led by Stanford's Mark Jacobson models the world's electric grids and finds that 143 countries could transition their grids and transportation to 100% clean energy in less than a decade and do so with a positive return on investment. This adds to a mounting degree of evidence that our clean energy future is closer and cheaper than most people think. (Bloomberg)
More Headlines
Untangling the history of Christmas tree lights
2020 US Electric vehicle sales forecast
Exposing a hidden climate threat: Methane 'superemitters'
December articles from the Freeing Energy Project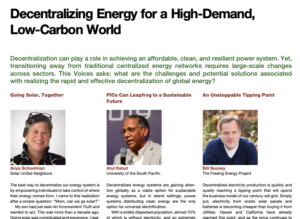 Bill Nussey article in December's One Earth journal.
Freeing Energy founder, Bill Nussey, was invited to contribute his expertise on the shift to decentralized energy in the respected Cell Press journal, One Earth. Notably, this is the same December issue that Mark Jacobson's team published their 100% clean energy grid research. (read Bill's contribution)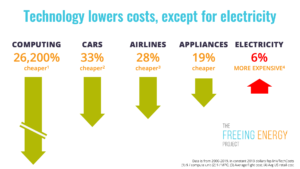 Technology makes things cheaper… except for the grid
As technology evolves, processes become more efficient and costs are driven down in most industries. For energy, however, a mess of regulations and outside forces have actually driven costs up. (read more)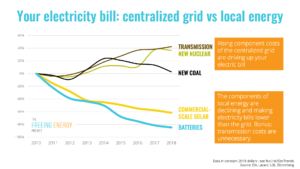 A decade of trends points to local solar + battery becoming the cheapest source of electricity
Over the last decade, the costs of building and operating large plants on the traditional, centralized grid have been rising. Why has this happened, and what does it mean for smaller, decentralized alternatives? (read more)
Our latest podcasts
Subscribe to follow us on popular podcast platforms:
Podcast #028 – Top experts: The biggest local energy headlines in 2019 and what they're most excited about in 2020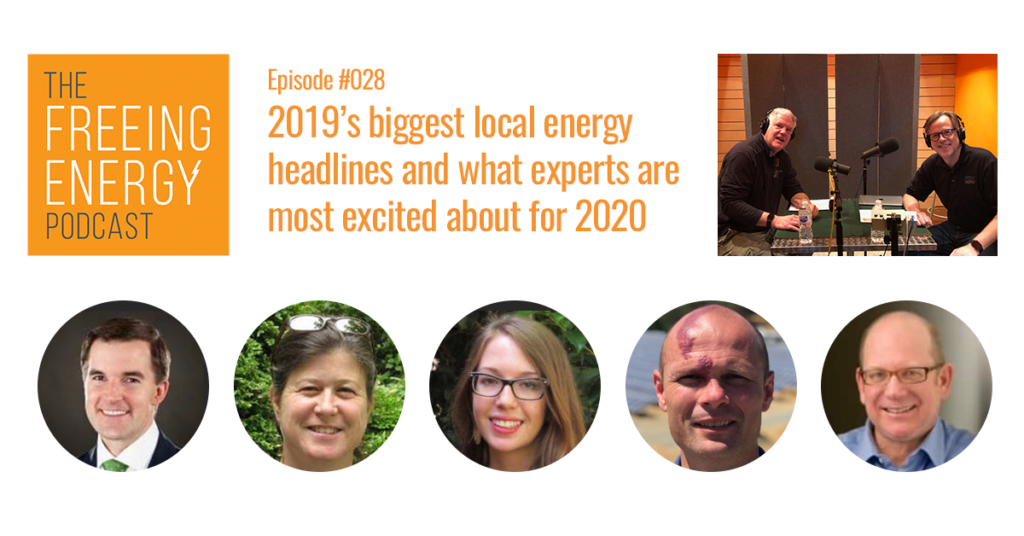 Hosts Bill Nussey and Sam Easterby are joined by some top experts in the world of renewable energy to review the biggest news stories that impacted the local energy landscape in 2019 and the stories that will shape the local energy movement in 2020. Listen in as these experts share their views on policies, technology, and global dynamics that are shaping a new world of clean local energy.