We read through all the clean energy news in December, pulled out the most interesting articles, and boiled them down for you below.
US solar industry surges despite pandemic. For many industries, 2020 was a bleak year, with revenues shrinking from previous years. Solar was one of the industries that not only survived but thrived in 2020. While it fell short of its incredibly ambitious growth goals, it still managed to achieve record installations of 19 GW. In fact, solar accounted for the largest portion of the grid's growth,  adding more capacity than either wind or natural gas.  (Reuters)
US to extend investment tax credit for solar to 2024. The solar industry is applauding the federal government for an unexpected year-end gift. As part of the $900 billion covid relief package signed into law on Dec 27, the solar investment tax credit (ITC) was extended for another two years. The ITC allows companies to deduct a percentage of solar installation costs from their taxes. The new law locks in the 26% tax credit through 2022, when it will once again begin a two-year expiration where commercial projects will receive a 10% credit and residential will receive none. This will super-charge the growth of solar and play a big role in accelerating the country towards clean energy. (PV Magazine)
Tesla mania vs. economic reality. Tesla has been a hot topic of conversation in financial circles, with countless traders riding its ever-increasing stock price into early retirement. The last six months alone have seen a tripling of the company's stock value, giving Elon Musk the title of world's richest man and turning others into millionaires seemingly overnight. But with its value now higher than that of the top seven traditional automakers combined, you have to ask: what is driving this growth, and how likely is it to last? (Axios)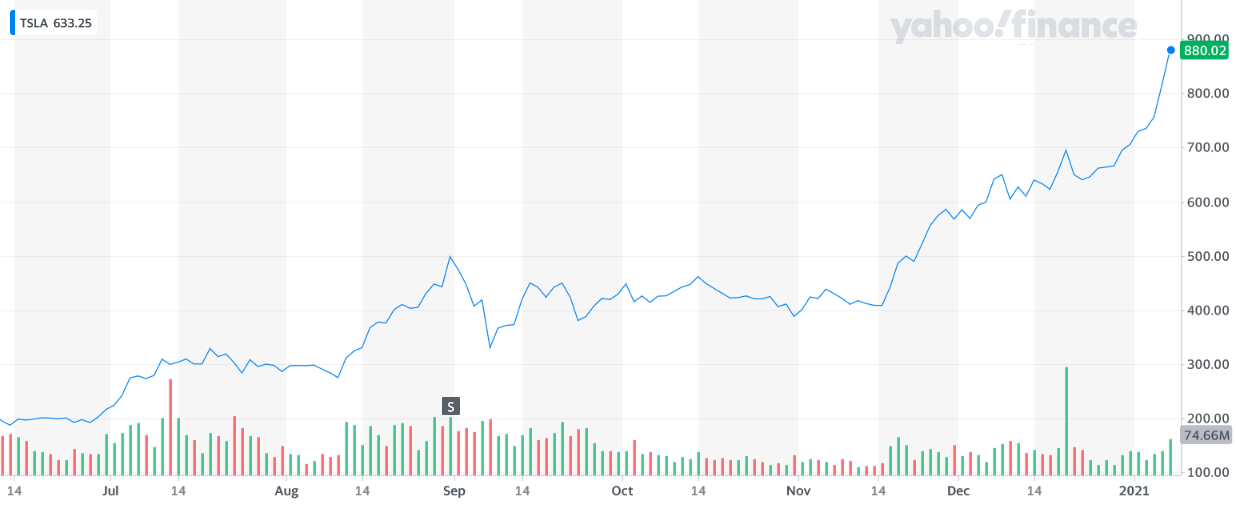 Colored facade solar panels with 13.8% efficiency. Visually, PV solar panels haven't seen a lot of variation throughout the years. Many homeowners consider the aesthetic effects of residential solar a distinct downside, and while commercial buildings and more modern homes are sometimes able to pull off rows of thick angled blue tiles, a less conspicuous form factor could go a long way in driving new adoption. Studio Solarix, a Dutch startup, has recently unveiled a project called Dot that integrates solar cells into more aesthetically pleasing modules that take on a variety of different colors and textures. The panels, which boast a 13.8% efficiency, are expected to be installed in over a dozen sites by the end of 2021. (PV Magazine)
Did QuantumScape just solve a 40-year-old battery problem? Many experts tell us that solid-state batteries are the key to unlocking the electric vehicle revolution. These batteries can double or even triple driving range and have almost no risk of catching fire like their lithium-ion siblings. Unfortunately, solid-state cells have been stuck in laboratories with none of the efforts anywhere close to commercial viability. But in December a startup called QuantumScape claimed to have cracked the code. The next step is to take their working prototypes into commercial-scale manufacturing. Hot on QuantumScape's tail, Toyota announced its own solid-state battery breakthrough. Watch this space closely. (Wired)
World's largest residential virtual power plant. OhmConnect is partnering with Sidewalk Infrastructure Partners to create the world's largest virtual power plant. This technology orchestrates the electricity flow inside thousands of homes and aggregates them into a grid-scale service. OhmConnect's project builds on the company's access to the water heaters, thermostats, and even residential batteries of their customers. When the grid is facing a spike in load, and utilities would normally be activating expensive peaker power plants, OhmConnect reduces the load on the grid by temporarily turning off water heaters and air conditioners. The customers rarely notice but the aggregate reduction in load can save the grid operators millions of dollars. (PV Magazine)
Clean energy project in Nevada could be worth $3 billion. (here)
EV companies are racing to go public via SPACs. (here)
Bloomberg NEF: Residential solar installations continue at record pace. (here)
US energy storage markets have a record-breaking Q3. (here)
US DOE incorporates microgrids into plan for 16 federal projects. (here)
Our latest podcasts
Subscribe to follow us on popular podcast platforms:
Podcast #047 – Dr. Becca Jones-Albertus: The government's surprising role in supercharging solar technology innovation

Many of us think of the US government's role in solar innovation in terms of laboratories, deep science, and long term projects. But that is only part of the story. Listen in as Dr. Becca Jones-Albertus, Director of the Solar Energy Technologies Office (SETO) in the Department of Energy (DOE) shares how the US government is accelerating innovation with startups, helping commercialize new solutions, funding new products, and paving the way for breakthrough new technologies, all with the mission of making solar affordable and available to every American.
Podcast #048 – Martin DeBono: Why add solar panels if your roof can capture solar energy all by itself?

For the last few decades, rooftop solar was like Ford's old Model T…..you could have any kind of system you wanted as long as it had black rectangles bolted to a frame on your roof. But, what if your roof could generate the electricity directly, without any panels at all? Host BIll Nussey talks with Martin DeBono, President of GAF Energy, about how and why the world's oldest and largest roofing materials company is pioneering the shift from PV panels to PV roofs. Martin shares how the solar-specific technologies and services are woven into GAF's existing 5,000 roofing contractor partners and what that means to the market.