To understand where coal comes from, let's start at the very beginning.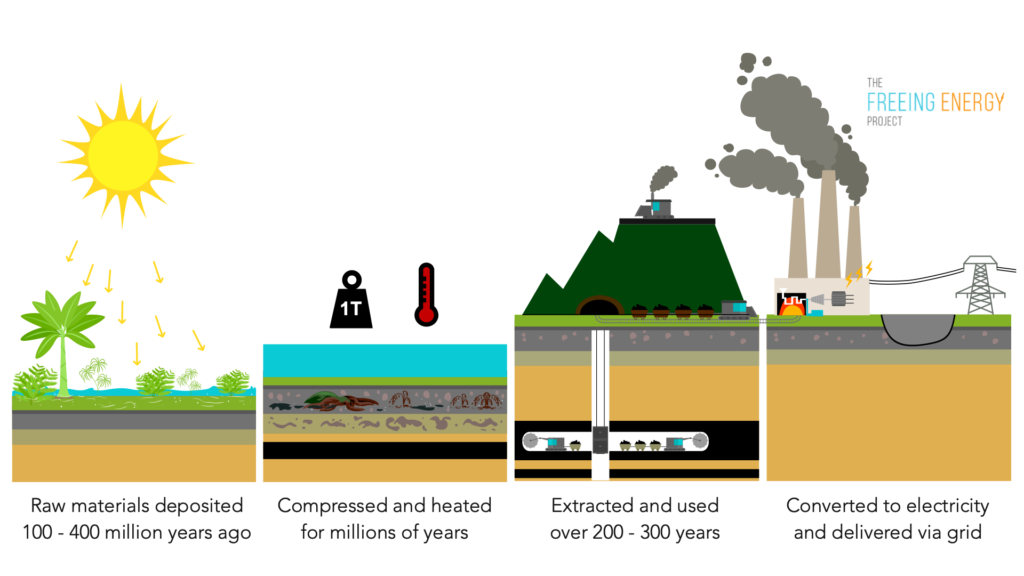 During earth's Carboniferous Period, over 300 million years ago, the continents were covered with plants. Like today, those plants used photosynthesis to capture the sun's energy, combine it with CO2 from the atmosphere, and convert it to carbon-based energy. As those plants died, many found their way to the bottom of huge swamps. Over hundreds of millions of years, geologic processes compressed and concentrated these carbon-rich dead plants into the coal we mine today. In fact, coal is between 50% and 98% carbon by weight.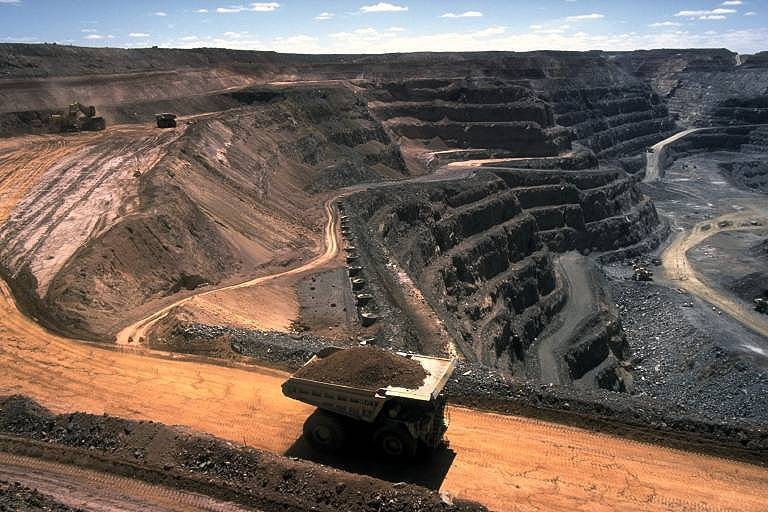 About two-thirds of US coal is obtained using a technique called surface mining. This includes mountaintop removal and strip mining. The rest is dug up using traditional underground mining. Since most US coal comes from just three states (see below), about 70% of it is distributed by railroads for use in almost every state in the country. About 90% of coal is used to make electricity, with the rest being used for steel and various chemicals. Once coal arrives at power plants, it's pulverized and burned in high-temperature boilers to make super-heated steam which turns generator turbines to make electricity. Coal combustion creates a range of waste products including sulfur dioxide, mercury, uranium, and carbon dioxide (see: How much CO2 and pollution comes from burning coal?).
The US dominates world coal reserves
GET MONTHLY NEWS & ANALYSIS
Unsubscribe anytime. We will never sell your email or spam you.
The US sits on 22% of the planet's coal reserves, the largest of any country — sometimes earning the moniker of the "Saudia Arabia" of coal. Australia, China, Russia, and India make up more than half the rest. Within the US, just three states, Montana, Illinois, and Wyoming hold more than half the country's coal reserves.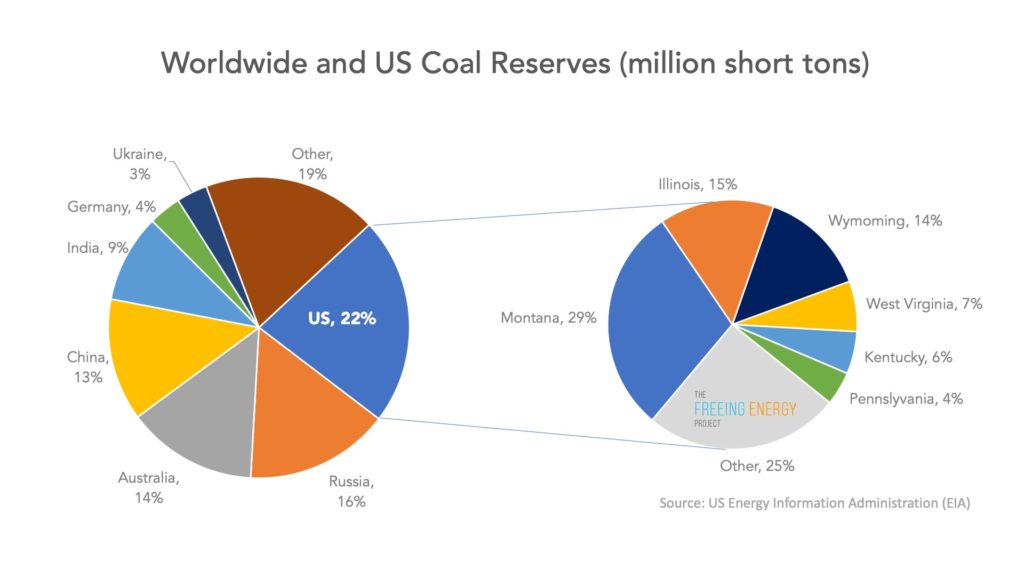 China is, by far, the largest consumer of coal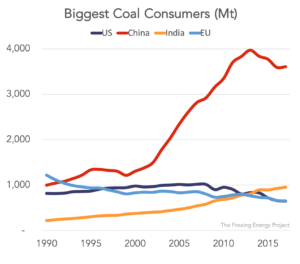 Despite having a bit more than half the coal reserves of the US, China burned five times more coal in 2017. Even as China's central government seeks to level off its domestic coal consumption, it's aggressively building 21 GW of new coal plants across the world as part of its Belt and Road Initiative.
As coal consumption from China and India continues to increase, they will be, by far, the largest source of global coal-based greenhouse emissions.
Summary
Coal is a geologic gift. While it took hundreds of millions of years to create, it is providing humanity with a few hundred years of accelerated development and prosperity. The abundance of cheap coal and huge power plants lifted region after region out of economic malaise and into middle-class powered economies (see: America was built on coal). It's hard to imagine anywhere in the world reaching prosperity without coal, at least in the past. But, all that has changed in the 21st century. For the first time in the history of electricity, we have a better option than a coal-powered-grid. Much better.
Additional reading