Hello friends and supporters of Freeing Energy,
Bill's new book is now available!
Freeing Energy: How innovators are using local-scale solar and batteries to disrupt the global energy industry from the outside in
You can learn more about it at Amazon and most other places that sell books, or visit the book's website, FreeingEnergyBook.com.
While politicians and world leaders struggle to embrace clean energy, Freeing Energy offers an actionable roadmap for individuals and communities to act today.
The book covers:
Five big threats and challenges to our electric grid
18 reasons "local energy" solutions are better than utility-scale renewable power plants
A new idea called the Five Orders framework for assessing and funding new technologies
The coming disruption of electric utilities triggered by the fact solar and batteries are technologies, not fuels

Six

specific disruptions coming from cheap local energy
How consumerization and crowdsourcing is reshaping electrification in Africa
Dozens of emerging billion-dollar market segments
And for subscribers of our Solar Myths email series, an entire chapter filled debunking the latest and biggest myths
We hope you'll check out the book and let Bill and the team know what you think!
Meanwhile, our regular monthly news review of all things local energy is below.
Cheers,
Bill Nussey & the Freeing Energy team

Clean Energy Headlines
Highway-side solar could produce 36 TWh annually. As solar power continues its amazing growth, some people are concerned that it will soon encroach on otherwise pristine land. As Bill Nussey explores in his book, one of solar's superpowers is "dual use"–the ability for solar to co-exist on land that is already being used for other purposes. The latest evidence of dual-use was unveiled from a partnership between the University of Texas at Austin, nonprofit group The Ray, and spatial analytics company ESRI. State governments across the U.S. now have a much clearer picture of the enormous potential for solar power using land they have already set aside: highways, exits, and rest areas. (PV Magazine)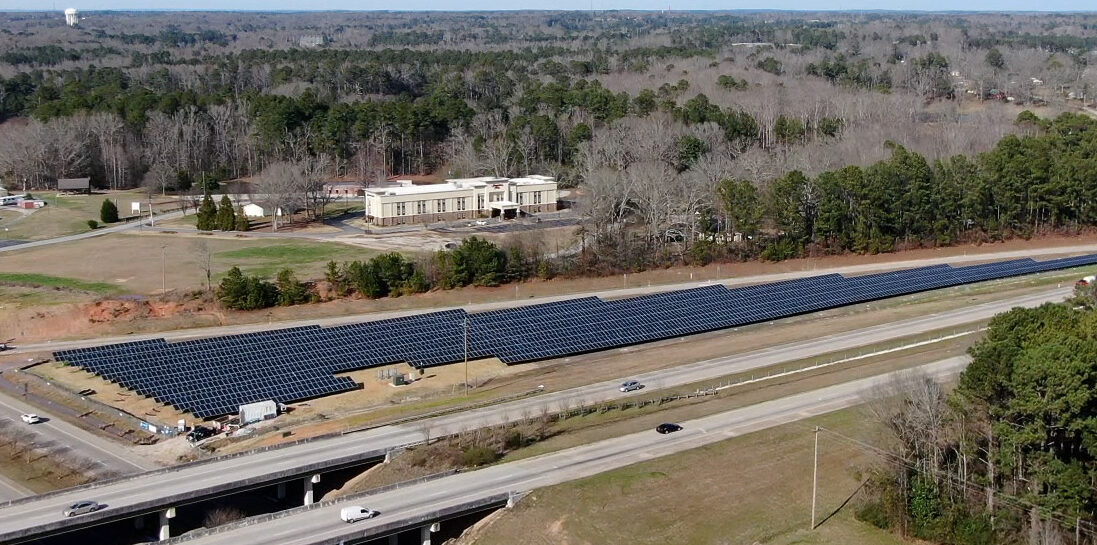 What? Only Utility Microgrids? California has been mobilizing to set up microgrids in response to widespread outages, both from growing wildfires and utility-triggered public safety power shutoffs. But in an unfortunate twist, the state's regulator is considering a proposal to give control over four upcoming microgrid projects to San Diego Gas & Electric rather than non-utility entities, effectively keeping the financial benefits and control of these important new systems from the very people who will be using them. (Microgrid Knowledge)
Ecobee acquired by generator company Generac for $770 million. To consumers, a smart thermostat may be little more than a more convenient way to control the temperature of their home and save some money at the same time. But that's just the tip of the iceberg. The introduction of the smart thermostat quietly helped to introduce a powerful segment in the local energy market. Along with local battery storage and microgrids, smarthome devices like thermostats are making the entire grid more resilient and lower cost. To this end, Generac recently acquired the veteran smart thermostat startup Ecobee in order to widen their footprint beyond generation, storage and energy management. (The Verge)
Your electric car could become a virtual power plant. If you think a robust distributed energy system requires a massive overhaul to the grid, think again. The key to decentralized power infrastructure could already be sitting in garages across the world. The growing number of high-capacity batteries that are shipped with electric vehicles is creating opportunities to improve the traditional supply-and-demand paradigm of the power grid. Rather than charge these batteries as soon as they're plugged in, utilities can dynamically choreograph power transmission in ways that put less strain on both the grid and the wallets of consumers. EV owners simply set a deadline for when they want their vehicle fully charged and the utility handles the rest, charging the car when its cheapest while ensuring its fully charged when the consumer needs it. This has allowed them to save money on their power bills and even collect rebates depending on their location. (Axios)
Our latest podcasts
Podcast #072 – Bryan Hassin: An inside look at a radical new approach to building climate tech companies

Host Bill Nussey talks with Bryan Hassin, Co-Founder and CEO of the "rocket ship" accelerator for climate tech innovation, Third Derivative (D3). This new startup accelerator was born from a collaboration of two pioneering firms, RMI (previously Rocky Mountain Institute) and New Energy Nexus. Hassin shares how D3 is bringing startups, investors, and corporations together with regulatory and policy experts in radical new ways to increase the speed to market and long term success for climate innovation. (Listen Now)
Podcast #071 – Tim Montague: How is good old fashioned midwestern grit helping shape a clean energy future in Illinois?

Midwest solar and storage leader and Clean Power Hour podcast host, Tim Montague, shares with host Bill Nussey how clashing titans in Illinois crafted a grand legislative bargain taking big steps toward a clean renewable energy future. Plus, Montague shares insights on how the simple economics of solar power and storage is changing minds in both boardrooms and around kitchen tables across the state. (Listen Now)
Podcast #070 – Andy Klump: What do stuck boats, melted rocks, and geopolitics have to do with US efforts to transition away from fossil fuels?

In this episode host Bill Nussey talks with Andy Klump, founder and CEO of Shanghai-based Clean Energy Associates, the leading global solar and storage supply chain management and engineering services firm. Klump walks us through how and why the economics of solar are shifting in the short term and the impact an energy crisis in China as well as backlogs in global shipping are having on US solar and battery projects. Klump shares views on when this crisis might end and the critical need for a holistic clean energy manufacturing strategy in the US. (Listen Now)


Subscribe to follow us on popular podcast platforms:
The first book signing of Freeing Energy was held at the greenest classroom building in the US, the Kandeda building on the Georgia Tech campus