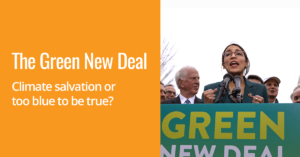 The Green New Deal has garnered international attention as both a bold vision for reducing greenhouse gas emissions as well as an all-inclusive social equity manifesto. Our February article on the GND has gotten thousands of views so check it out and share your thoughts: The Green New Deal – Climate salvation or too blue to be true?
February's clean energy headlines…
California utility says it probably caused the devasting 2018 Camp Fire wildfire. Just a year after being found responsible for the devastating 2017 wildfires, California utility giant, PG&E says it probably caused the 2018 Camp Fire wildfire that killed 86 people and destroyed thousands of homes. The company declared bankruptcy in January of this year to protect itself against the latest wave of tens of billions in liabilities (New York Times).
Politico uncovers secretive, well-financed coal lobbying group. The group, partially funded by electric utilities, and whose leader is now at the EPA, has been instrumental in helping the coal industry stay afloat. We try to stay focused on economics rather than politics but this demanded passing along (Politico).
Abu Dhabi installs the worlds largest battery.  It is 648 MWh's and it's not even lithium ion. This massive new project is causing energy planners around the world to take another look at Sodium Sulpher (Cleantechnica).
A video on Puerto Rico's adoption of solar microgrids.  As the island rebuilds after Hurricane Maria, solar+battery microgrids are popping up everywhere. This wonderful video tells one of those stories (Google Earth and the Rocky Mountain Institute).
February articles from the Freeing Energy Project
How solar and batteries will unlock the electric monopolies and create a clean energy renaissance
The shift from fossil fuels to clean energy may prove to be the largest and most disruptive energy transition in history. Solar and batteries will unlock the century-old electric monopolies, unleashing a new era of innovation, entrepreneurship and customer choice. (read more).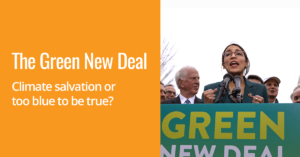 The Green New Deal – climate salvation or too blue to be true?
Washington, DC has rediscovered the climate. Democratic rising star, Alexandria Ocasio-Cortez is championing the New Green Deal. We take a look inside this climate manifesto to see what's really there and whether it can be a blueprint for a clean energy future (read more).

Our latest podcasts
Podcast #004 – Mary Anne Hitt: Grassroots effort closes coal plants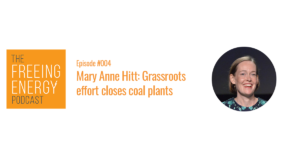 Why are so many coal-burning power plants shutting down? Part of the reason is economics. But in this Freeing Energy Podcast, hear how a powerful grassroots movement used data to help spur the big shift. Host Bill Nussey talks with Mary Anne Hitt, Director of the Sierra Club's Beyond Coal Campaign.
Podcast #005 – Amar Inamdar: One man's journey to end energy poverty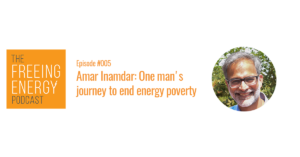 In this episode of the Freeing Energy Podcast hear the inspiring story of how a passionate wildlife biologist on the frontier in Kenya is pioneering ways to bring electricity to some 600 million people in Africa. Host Bill Nussey talks with Amar Inamdar of KawiSafi Ventures about his journey. Learn how he is using the venture capital investment model and clean local renewable energy to close the energy gap on the continent.
Additional reading