We read through all the clean energy news in January, pulled out the most interesting articles, and boiled them down for you below.
Clean energy attracts half a trillion dollars of funding for the first time. Global funding for clean energy projects surpassed $500 billion for the first time last year, despite a global pandemic that harried economies around the world. Widespread adoption of electric vehicles played a key role as the market continues to grow more accessible to consumers. Solar and wind installations reached new highs (132 GW and 73 GW, respectively) as a result of their ever-decreasing price tags. While this growth is exciting, analysts say that annual investment needs to be in the trillions in order to meet stringent climate goals. (Forbes)
China holds the commanding heights in advanced batteries. Many people regard the story of Tesla as being synonymous with the story of EV batteries as a whole. The two are certainly related — Tesla dominates worldwide EV sales, after all — but Chinese battery tech holds several advantages over its Western counterparts. Strict timelines for EV production, combined with relatively higher risk tolerance, have propelled China's battery tech to the forefront. In a recent announcement, Chinese firm NIO unveiled the ET7, an electric sedan kitted with a battery that boasts 360 watt-hours-per-kilogram and an unprecedented 625 miles per charge; These two metrics top anything that an American company has produced to date. (The Mobilist)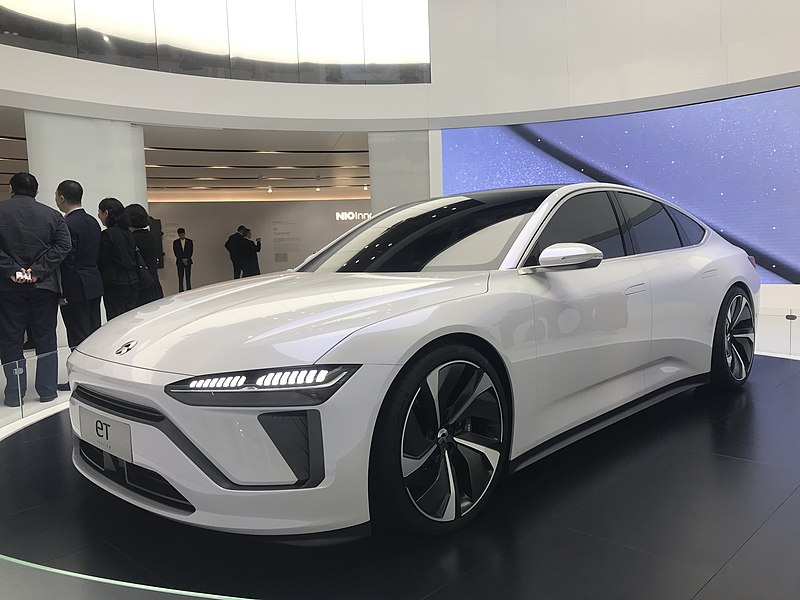 A no-brainer for U.S. job creation: update solar permitting and inspections. The clean energy industry is a potential job creation machine for the United States. Standing in the way of this, however, is a baffling mess of red tape preventing homeowners from installing residential solar. Through a dated and cumbersome system of permitting and inspection, installations incur around $1 per watt in unnecessary fees–a 50% price bump that ultimately increases the cost by thousands of dollars. Reforming these rules could kill two birds with one stone by making solar more available to homeowners while also opening the door to millions of new U.S. jobs. (PV Magazine)
The 'revolutionary' fight over California's hidden oil and gas wells. In the city of Los Angeles, over one thousand active oil and gas wells operate in relative secrecy, drilling within meters of homes, schools, and hospitals. This 'out of sight, out of mind' approach may protect drilling companies from public backlash, but, unfortunately, it stops short of protecting the city's residents from the harmful effects of oil and gas extraction. A group called Standing Together Against Neighborhood Drilling is working to persuade the local government to enact more stringent regulations on oil and gas companies, but several legislators are wary of biting the hand that feeds them — the checkbooks of these very companies. (Gizmodo)
California approves microgrid tariffs as grassroots groups push for more local control of energy. California's frequent blackouts make decentralized energy more of a necessity than a luxury, and it seems like they will be the ones to shape the microgrid model that other states adopt moving forward. In a huge win for energy reform advocates, California regulators approved a suite of rules aimed at boosting the development and adoption of microgrids. Although critics have found fault with sizable control given to utilities, the new regulations are expected to create a fertile landscape for the development of localized energy. (Microgrid Knowledge)
US balance-of-system solar company Shoals Technologies raises $2 billion in IPO. (here)
One perfect 100% renewable day in South Australia. (here)
Actor Robert Downey Jr. launches planet-focused VC funds. (here)
Georgia among hardest-hit states in clean energy job losses. (here)
VC investments into climate change technology reach record high. (here)
The 2020 trends making and braking rooftop solar in the south. (here)
#localenergy by the numbers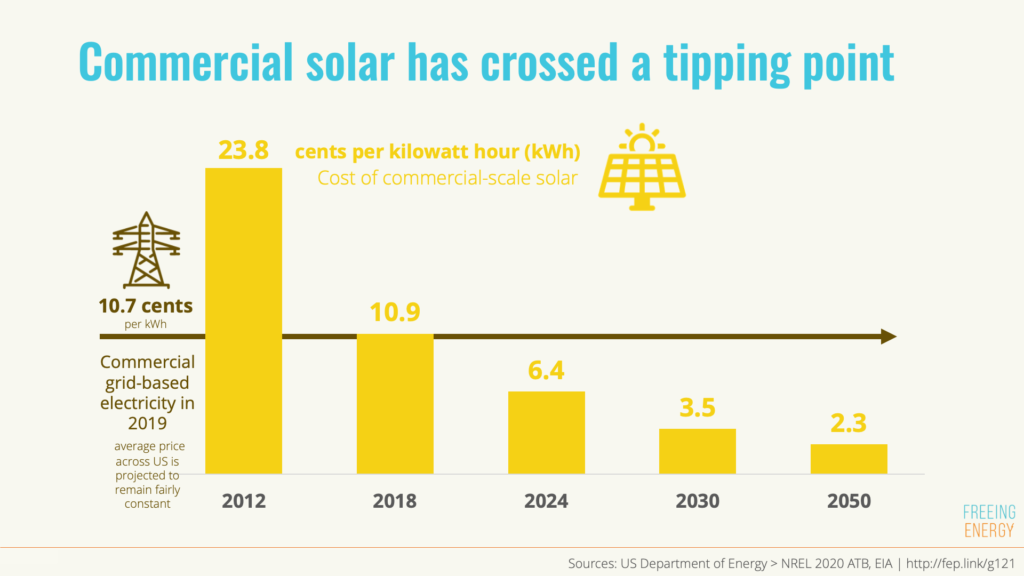 Commercial-scale solar projects have hit an inflection point. It is now cheaper (on average) for businesses to put up solar panels than it is for them to purchase electricity from the grid (read more).
Our latest podcasts
Subscribe to follow us on popular podcast platforms:
Podcast #049 – Nussey and Easterby: 2020 clean energy favorites and a peek into 2021

Bill Nussey and Sam Easterby catch up on 2020 and what's coming in 2021. Listen in as the hosts share their favorite tidbits from the top local clean energy stories from last year as well as replay some of the most memorable quotes from podcast guests across 2020.
Podcast #050 – Andrew Birch: Can cutting red tape lower the cost of residential solar?

Solar panels by themselves are just 10% of the cost of a residential solar system, yet US buyers are paying significantly more than homeowners in other parts of the world. Why is this? The answer is "soft costs" — the design, permitting, and sales costs associated with system installation in the US. And, if this leading architect of the modern clean energy era has his way, we will see big cost savings in the near future. Listen in as Andrew "Birchy" Birch, co-founder and CEO of Open Solar, unfolds his solution to reducing some of the most unnecessary costs of going solar.
Podcast #051 – Michael Chanin: Emory University is going solar and doing it in a surprising way

Strap on your walking shoes and listen in as Michael Chanin, founder and CEO of Cherry Street Energy, takes us on a walking tour of the beautiful Emory University Campus in Atlanta GA where one of the largest and coolest deployments of on-site solar power at a higher education institution in the Southeast is being developed. From seven stories up on a high rise parking deck with its sea of solar panels back down to ground level where electrical conduit becomes a work of art, Chanin shares details with podcast host Bill Nussey about the vision, the leadership, and some deft engineering skills being used to help Emory meet aggressive greenhouse gas emissions reduction goals while providing electricity to the campus at rates lower than the local utility.