Every month, we sift through hundreds of news items and research reports about clean, renewable energy and deliver the best ones directly to your inbox.
Amazon launches a $2 billion fund to invest in climate technologies. With pressure mounting to improve its environmental practices, online retail giant Amazon has pledged $2 billion dollars towards a new 'Climate Pledge Fund' that will support companies of all sizes aiming to "accelerate the path to zero carbon." The last year has seen Amazon increase efforts towards sustainability and carbon reduction; CEO Jeff Bezos pledged to build a fleet of electric delivery vehicles in late 2019, and the company announced in June that it is aiming to run entirely on clean energy by 2025. (CNBC)
Utilities stay silent on proposal to federalize net metering as states call it a 'threat' to solar policy. Last month, a shadowy group known as the New England Ratepayers Association (NERA) submitted a proposal to the Federal Energy Regulatory Commission (FERC) that would effectively end solar net metering by forcing a federal take-over of all state programs. NERA has rallied against alternative energy generation for the better part of a decade. The group refuses to disclose its sources of funding and its agenda appears to be more in line with utilities' and fossil fuel interests, certainly more than end-customer electricity buyers. (Utility Dive)
Southern's Plant Vogtle nuclear plant 'highly unlikely' to meet deadlines. The recent expansion of the Vogtle Electric Generating Plant could have given the U.S. a reason to rethink its growing distrust of nuclear energy. Instead, it is continuously providing ammunition for nuclear's critics. Over a decade after Southern Company announced its plans to add two reactors to the Georgia-based facility, progress remains substantially over budget and well behind schedule. The 2021 and 2022 deadlines for the two reactors are unlikely to be met according to the Vogtle Monitoring Group. For both critics and advocates of nuclear power, the struggles at Vogtle are likely to further diminish the likelihood of a resurgence in American nuclear power. (Bloomberg)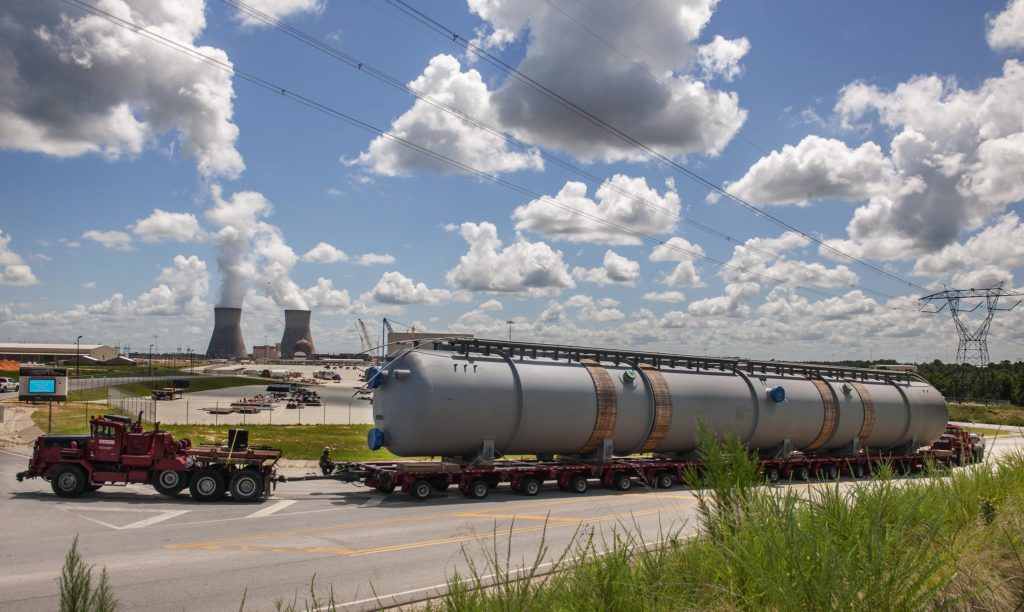 Tesla Powerwall saves the day in SCE power outage. Despite the advanced warning, planned power outages still create a major inconvenience for people who rely on energy throughout the day. By allowing households to take control over their own energy production, residential solar and storage solutions have allowed homeowners to free themselves from reliance on utilities and the centralized grid. This account from the owner of a Tesla Powerwall highlights the resiliency and reliability of household microgrids; a planned outage in his area could have left his family in the dark at a time when their work and education depends on an energized home. (Cleantechnica)
Solar, wind, and storage link arms in push for 'majority renewables' by 2030. While it's easy to view the American clean energy industry as a monolith, solar and wind each face a unique set of challenges and have even competed on several occasions. However, this competition hasn't taken their attention away from the ultimate goal: transitioning the country away from unsustainable fossil fuels. Staying true to that core principle, major players in the solar, wind, hydroelectric, and storage sectors have come together in an effort to achieve 50% renewable energy by 2030. This unofficial 'partnership' between clean energy trade groups creates a united front to tackle the myriad political and economic issues that have mired the country in fossil fuel reliance for decades. (Greentech Media)
Goldman Sachs says renewable spending will surpass oil and gas for the first time ever in 2021. It is becoming more clear than ever that the economic tide has finally turned in favor of renewable energy. Investment bank Goldman Sachs is predicting an explosive start to the decade, with 25% of all energy spending targeting clean energy initiatives in 2021. Annual investment in renewable infrastructure is expected to sit somewhere between $1 trillion and $2 trillion, totaling around $16 trillion through 2030. One downside, they posit, is that a focus on more mainstream clean technologies — solar and wind — could draw focus away from burgeoning efforts like clean hydrogen and carbon markets, stalling long-term growth. (Business Insider)
Clean energy by the numbers
Renewable Power Generation Costs in 2019: This report by the International Renewable Energy Agency shows that replacing 500 gigawatts of the most expensive existing coal plants with new solar and wind generation capacity, annual costs could drop up to $23 billion per year. (IRENA)
Global Electric Vehicle Outlook 2020: The world's roads look a lot different today than they did a decade ago. EV adoption since 2010 has brought the technology from a niche oddity to a practical competitor to internal combustion vehicles. If trends continue, EVs could be dominating the market very soon. (IEA)
Comparing the price of new solar plants to existing coal plants: We crunched the numbers to determine the differences in cost per kWhr between new and existing generation sources. The contrast between solar/wind and coal/nuclear is very telling. (Freeing Energy)
Comparing the land impact of solar, wind, coal, nuclear, and natural gas: Critics often bring attention to the land requirements of clean energy generation, but reality isn't always as cut-and-dry as it seems. We've analyzed several of the factors that go into land usage to hopefully dispel common misconceptions. (Freeing Energy)
Around the industry
Bill Nussey appears on the Morris, Manning & Martin Tech Law podcast: Freeing Energy's Bill Nussey appeared on the MMM podcast to discuss Atlanta, clean energy, and building companies.
Emily Morris, CEO of Emrgy, appears in cover story for Municipal Water Leader: Emily Morris, a previous guest on the Freeing Energy Podcast, appeared on the cover of Municipal Water Leader earlier this year along with a feature story highlighting Emrgy, her Atlanta-based hydro-eletric power startup. (Municipal Water Leader)
Our latest podcasts
Subscribe to follow us on popular podcast platforms:
Podcast #040 – Dr. Nick Engerer: How does precise weather data change the way we manage solar energy?

If you think just knowing sunrise and sunset is enough to manage a 21st Century Solar Power generation system, think again. Having accurate weather data can make the difference between being profitable or not. Join us as Nick Engerer, co-founder and Chief Technology Officer of global weather data service, Solcast, shares the role of weather data in today's world of solar energy.
Learn how Solcast is analyzing vast amounts of satellite data to provide 5-min interval predictions on hyper-local cloud and irradiance data, helping boost solar profits for projects across the world.
Podcast #041 – James Marlow: Are rules and regulations keeping pace with innovation in solar energy?

For homeowners, communities, or commercial users it' s not easy jumping all the compliance hurdles when building out a solar installation: But, how many of those hurdles are just adding cost and time, and how many are really needed? Solar leader James Marlow gives us a peek inside the challenging rules and regulations piece of the local energy puzzle and how he thinks we can make positive changes making cutting red tape and cost along the way.