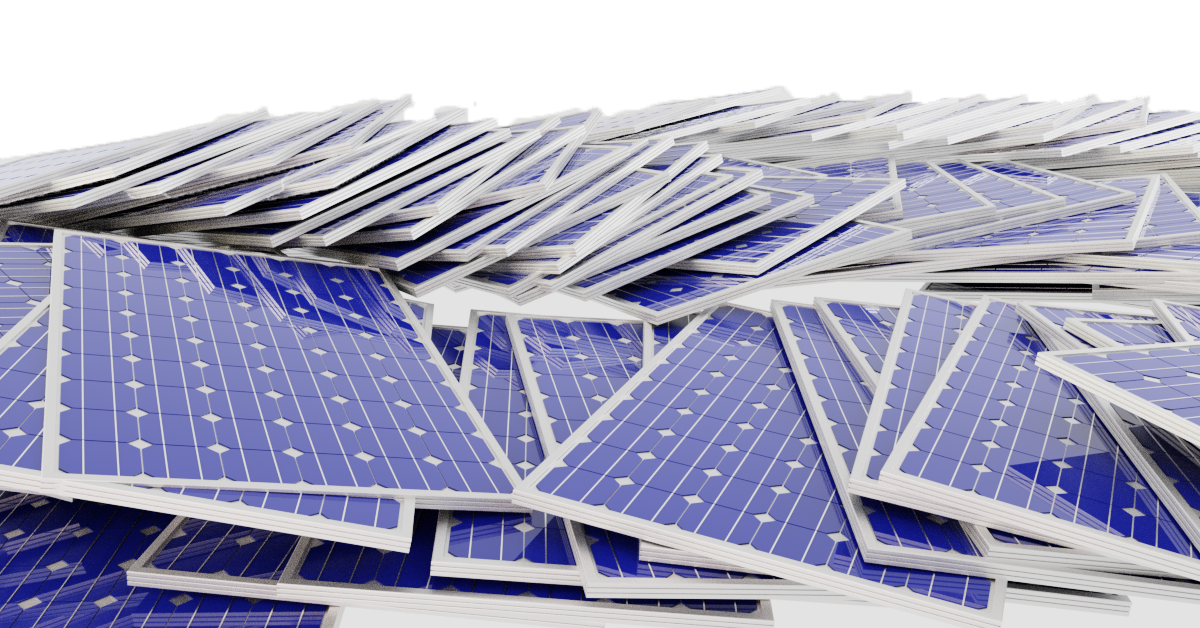 In 2018, the US installed 10.6 gigawatts (GW) of solar [1], which weighed about 689,000 tons [2]. In 30-40 years, when it's time to retire these installations, we'll have to do something with all this solar panel waste. How big of a problem is this going to be?
Some concerns about solar panel waste are greatly exaggerated
First, let's look at the concerns that critics often exaggerate and are easy to address.
Solar panels contain toxic materials. This concern applies to a tiny segment of solar that uses a material called cadmium telluride (CdTe). Only about 2% of panels use CdTe and that segment is shrinking [3]. Solar panels do contain trace amounts of lead, but the same is true of any other electronic product that uses soldering.
Solar installations use massive amounts of concrete. This is simply not the case. Outside a few specialized use cases, like solar built on old landfills, there is little to no concrete used in installations. References to this appear to be based on a few studies done 15-25 years ago.
Solar installations are the most recyclable way to generate electricity
One of the more legitimate and unique challenges to solar is that sunlight is diffuse, requiring a large number of panels to capture its energy. Fortunately, solar panels are straightforward to recycle. According to a report by the International Renewable Energy Agency,
"The major components of [silicon] panels, including glass, aluminium, and copper, can be recovered at cumulative yields greater than 85% by panel mass through a purely mechanical separation." [4].
All three of these components have well-established recycling industries so the majority of each of these panels will never end up in landfills.
Another large component of solar installations is the steel racking that anchors the panels to rooftops and the ground. In most cases, the installation will continue producing electricity so the steel racking will remain in place as the retiring panels are replaced with new ones. However, if a site is ultimately decommissioned, the market for recycled steel is quite mature so very little of it will require disposal. 
GET MONTHLY NEWS & ANALYSIS
Unsubscribe anytime. We will never sell your email or spam you.
Disposing of solar panel waste is a tiny part of a much larger problem
For better or worse, even as the growth in solar installations picks up speed beyond the 689,000 tons in 2018, disposing of retired solar arrays will remain a small part of a much larger waste problem. For example, e-waste like televisions, mobile phones, and computers, creates 6.3 million tons of waste a year in the US and is growing quickly [5].  And, e-waste is just a tiny part of the 250 million tons of waste generated in the US every year [6].
To put solar's waste challenge in perspective, let's look at the construction waste from coal, natural gas, and nuclear plants on an apples-to-apples basis. When you divide the total construction materials by the number of megawatt hours produced over the plant's lifetime, you see that solar panel waste is very similar to coal, natural gas, and nuclear.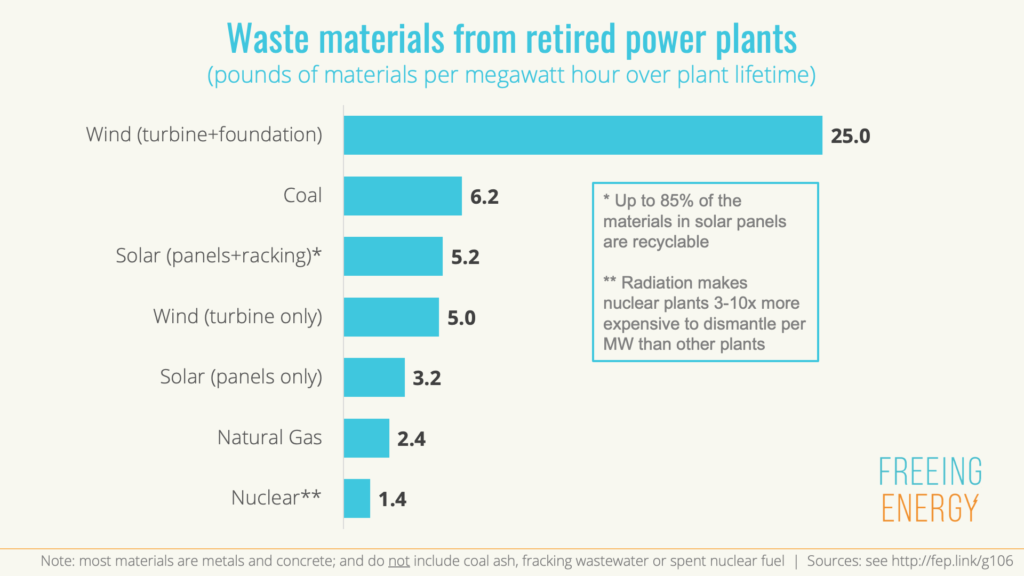 The biggest difference with solar and wind over fossil and nuclear fuels is that they produce no waste while they generate electricity. Including this important metric shows that the steel and other materials from retired plants is a tiny portion of the waste created while operating traditional thermal plants. These waste products can be substantial and they accumulate with every megawatt hour of electricity generated.
Fracking waste water. Burning natural gas doesn't produce any solid waste but getting it out of the ground does. It takes 7,600 cubic feet of natural gas to generate a megawatt hour of electricity [7]. Using high pressure to extract that gas also brings up about 26 gallons of waste water, which weighs 220 pounds [8].

 

Coal ash. Burning coal leaves behind coal ash, a powdery material that contains a pollution stew of chemicals like arsenic, uranium, chromium, and mercury. Burning enough coal to generate a megawatt hour of electricity creates 186 pounds of coal ash [9]. More than 100 million tons are created a year, making it the second-largest industrial waste stream in the US.
Uranium / nuclear. Nuclear power plants consume enriched uranium to generate electricity. This fuel is incredibly concentrated so it leaves behind a relatively small amount of nuclear waste by weight. However, a great deal of waste comes from making the fuel. It takes about 50 pounds of uranium ore to create the enriched uranium necessary to generate a megawatt hour of electricity [10].
Building power plants uses a lot of material that needs to be disposed of when the plants are decommissioned. For plants like solar and wind that don't use fuel, their waste can only be measured in terms of the total megawatt hours generated over the plant's lifetime.
The materials used to construct power plants
(pounds per thousand kilowatt hours - MWh)
| Generation Type | Metal and Concrete (pounds / MWh) |
| --- | --- |
| Nuclear | 1.4 |
| Natural gas | 2.4 |
| Solar (panels only) | 3.2 |
| Wind (tower + turbine) | 5.0 |
| Solar (panels + racking) | 5.2 |
| Coal | 6.2 |
| Geothermal | 15.6 |
| Wind (+ concrete foundation) | 25.0 |
| Hydropower | 54.2 |
While disposing of 689,000 tons of retired solar panel materials in 2050 is a real issue, reuse of racking and recycling of panel materials makes solar waste a relatively small challenge compared to virtually every other kind of energy generation, current, and future.
Deeper reading