The solar industry has been on a tear the last few years.
In 2016, solar represented 39% of all newly installed power generation in the US, more than coal, natural gas or nuclear. Solar is creating jobs, too. From 93,000 jobs in 2004, solar has grown to over 260,000 jobs in 2016. Much of this has been driven by the incredible improvements in efficiency and cost of solar technology. In fact, solar power is now cost competitive with coal and natural gas in many places in the US.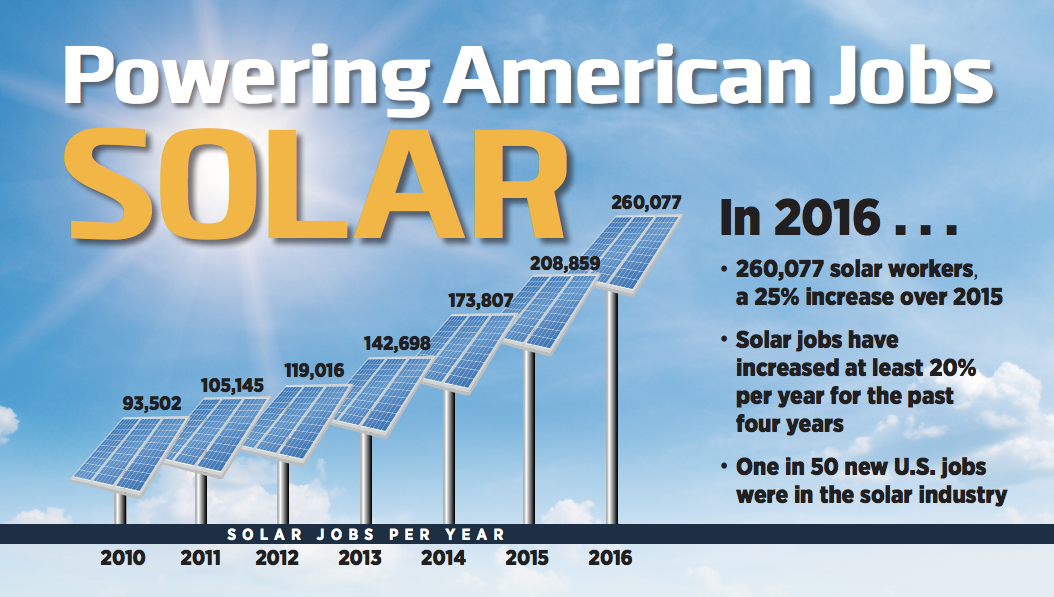 The momentum of the solar industry is inspiring. However, this success story could come to a screeching halt depending on the outcome of a little-known trade dispute filed earlier this year by a 300 person company in Georgia. The case is working its way through the US International Trade Council but, late this year, the final decision will fall to a single person, the President of the United States, Donald Trump.
Before we dive into the trade case, let's step back for a brief history lesson to understand how we got here.
GET MONTHLY NEWS & ANALYSIS
Unsubscribe anytime. We will never sell your email or spam you.
In 2004, all the world's solar factories manufactured a combined one gigawatt of solar panels (referred to as "modules" in the industry). One gigawatt is enough to power roughly 250,000 American homes. That year, solar modules sold for $2.90 per watt. Fast forward through a dozen years of astonishing growth and innovation and worldwide module production reached a stunning 70 gigawatts and the cost per watt plummeted to 53 cents.
Even though the US helped create the solar industry and holds most of the patents, its worldwide market share of solar modules dropped from 13% in 2004 down to 1% in 2016. By contrast, China and Taiwan's global market share expanded rapidly in the same time frame, from 7% in 2004 to 66% in 2016.
The 2017 trade dispute – the two remaining US solar manufacturers vs the world
Solar industry veterans refer to the last decade as the "solar coaster." Despite amazing growth, the industry has been brutally hard on vendors as prices raced downward. Industry leading manufacturers, like China's SunTech and US-based SunEdison, succumbed to the coaster and went bankrupt in 2013 and 2016 respectively.
Entering 2017, there were only two major US-based solar manufacturers left standing. The oldest, SolarWorld Americas, is a wholly owned subsidiary of German-based SolarWorld AG. The US subsidiary is based in Oregon and employed 800 people in 2016. The second company, Georgia-based Suniva, launched in 2008. At its height in 2016, it employed about 380 people and had raised well over $200 million from well-respected Silicon Valley and Wall Street investors. Both Solar World and Suniva received tens of millions in federal and local tax breaks and other government incentives.
As the spring of 2017 began, these last two solar manufacturing hold outs would finally succumb to the solar coaster as well. On April 11, 2017 Suniva filed Chapter 11 bankruptcy claiming, "additional new global overcapacity has continued to drive U.S. market prices to levels that challenge responsible economic operations for U.S. manufacturers." Two weeks later, on April 26, Suniva petitioned the US International Trade Council asking that all imported silicon-based solar products receive a 40 cent duty to achieve an effective price of not less than 78 cents per watt – a 47% increase over 2016's average price of 53 cents.
Less than a month later, on May 10, SolarWorld announced it was filing for insolvency (although it later said it would try to keep its US subsidiary operational). On May 25, SolarWorld joined the trade case and became a co-petitioner stating, "We have decided to join the case to pursue the best remedy available to us to restore fair competition in the U.S. market." With the two largest US solar manufacturers effectively bankrupt and requesting relief, the ITC formally opened an investigation.
Notably, the 2017 trade case isn't the first time that US solar manufacturers sought protection from the government. In 2012, SolarWorld and a few small manufacturers successfully convinced the US government that Chinese competitors were unfairly selling below their costs. The US responded in 2014 by imposing tariffs ranging 27% – 78% on solar products imported from China. The effect was short-lived. Chinese companies moved their manufacturing to Taiwan to get around the tariffs. The US responded by expanding the tariffs to include Taiwan. It wasn't long after that before solar products were being manufactured across Asia. Low cost solar was once again flowing freely into the US. One US executive described it as playing "Whack-a-mole."
Surprises and strange twists
The Suniva and SolarWorld trade case is like a carnival fun house – there is something surprising around every corner.
First, the trade complaint itself is very unusual, legally. It was filed under an obscure and rarely used part of trade law, Section 201 of the 1974 Fair Trade Act. A section 201 case does not require proof of dumping or other unfair competitive practices – it only needs to prove that foreign competition is harming an entire industry. Because 201 cases involve entire global industries, they are complex and hard to prove. The last section 201 investigation was 17 years ago and resulted in a 30 percent tariff on steel imports that lasted for 21 months.
Second, Suniva's petition is actually coming from their largest creditor, New York equipment financing firm, SQN. In a particularly bizarre twist, SQN sent a letter to the Chinese solar trade association suggesting that if a Chinese organization were to purchase the $40 million of Suniva's now idle solar manufacturing equipment, Suniva would drop the trade case. When the letter became public, both Chinese and American organizations were outraged, calling out SQN's actions as extortion. SQN later retracted their letter.
Third, Suniva is majority owned by a Chinese company! Yes, you read that correctly. The trade case that could potentially shut the Chinese solar industry out of the US market was filed by a company whose owners are Chinese. In 2015, China-based Shunfeng International Clean Energy acquired 63% of Suniva. Shunfeng is also the owner of SunTech, the same Chinese solar manufacturing giant that went bankrupt in 2013. Not surprising, Shunfeng is strongly opposed to the trade case but US bankruptcy law allows the biggest debtor, in this case SQN, to call the shots, so there isn't much Shunfeng can do at this point.
How bad could tariffs really be?
2016 was a banner year for the US solar industry. Solar modules were selling at an average of 53 cents with many deals as low as 30 cents. These low prices were one of the reasons the industry grew to 260,000 jobs and installed more than 14.6 gigawatts of new solar. If tariffs are imposed, you can get a sense of the impact by looking at the last time solar cost 78 cents: 2012. Back then, there were only 120,000 people working in the solar industry and only 3.4 gigawatts of new solar was installed. Of course, price is only one factor driving solar jobs and installations but in an industry with razor thin margins, every change in price has a big impact.
Other groups have analyzed the impact of the proposed solar tariffs. Respected analyst firm, GTM Research, predicts that the new tariff would strike a "devastating blow", wiping out two thirds of the US solar installation pipeline expected to come online over the next five years, undermining 47 gigawatts of new solar projects. Solar industry trade group, SEIA, predicts that 88,000 of the current 260,000 jobs would be lost if the 78 cent price floor is enacted.
Even if the broader US solar industry takes a body blow, there will be a handful of US winners. Suniva or SolarWorld could re-open for business. Smaller, more nimble silicon solar startups could emerge again. And, since the trade case only covers silicon-based solar technologies, the market will open up for newer types of solar technologies. For example, FirstSolar, the largest maker of non-silicon "thin film" solar, could see their panels become economically competitive for the first time in years. After losing $358 million last year, silicon solar tariffs could literally save FirstSolar from the same fate as Suniva, SolarWorld, SunEdison, SunTech and other bankrupt manufacturers before them.
Unfortunately, even at full capacity, the US solar industry can only make 1 or 2 gigawatts of solar panels. If the trade case is successful, the majority of solar modules installed in the US will still have to be imported and they will cost 78 cents per watt.
Suniva's trade case only affects a very narrow sliver of US solar labor market – maybe a few thousand jobs at most – but its impact will be felt across all 260,000 solar jobs and the broader renewable industry as well.
Next Steps in the government's process
The ITC has said this case is particularly complex and will require extra time to analyze. They plan to issue their findings on September 22. If harm is found, they will follow up with recommended remedies on October 31. Like many aspects of US trade, the final decision on a section 201 trade case lies entirely with the President of the United States. President Trump will have unilateral authority to impose any tariffs or import regulations he deems appropriate within 60 days of the ITC's final recommendation. The future of the US solar industry will literally be in his hands.
Solar is the future of energy – it is only a question of how quickly and how directly we get there. With the future of US solar riding on this trade case, the last few months in 2017 are going to be quite a cliffhanger.
Sources: The Solar Foundation 2016 Jobs Census, SPV Research, GTM Research, Advanced Energy Economy, Arnold Porter Kaye Scholer law firm.