On February 7, 2018, the U.S. tariffs on imported silicon solar technology went into effect. As we approach the three month anniversary, what, if anything, has happened as a result?
A quick history lesson on the US solar tariffs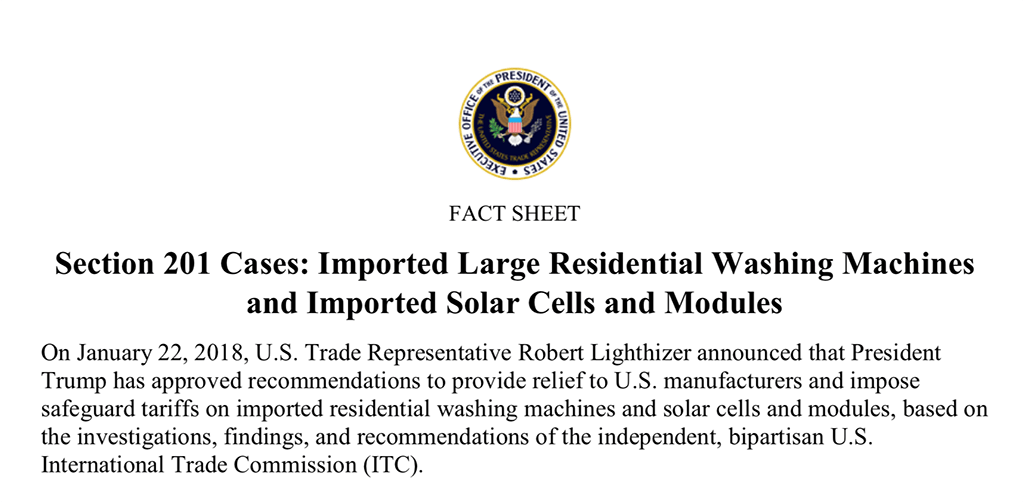 Let's step back for a brief history lesson.
In the spring of 2017, the two largest US-based solar manufacturers, Georgia-based Suniva and Oregon-based SolarWorld, declared bankruptcy. Citing their inability to compete with foreign manufacturers, they asked the US government for protection to help save several thousand U.S. solar factory jobs. At the time, the market price for solar was around 35 cents per kilowatt.
The companies claimed they could not be competitive unless tariffs raised imported solar to 78 cents per kilowatt or more – well over a 100% increase. In opposition to this, the trade association representing the 260,000 US solar installers warned that higher costs would slow new projects and as many as one-third of installation jobs could be lost.
GET MONTHLY NEWS & ANALYSIS
Unsubscribe anytime. We will never sell your email or spam you.
In early 2018, after months of heated debate and speculation, the Trump administration responded. Imported solar products based on silicon technology (over 90% of the market) would receive a modest 30% tariff. Even more disappointing to the bankrupt US manufacturing giants, the tariffs will decrease over 4 years to only 15%.
The Trump administration claimed they wanted to revitalize jobs in US solar manufacturing. But many experts felt the tariffs were too small and too short-lived to achieve this. The solar industry claimed that tens of thousands of jobs would be lost. While it's too early to conclude anything, the first three months have been filled with noteworthy news.
First, the largest Chinese solar manufacturer announced a big US factory but then backed off
Chinese-based JinkoSolar is bringing 200 jobs to Jacksonville. Will invest more than $50 million to this building at Cecil Commerce Center. It will be home to solar panel manufacturing. @ActionNewsJax pic.twitter.com/oPdbHbg33Y

— Kevin Clark (@KClark_News) March 8, 2018
Shortly after the tariffs were formalized, Jinko Solar, the largest manufacturer in the world, announced plans for a $400 million factory near Jacksonville, Florida. The governor of Florida heralded the news and the 800 jobs it would create. But then, just a few months later, the project was quietly scaled back. At last count, the factory will simply assemble panels from cells made outside the US. And, it will only employee 200 people. I suspect this is a moving target so stay tuned for updates.
Second, Sunpower announced it was acquiring bankrupt SolarWorld
SunPower is a US solar company that is 60% owned by French energy giant, Total. They have avoided the financial fate of Suniva and SolarWorld, partially because they make high-end specialty products and partially because most of their factories are outside the U.S. But overseas factories mean they have been hit hard by the import tariffs. They say their products are not the target of the tariffs and they have asked the U.S. government for an exemption (responses to their request and others are due in May).
Then, in April 2018, SunPower announced it was acquiring bankrupt SolarWorld from its German parent. Let me lay this out because it's easy to get confused. SolarWorld, a bankrupt company 100% owned by a company headquartered in Germany but with factories in the US, is getting acquired a by SunPower, a company headquartered in the US, with factories largely outside the US, and majority owned by a French energy giant.
Got it? As you can see, assessing the health of U.S. solar manufacturing is really complicated, even before you factor in the tariffs.
Third, FirstSolar announces a giant new plant in the US
In late April 2018, another U.S. based solar manufacturer, FirstSolar, announced a $400 million expansion to their existing plant in Ohio. It will be the largest solar factory in the Western hemisphere. So, this should be a clear signal that the tariffs worked, right? Actually, this has nothing to do with the tariffs at all. FirstSolar's technology isn't based on silicon and is not affected by the tariffs. 
Fourth, what about Suniva?
Many people think that Suniva was the company that initiated the tariff process. But, in fact, it was Suniva's equipment financier, SQN, that filed the original complaint with the U.S. government. Unlike SolarWorld, which remained partially operational during bankruptcy, Suniva's plant is entirely shut down. All of their leadership and factory management have moved onto other jobs. Rumors suggest that some potential buyers have looked at the idle equipment but that no deals are imminent. SQN's goal was to recover their estimated $40 million in equipment loans. At least for now, the tariffs have not helped them recover their loans or the jobs that were lost.
The Freeing Energy Perspective
If the administration wants to enact policy that revitalizes U.S. solar manufacturing jobs and actually helps the solar installation market as well, here are few suggestions off the top of my head:
Tell the military they can only buy U.S. solar products.

The military is one of the largest purchasers of solar cells and panels in the world. Decades ago, when private companies didn't yet see the value of microchips, the U.S. military was the main buyer for years. Their purchases effectively launched that U.S. semiconductor industry and made it the world leader that it is today. Like microchips, solar is all about scale. Why don't we ask the military to provide the initial revenue stream for U.S. solar that will lead to a virtuous cycle of scaling?

Offer modest loan guarantees to build a functioning U.S. solar supply chain.

Experts say that China's secret to success is their supply chain. Their government made it easy for every part of the solar manufacturing process to be built in one localized region. Just-in-time manufacturing becomes easier when silicon ingots, equipment suppliers, and chemical processors are just a few miles from each other (not an ocean away). The U.S. government has given

$12 billion in loan

guarantees (yes, billion) to a single nuclear power plant that the state government's own team determined was uneconomic. Surely, even smaller loan guarantees would be enough to create multiple, highly competitive "solar development zones" in select U.S. regions.

Extend the solar tax credits but only for U.S. solar manufactured products. The solar Investment Tax Credits (ITC) were put in place under President Bush and extended under President Obama. By design, they will shortly begin shrinking and be gone by 2021. Instead, the Trump administration could extend them for another 1-3 years and simply require that any funded solar projects are built with U.S. made solar technology. U.S. taxpayer exemptions for U.S. made products. Easy.
I am no policy expert and these ideas above are not intended to be serious policy suggestions. Instead, these ideas are simply examples to show that we have many administrative and policy levers at our disposal. It's politically easy to blame other countries or try to undermine their success. Alternatively, if we shift our thinking towards learning from the best and brightest and investing towards leadership, we can create more jobs and more success than any of the approaches we are taking now.