Every month, we sift through hundreds of news items and research reports about clean, renewable energy and deliver the best ones directly to your inbox.
California utility PG&E is shutting off the grid for millions of people in hopes of preventing another season of powerline-sparked wildfires. With extreme weather comes an increased risk of utility lines igniting nearby vegetation, a common cause of California's destructive wildfires. This risk has led to shutoffs by the Pacific Gas & Electric Corporation (PG&E) that have left millions across the state without power. The large-scale outages, exacerbated by poor communication by PG&E, highlighted a need for a more robust distributed energy system. (NPR/Vox)
PG&E shutdowns present problems and opportunities for the electric vehicle market. As fires raged through California this month, customers throughout the state experienced outages due to damaged lines and preemptive shutdowns by utility giant PG&E. These outages posed a unique issue for California, who leads the U.S. in electric vehicle sales: with extended outages, how will drivers power their cars? (San Franciso Chronicle / EVAdoption)
Cape Analytics uses AI to determine the most solar-friendly cities in the U.S. Cape Analytics, a company known for analyzing aerial imagery and geospatial data, recently set out to determine which areas of the U.S. are the most 'solar friendly' based on the ratio of solar panels to annual days of sun. The result is a fairly comprehensive profile of several major metropolitan areas and a solid baseline for measuring solar growth in the future. (Cape Analytics)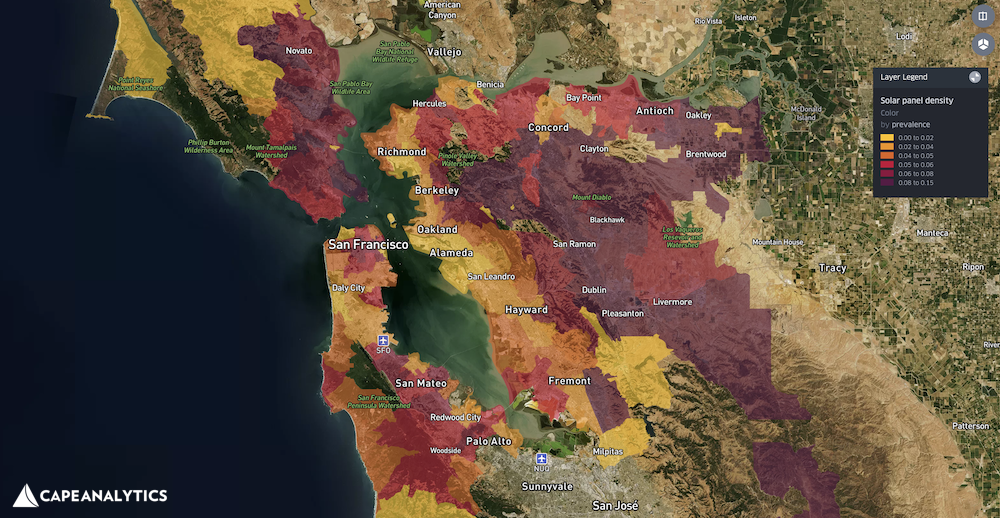 Rise of renewables may see off oil firms decades earlier than they think. Global adoption of renewables has exceeded estimates by fossil fuel industries, raising questions about the longevity of generation sources like coal. While early estimates saw fossil fuel demands rising to an eventual peak somewhere in the 2040s, a new report by BloombergNEF claims that demand will begin falling within the decade. Though worldwide fossil fuel subsidies have been growing in recent years, the steadily dropping costs of renewables are making them an increasingly viable alternative. According to the IEA Renewables 2019 report, distributed solar capacity could reach 530 GW within five years. (The Guardian/Axios)
Nobel Prize in chemistry awarded for rechargeable lithium-ion batteries. John B. Goodenough, M. Stanley Whittingham and Akira Yoshino received the Nobel Prize in Chemistry this month for their work developing the lithium-ion battery. The trio helped revolutionize energy in the late 20th century by creating a safe, lightweight battery that can be recharged hundreds of times. (Washington Post)
Despite their promises, giant energy companies vent and burn away vast amounts of natural gas.  When natural gas is extracted faster than pipelines are able to move it, it's often burned away in a process known as flaring. Companies are also venting, which directly releases methane, a gas that traps 20-25x more atmospheric heat than CO2. Industry giants like Exxon Mobil and BP have promised to cut back on the wasteful and environmentally harmful practice, but it appears that they've only increased the frequency of flaring in recent years. (New York Times)
October articles from the Freeing Energy Project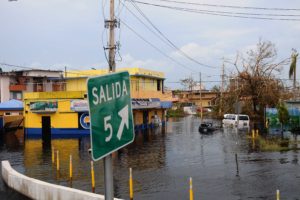 Six months without electricity – stories from Puerto Rico and Hurricane Maria (Part 1)
The extended blackout in Puerto Rico following Hurricane Maria gave the world an unprecedented look at how a modern, industrialized area handles a loss of one of its most precious resources: electricity.
(read more)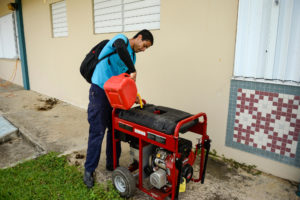 Puerto Rico after Maria: From generator island to solar microgrid revolution
In the second part of our Puerto Rico analysis, we look at the ways that their blackout highlighted a need for a more resilient grid as well as the changes that should be made in the future.
(read more)
Our latest podcasts
Subscribe to follow us on popular podcast platforms:
Podcast #023 – Jerome Kent: Can small-scale distributed wind allow companies to embrace clean, local energy?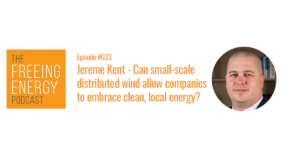 When it comes to local, distributed electricity production, most of us think of solar. But an Ohio-based company is challenging conventional wisdom by offering cost-competitive on-site wind generation for industrial customers. In this episode, Freeing Energy Podcast Host Sam Easterby talks with Jereme Kent, founder and CEO of Ohio based One Energy. Jereme shares his journey from the biggest utility-scale wind projects in the United States to the complex world of behind the meter wind energy focused on industrial users and how new distributed energy models allow those users to save on one of their biggest expenses: energy.
Podcast #022 – Peter Heintzelman: Can electric membership cooperatives light the way for clean local energy in the utility industry?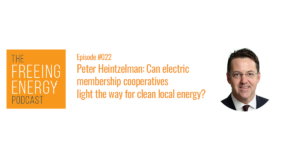 Electric utilities are surprisingly diverse businesses. When it comes to the transition to clean, local energy, most of them are slow to change. But a few utilities not only see it coming, they are embracing the opportunity. In this episode, host Bill Nussey talks with Peter Heintzelman, CEO of Cobb EMC, one of the largest electric membership cooperatives (EMC) in the United States.  Peter helps us understand the historical importance of EMCs, how the membership-driven model gives them more flexibility than larger shareholder-owned utilities, and the early steps some pioneering EMCs are taking towards clean, local energy.