Looking back, 2018 was an amazing year for clean energy. It was also the first full year of the Freeing Energy Project and, for all of us involved, we couldn't have had a better 12 months to begin this journey.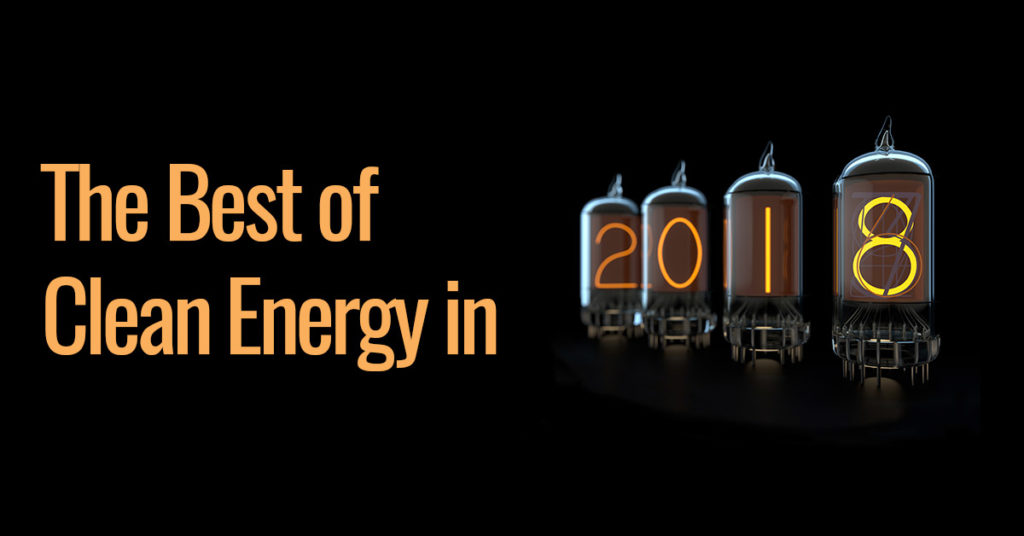 Freeing Energy in 2018
The Freeing Energy team launched a highly successful facebook site that now has more than 100,000 followers. We started publishing monthly overviews of the clean energy industry's biggest news items. Bill gave several speeches and was interviewed for the Suncast podcast series. We produced our first set of podcasts that will debut in early 2019.
Most importantly, we published over 50 articles, which attracted more than 120,000 views. The seven most widely viewed articles were:
Bill's favorite articles were the "History of the Grid" series and his story of climbing a wind turbine, I learned the most important thing about wind power from climbing a turbine.
The biggest clean energy news of 2018
As we look back on 2018, the transition to clean energy made tremendous progress but it wasn't without a handful of disheartening developments as well. Here are a few of the most noteworthy events of 2018.
SOLAR AND WIND BROKE RECORDS ACROSS THE WORLD
In 2018, global solar and wind installations reached one terawatt – that's 1,000 gigawatts of capacity. A Texas utility signed a record shattering deal to buy solar for 2.5 cents per kilowatt hour (the average price of retail electricity in the US is 12 cents). According to banking firm Lazard, the price of solar has dropped so low it is now cheaper to build a brand new solar plant than it is to continue operating an existing coal plant.
COAL CONTINUED ITS DEMISE
Speaking of coal, despite the political efforts to restart the industry, 15.4 GW of coal plants were shut down or retired in 2018. The EIA says that coal consumption in 2018 will hit a 39-year low. Coal-generated electricity has dropped to just over half its peak in 2007.
GET MONTHLY NEWS & ANALYSIS
Unsubscribe anytime. We will never sell your email or spam you.
SOLAR TARIFFS STUNG BUT DIDN'T WOUND THE US MARKET
On February 7, 2018, the US announced a 30% tariff on foreign-made solar cells and panels. The SEIA, a solar industry association, estimates installations only ended up falling about 9% over the previous year – much smaller than had been feared. Even more surprising were announcements of new US-based solar manufacturing. While Suniva, the US company that initially filed the trade complaint, remains shuttered, the other large manufacturer, SolarWorld, was acquired and has resumed operations. Additionally, several new manufacturing facilities are being built including LG in Alabama, Hanwha in Georgia, and Jinko in Florida.
ELECTRIC VEHICLES TOOK OFF
2018 US sales of electric vehicles grew more than 50% from 2017, hitting a cumulative 1 million EVs in the country. A lot of the gains in 2018 were the result of the explosive growth of Tesla's Model 3. In fact, Tesla outsold Mercedes in Q3 and became the best selling luxury car in the US. 2018 is also looking like it will be "peak-ICE", the last year of growth for internal combustion engine automobiles. Going forward the market for traditional gasoline cars is likely to only shrink (Financial Times, subscription required)
BATTERIES GOT SERIOUS
The world's largest battery, based in Australia, is proving so successful at helping balance the local grid, it is on track to pay off a third of its installation costs in its first year of operation. With virtually no support from the government or utilities, Puerto Ricans built 10,000 new solar and battery systems in one year, nearly doubling the number already in place. Germany reached 100,000 installed residential batteries.
New companies with incredible new battery technologies made big news in 2018. NantEnergy has commercialized a safer, cheaper battery based on Zinc Air chemistry and is quickly approaching a price point so low that batteries become economically competitive everywhere. Another groundbreaking technology, solid state batteries, are the Holy Grail of storage, promising lighter, safer, and much longer lasting solutions. Ionic Materials and Solid Power both made news with big fundings and major progress.
Wishing you a very clean and cost competitive 2019!
2019 promises to be another amazing year for clean energy. Prices of solar, wind, batteries, and electric vehicles will continue their relentless cost declines. Clean energy policies, finance, and regulations across the world will get smarter and more effective. There will be more record breaking low priced contracts as well as dozens of head-turning pilot projects that pave the way for the accelerating adoption of clean energy.
Happy New Year to everyone!