Every month, we sift through hundreds of news items and research reports about clean, renewable energy to bring the best ones directly to you.
Solar has a new way to duck Trump's tariffs: two-sided panels. The Trump administration quietly, and somewhat inexplicably, carved out a tariff exemption for bifacial solar panels. While this is a tiny fraction of panels today, bifacial is now effectively 30% cheaper. Many believe the market will shift entirely to this technology within quarters, providing a turbo charge for the industry.
A radical idea to get a high-renewable electric grid. Experts continue to wring their hands that the transition to clean energy requires unrealistic levels of battery storage. This radical idea suggests something different… just build more solar and you can reduce the need for most of the batteries.(Check out our just-released July podcast with one of the lead researchers on this breakthrough work).
Renewables to see $10 trillion in investments through 2050. According to BloombergNEF's yearly New Energy Outlook, electricity demand will increase 62% between now and 2050 and lead to a threefold increase in global generating capacity. The declining costs of solar, wind, and batteries make renewables an obvious choice for grid expansion, and the report estimates the increased demand will attract $13 trillion in new investment through 2050. (BloombergNEF)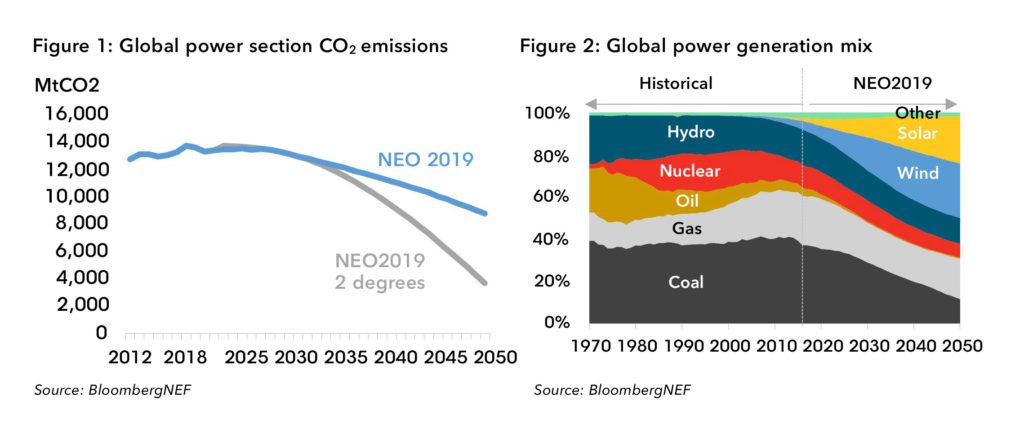 Trump administration finalizes revamp of Obama-era coal rule. The Affordable Clean Energy (ACE) rule, written as a replacement for Obama's Clean Power Plan, gives states more flexibility to set their own emissions standards. Though the Trump administration claims that ceding more power to individual states will ultimately reduce CO2 emissions, critics claim that the plan doesn't do enough to combat the effects of coal. (Greentech Media)
More Headlines:
Toyota goes electric starting in 2020
Virginia ban on uranium mining upheld by Supreme Court
Two solar companies said tariffs would save their businesses. They went broke anyway.
U.S. escalates online attacks on Russia's power grid
Schwarzenegger goes undercover in hilarious ad for electric cars
PG&E's bankruptcy judge leaves door open to shedding renewables contracts
We have the tech to suck CO2 from the air – but can it make a difference?
To some solar users, power company fees are an unfair charge
June articles from the Freeing Energy Project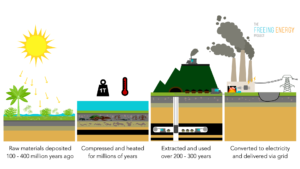 Where does coal come from?
The power of coal has had a profound impact on the development of the U.S. and the world as a whole, but these combustible black rocks can be traced back to a time when the United States – and even humans – didn't exist. (read more)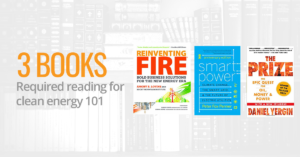 Three clean energy books to check out
If you want to understand the transition to clean energy, there are three books you need to read. These books aren't necessarily about clean energy explicitly but they lay the groundwork that is crucial for the transition to take place. (read more)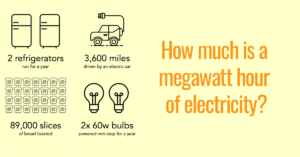 What is a megawatt hour of electricity and what can you do with it?
You may be familiar with the term, but how can we quantify a megawatt hour of electricity? What can one megawatt hour accomplish? Let's break it down with some concrete examples. (read more)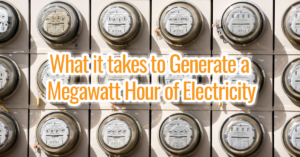 How much fossil fuel and renewables are needed to generate a megawatt hour of electricity?
From gallons of water to pounds of coal, how much goes into producing a single megawatt hour of electricity?  (read more)
Our latest podcasts
Subscribe to follow us on popular podcast platforms:
Podcast #14 – Finn Findley and Will Arnold: Can 1 Billion Parking Lots Help Power the US?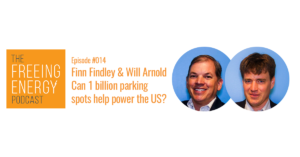 Host Bill Nussey talks with Quest Renewables' CEO Finn Findley and Senior Vice President of Sales, Will Arnold, about the enormous potential of solar canopies for land that is already paved and how the innovative designs and construction techniques from Quest Renewables are changing how we think about parking lots.
Podcast #13 – Steve Kalland and Autumn Proudlove: The Fifty States of Solar, EVs, and Grid Modernization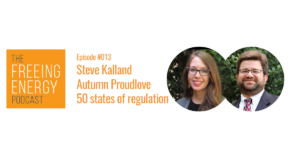 Host Bill Nussey talks with Steve Kalland and Autumn Proudlove, from the preeminent North Carolina State University Clean Energy Technology Center, about how and why they track regulations and legislation in all 50 States affecting energy, what is on the legislative agenda, and what it means for the transition to clean energy.